We recently came across the work of Northern Ireland-born designer David Irwin whose studio, established just three years back, is located in Newcastle, England. His designs are all imbued with a "fundamental usefulness," he says, and his Working Girl collection follows suit.
Made of "robust materials" for high-traffic use, the Working Girl stool, chair, and bench were all designed for British furniture company Deadgood as a reinterpretation of the quintessential workshop stool–this time, with a fine lacquered beech or oak seat, a raw or powder-coated steel frame, and brass hardware.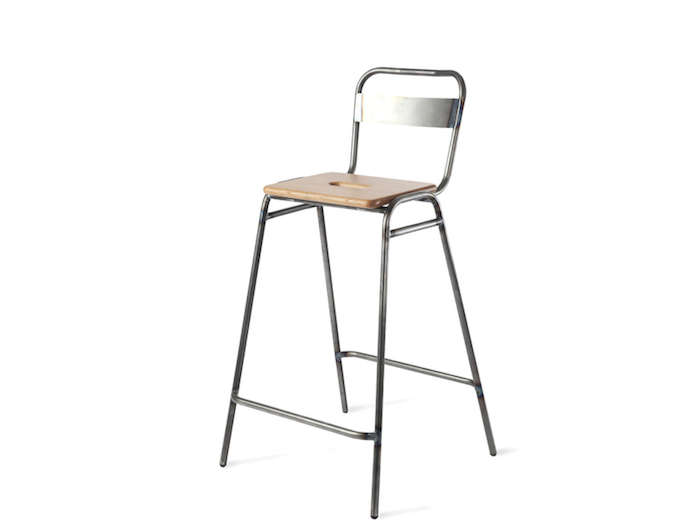 Above: The Working Girl Cross Stool is a classic barstool with a steel frame and raw steel back; it's £270 from Deadgood. (A powder-coated steel finish in black, red, or white is also available.)  It's detailed, like all of the pieces in the collection, with a handy cutout on the seat for easy movability. Irwin's furniture is manufactured in Birmingham and Stoke-on-Trent in the UK, as well as in Ljubljana in Solvenia.
Above: The Working Girl Bar Stool in powder-coated steel is £245 and available in large (785 millimeters tall) and medium (635 millimeters). A scaled-down version, the Working Girl Low Stool (450 millimeters tall), is £200.
Above: A detail of the shiny red, powder-coated frame.
Above: The simple Working Girl Chair, shown here with a raw steel frame and lacquered oak seat; £230.
Above: The stool in black, red, and white and large, medium, and low.
Above: The oak-detailed Working Girl Bench seats two and stacks nicely; £370.
See the style of stool that inspired Irwin in our post, 10 Easy Pieces: Studio Stools. For a look at public gardens and must-visit shops in Irwin's home country, see our Ireland City Guide on Gardenista.
You need to login or register to view and manage your bookmarks.