Wherever Ilse Crawford goes, we follow. The London-based designer has temporarily moved her office, Studioilse, to Copenhagen and is taking up residency at The Apartment, a gallery founded by former Sotheby's specialist Tina Seidenfaden Busck that features modernist art and design in an 18th-century space presented as if it were a private home. Orchestrated by Studioilse and introducing several of the company's own new designs, the setup will be home to Crawford and her team through the start of November. "We always had the intention of bringing the Apartment to life as a home, not a gallery," Crawford told Wallpaper Magazine. "We like to see the rooms in use." Toward that end, there's a calendar of  lectures and kitchen suppers for the fall. And even without any visitors, the spaces have taken on an invitingly lived-in look.
Photographs by Casper Sejersen for the Apartment, unless otherwise noted.
Above: Furnishings in the new space are a mix of Studioilse designs and 20th-century gallery pieces from the Apartment. The living room showcases the new Ilse Sofa, a three seater with mohair velvet upholstery designed by Studioilse and manufactured by George Smith. Floor-to-ceiling heavy gray curtains match the walls and, when closed, envelop the room.
Above: Gray details–a sheepskin on Franco Albini's rattan Gala Lounge Chair designed in the 1950s, and charcoal area rugs over the plank wood floor–bring warmth and cohesion to the space. The domed light is available from The Apartment. Photograph by Daniella Witte of The Style Files for Femina.
Above: Dark gray walls sit above white wainscoting that wraps around the room. The furnishings include a Kalman Standing Floor Lamp and Table Lamp, as well as the pair of Tobia Scarpa Lounge Chairs. The Brass Cocktail Cabinet of oak and polished brass is another Studioilse debut in the Apartment.
Above L: A tall potted plant presides over a quiet reading corner with a wood-framed canvas chair. Above R: The Marble Bookshelf, a brass-framed piece by Belgian designer Muller Van Severen, displays books, objects, and lighting. Photographs by Daniella Witte of The Style Files for Femina.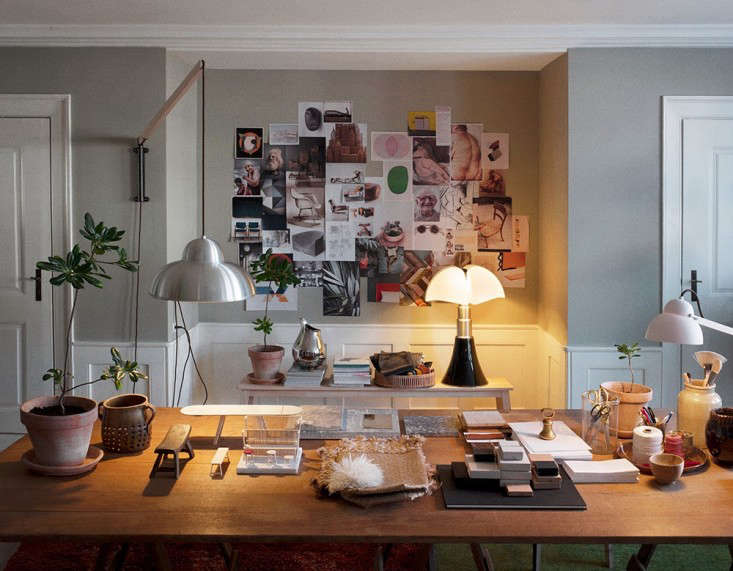 Above: In the office, model prototypes and sample finishes sit on the table in front of a mood-board wall.
Above: In a room for reading, an elegant hammock puts in a surprise appearance over a Moroccan Beni Quarain Rug. Vitsoe shelving and a Studioilse Low Bench that can be used as a step stool maintain organization across the wall.