My friend Carolyn Leonhardt (a former graphic designer) has spent the last few years "rescuing houses," as she says.
In this case, she rescued a tiny, dilapidated 1920 gunshot cottage in the Napa Valley, stripping it down to the studs to create a contemporary rustic cottage. "In California, life today takes place in the backyard," Carolyn says. "But these old houses are oriented toward the front, with the street as their focus." To bring the cottage into the 21st century, she deftly flipped the structure's orientation, moving the living area to the back and placing the bedrooms toward the front of the house.
Photography by Douglas Sterling.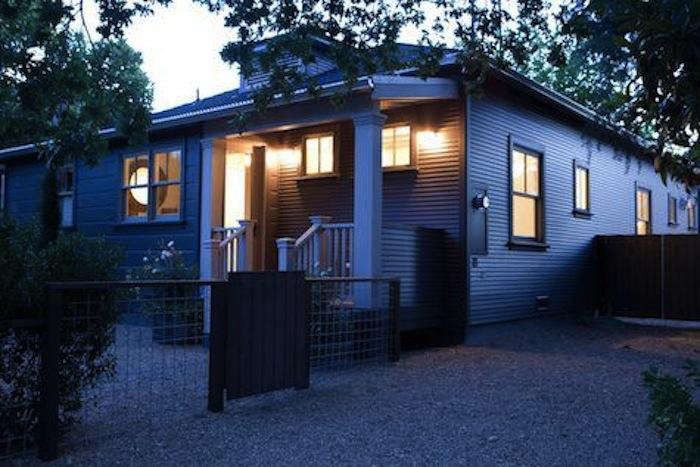 Above: The front yard consists of low-maintenance crushed gravel; the window frames are wood, with exteriors clad in steel. "I like the experience of walking into a house and the rhythm of entering a space," Carolyn says.
Above: One of Carolyn's many challenges was how to create an entryway. Her solution: to turn the front hallway into a gallery with two long ledges to display art and other objects.
Above: The kitchen was designed with maximum flexibility in mind.
Above: The kitchen counters are honed black granite with a textured leather finish.
Above: Carolyn created a wall of white-painted pine cupboards on either side of the refrigerator; the widely spaced slats allow for ventilation (and make it possible to tuck a microwave within).
Above: The island on casters can be easily repositioned; the shelf beneath is made of hog wire.
Above: A row of Brightwood Classic Pendants with Opal Flat Glass Reflector Shades from Rejuvenation Hardware provides illumination in the kitchen.
Above: Carolyn preserved the original fir plank floors (much more durable than pine, which is typically found in houses of the period). She stripped the wood surfaces and treated them with iron sulphate, a chemical process (as opposed to a stain) that creates a variegated surface. A galvanized pipe mounted on the wall provides a venue for displaying art.
Above: Carolyn added zinc patches to the floor in areas where there was damage.
Above: In the master bedroom, Carolyn wanted to recreate the feel of an old summerhouse; a row of windows floods the room with sunlight.
Above: In the bathroom, Carolyn has repurposed shutters as cabinet doors, a custom-built vanity with black granite countertop, and storage shelves made of hog wire beneath the sink.
Above: At the rear of the house, French doors open onto the backyard; the small deck is built around an existing mulberry tree.
Above: Across the back yard from the house is a garage (to the right ) and a small guest unit with an en suite bathroom. The standing-seam metal roof is a reference to California's farm buildings of the past.
(Visited 174 times, 1 visits today)