John Derian recently introduced a small collection of upholstered furniture, based on vintage couches, settees, and chairs, made by one of our favorite family-owned companies, Cisco Brothers, based in LA. The furniture is made with soy-based foam, non-toxic glues, and FSC certified domestic maple wood. The pieces are offered in oyster or flax colored linen from Belgian company Libeco and are available through Bergdorf Goodman or John Derian in New York.
Below: The Geranium sofa is based on a Hepplewhite-style antique; photo from Style Beat.
Below: The Fritillaria chair is based on an original Napoleon III-style chair that Derian owns; the style dates from the mid- to late-19th century France. It's $3,410 upholstered and $3,740 slipcovered; photo from Style Beat.
Below: The tufted Field Bench $6,160.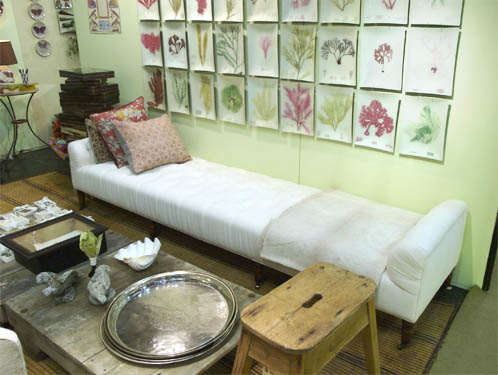 Below: The Dromedary love seat is $4,860.
You need to login or register to view and manage your bookmarks.