Off the beaten path in Los Ranchos (a small town near Albuquerque), Los Poblanos Historic Inn was designed by John Gaw Meem, long considered New Mexico's most important architect and now recognized internationally for his contribution to 20th century architecture. The inn, recently remodeled by Moule & Polyzoides Architects and Urbanists, sits on a 25-acre historic property, and includes formal gardens, lavender fields, a cultural center, a store, and an organic farm. All meals feature fresh ingredients from the farm, and the amenities in the guest rooms are made from the lavender grown on the farm. Guest rooms come in two styles; New Mexican Territorial Revival and agricultural/dairy buildings (tin roofs and white stucco); both originating in the 1930s and decorated with handcrafted furniture and fixtures from WPA craftsmen of the Great Depression and local craftspeople. Los Poblanos is a favorite with architects and designers, who appreciate the authenticity of the inn, where "nothing is copied from anywhere else." Go to Los Poblanos for more information.
Above: Los Poblanos Historic Inn is part of an organic farm and is surrounded by lavender fields.
Above: Behind the original dairy room of the farm sits a grain silo, bearing original graphics.
Above: The farm shop, located in the original dairy room, carries the farm's organic lavender products, hard-to-find gardening and kitchen supplies, locally made products, and books on New Mexican art and architecture.
Above: Roosting friends; a sign that this is a working farm.
Above: Distinguishing features of the New Mexican Territorial Revival are the use of traditional regional adobe construction, low flat ceilings with exposed beams, and sash windows.
Above: A rustic carved bench.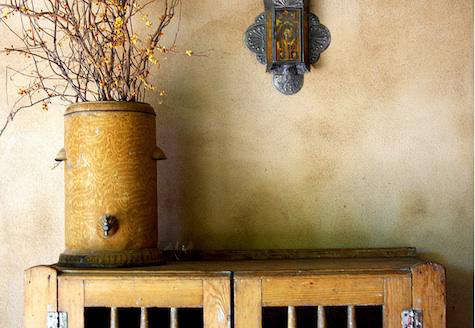 Above: Traditional adobe walls complement the traditional wood furniture and carvings depicting saints.
Above: The chandelier is an example of New Mexican tinwork.
Above: The courtyard farm suites are in the style of the farm's historic 1930s dairy buildings with pitched tin roofs and white stucco walls.
Above: The bedrooms are clean and simple, with iron beds and crisp white linens.
Above: The owners commissioned custom made cement tiles from Mexico using an Alexander Girard design called Palio (after the Palio).
Above: An Industry Ceiling Fan brings relief from the Southwest desert heat.
Above: Interior sliding barn doors reference the compound's agricultural origins . Photography courtesy of Los Poblanos.
(Visited 245 times, 1 visits today)