When chef Bertrand Grébaut opened his restaurant, Septime, in a remote corner of the 11th arrondissement, he told the New York Times: "I wanted to liberate good French food from expensive hotel dining rooms. The ceremony of haute cuisine has become boring." Grébaut speaks from experience (he started his career at the three-star L'Arpege and won his own Michelin star at L'Agapé). His new space is reminiscent of a Danish warehouse (was he inspired by Noma?), with a notable lack of frills.
The interiors are similarly unfussy, featuring rough wood tables, industrial lighting, menus delivered on office clipboards, and a mix of new (Tom Dixon) and old seating–one reviewer called the space reminiscent of the rustic warehouse spaces you find in Copenhagen (hmm, is he talking about Noma?). To read more about the "aesthetically flawless" food, go to the NY Times; for more information on the restaurant, go to Septime.
Above: Vintage industrial lights from Holland provide illumination.
Above: Grébaut, who studied at Penninghen Design School in Paris, enlisted Julien Cohen and his brother to help with the look and feel of the restaurant (their parents own cult store Merci in Paris).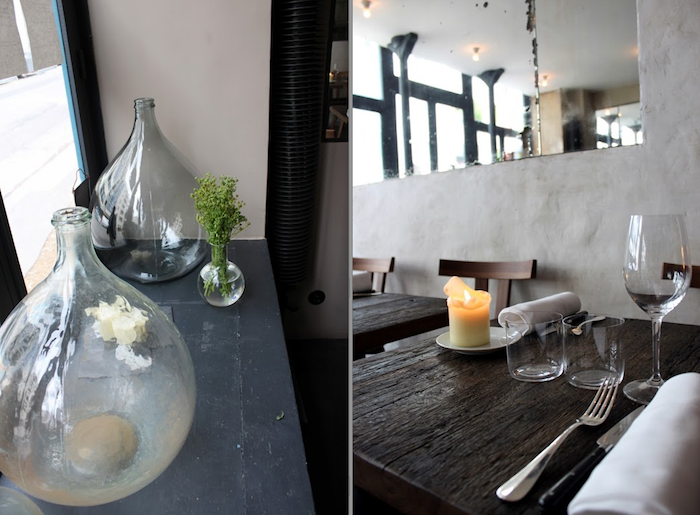 Above: Simple tableware is mixed with vintage finds.
Above: The wood-clad bar and cement walls add texture to the industrial space.
Above L: A large industrial mirrored wall opens up the room. Above R: A window overlooks a small courtyard in the rear.
Above: A vintage wooden bucket is used to chill wine.
Above: The unfinished wood tables echo the wood clad bar.
Above: A small wine cellar is visible through a window in the dining room.
Above: The restaurant's exterior.
You need to login or register to view and manage your bookmarks.