Located on Paseo de Gracia, the nine-room Margot House is the latest lodging addition to the bustling city of Barcelona. Father/daughter team Sandra and Sergio Durany named the hotel for Margot Tenenbaum, the character portrayed by Gwyneth Paltrow in Wes Anderson's film The Royal Tenenbaums. According to the duo, Margot's coolly detached and glamorous persona sets the tone for the look of the hotel.
Judging from the interiors, it's no surprise that both owners come from a design background–Sergio owns Natura, a chain of eco-friendly lifestyle stores, and Sandra runs a fashion and accessories stores called Be. The look of the hotel, which was designed by Vanskap Studio, is minimal, with a Scandinavian and Japanese aesthetic–all white walls, polished concrete floors and countertop surfaces, and pale wood furnishings. The designers sourced most of the furniture locally from AAO; lighting is from Barcelona-based Santa & Cole, and the wool blankets and pillows are from Teixidors.
Above: The large lobby is illuminated by skylights. Several seating areas offer guests plenty of mingling opportunities. 
Above: At the end of the lobby, guests can find a curated library of design journals. 
Above: A large table in the lobby is surrounded by folding canvas director's chairs; hanging planters add a note of greenery. Here are 10 more Folding Chairs to consider.
Above: A communal kitchen is available for guests.
Above: A simple table is set for guests to enjoy freshly brewed coffee and hot tea. 
Above: A light and airy guest room has an en suite bathtub. The table lamp is Cestita by Miquel Milá for Santa & Cole. For more, see 10 Baths in the Bedroom. 
Above: Half of this guest bedroom wall is covered in wainscoting. The Bassols linens are made from Egyptian cotton, and the coverlets and throw pillows are wool from Teixidors. A butterfly chair occupies one corner of the room.
Above: A long bench offers additional seating (with storage baskets underneath and a clothing rack), and a linen roman shade provides privacy or lets light into the bathroom. 
Above: A sparse guest room with oak furnishings gives the room a Japanese feel.
Above: A double vanity was made using a Parsons table, two white sinks, and two faucets.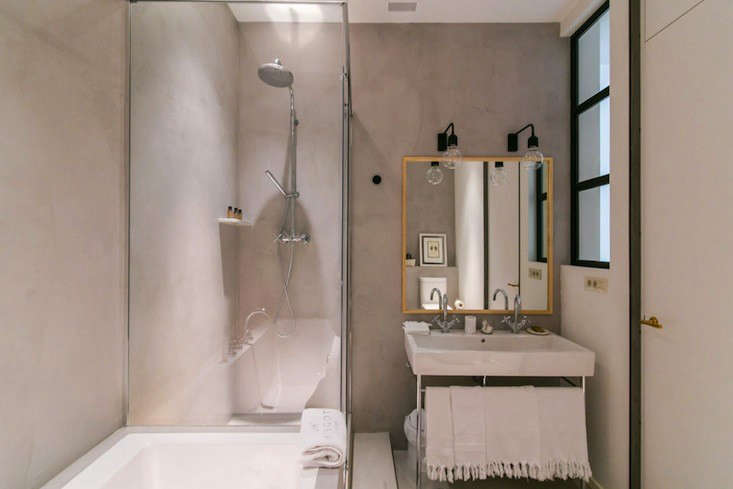 Above: This small guest bath features plastered walls, a double-faucet vanity, a square brass mirror, and two black wall scones.
Above: An interior window (opening) was added to the wall between this bathroom and bedroom, adding light to the bathroom.  
Above: A built-in hotel shop.
Above: Septimo, a Barcelona-based agency, created Margot House's branding material. 
For more in Barcelona, check out: 
(Visited 20 times, 1 visits today)