When fashion entrepreneur turned wellness expert Daphne Javitch moved into her apartment on New York's Lower East Side with her husband Pali Xisto Cornelsen, she set about making it a sanctuary in the middle of Manhattan. "We're both in touch with our mental/physical/emotional health, and so much of that is rooted and nurtured at home. We wanted a warm but minimal place, almost beachy," she says. The key elements? Openness, natural materials, low-slung furniture, and lots of white. Here's a look at their unexpectedly serene space, recently spotted on Rip & Tan.
Photography by Sarah Elliott, courtesy of Rip & Tan.
Javitch and Cornelsen happened upon a rare find in New York City: a recently-renovated apartment that was already open and full of light. "The previous owner did the architectural renovation and I made mostly cosmetic changes when I moved in," Javitch says, including painting, updating the kitchen and bath, swapping out fixtures, and adding built-ins over stand-alone furniture for a streamlined feel.
Cornelsen, a craftsman, designed and built the sofa that wraps around the living room. "The idea was to build a low, lounge-y seating area for watching movies with a projector, and to be able to have guests sleep over. That's why it's so deep," he says. Filling an apartment living room with one large built-in might seem counterintuitive, but the couch's low profile, neutral palette, and soft textures make the room feel expansive, not cramped.
Cornelsen built the sofa from layers of reclaimed pine. "I remember I was into layers at the time, stacks of materials that would create a structure. I wanted to build something that was casual and luxurious," he says. To keep it from feeling monotonous, he topped the down-filled Spanish white linen cushions with three different sizes of pillows upholstered with three different shades of white.
In the dining room, a natural fiber pendant lamp hangs above the table; for similar options, see Design Sleuth: 6 Summery Natural Fiber Pendant Lights.
Though the kitchen was in good shape with new appliances, it was mostly black—the opposite of what Javitch was going for. "It had glossy black cabinets and black granite countertops, so I tore everything out and had custom shelves and a butcher block island installed," she says.
Javitch and Cornelsen keep favorite kitchen items—"the pieces from Astier de Villatte that we received as wedding gifts, our typical Brazilian bar glasses, and a few random items from our trips to Mexico"—within reach. A mostly-white palette and plenty of empty space between stacks keep shelves from feeling cluttered.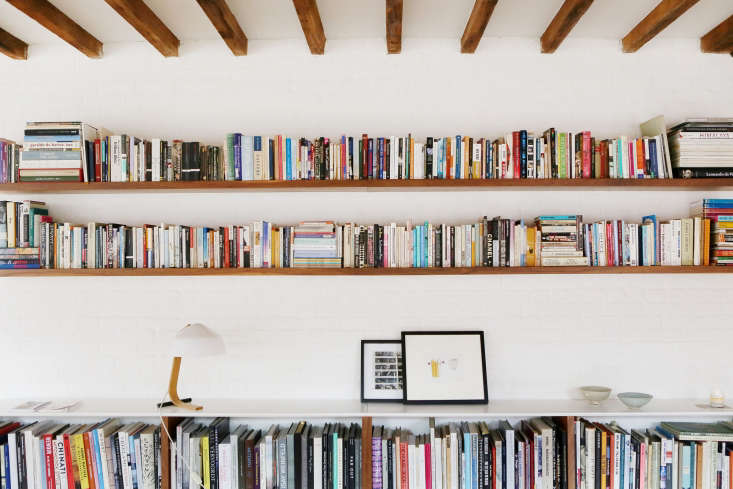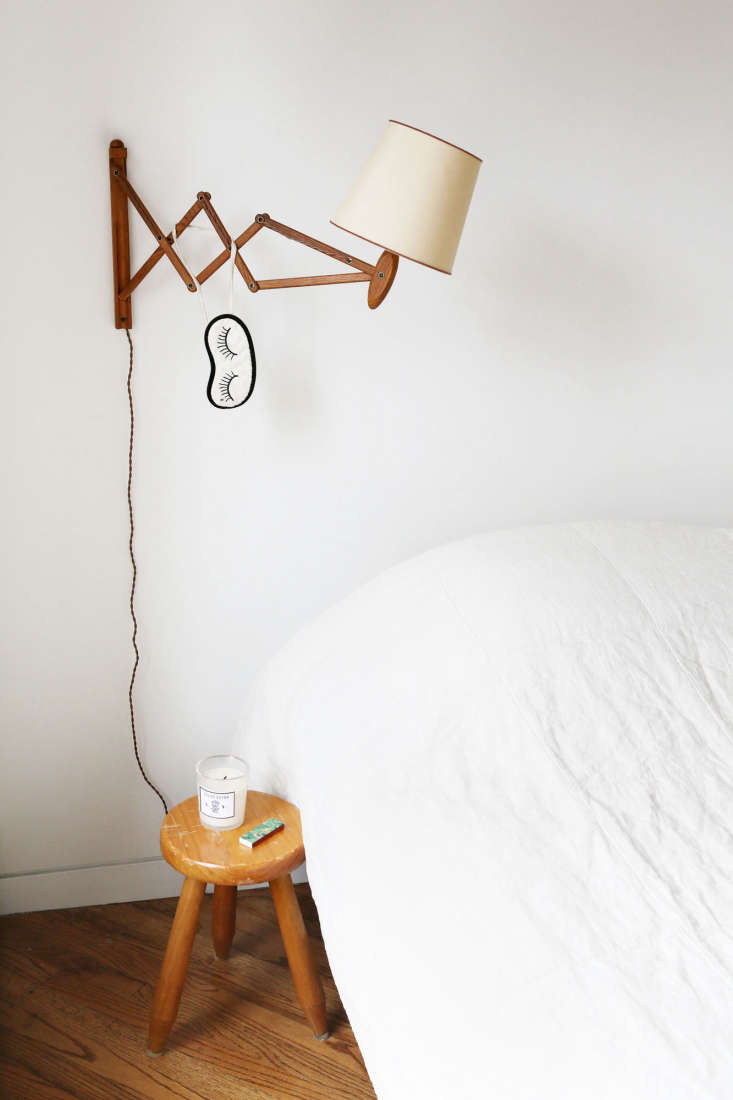 Like the kitchen, the bath was in need of an update when Javitch and Cornelsen moved in. "It was two small rooms with a heavy granite tub, shower, and sink counter," Javitch says. The couple completely renovated the space, designed a new shower, and installed a Waterworks tub. The layered rugs are from Double Knot in NYC's TriBeCa neighborhood.
When it comes to wellness in the home, Javitch says simplicity is key: "I feel at ease in a pared-down, clean, and cozy environment," she says. "But the most important thing is to create positive experiences and laugh a lot in your home."