Recently, when my mother came to visit New York on a whirlwind business trip, her hotel offered her their "superior business room" for the night. The room was spacious, she was told, and—even better—had a big window with views of the city. When she checked in, she discovered, "spacious" really translates to "room to edge around the bed on your way to the bathroom," and "views of the city" really means "a view into a shaftway and a brick wall."
Living in a city often means compromising on natural light, and usually means giving up access to private outdoor space. So when Los Angeles–based Integrated Development set out to build a new complex of six townhouses under LA's Small Lot Ordinance (an antidote to "suburban style single-family subdivisions," allowing for small-footprint developments with open space), they wanted to revolutionize city living and maximize the things that city dwellers usually have to give up: outdoor space, private entrances, and lots of natural light. Their quality-of-living strategy? Raise the living areas to the second floor to capture maximum sunlight, use windows strategically, and ensure every unit has access to green space—all within a small footprint. Take a look at the results.
Photography by Lauren Moore, courtesy of Integrated Development.
In designing the units, the chief goal was not space but light: "Natural light is one of the most important elements to consider in design: It makes us feel good and connects us to the outside," the developers say. "We understood that gross square footage is not as important as finding the correct equilibrium between exterior and interior space, the position of the structure in its environment, and its relationship with natural light throughout the day." In other words: quality over quantity.
So they started by scrapping the idea of the traditional side-by-side row house. "This type of organization would have resulted in the majority of the residences being situated between the other residences, eliminating the potential for natural light along the long sides of the home," they explain. Instead, they opted for three "bars" (or rows) of homes, set in a U-shape. As a result each unit has access to light and airflow on three sides and access to a private terrace.
The open-plan living areas feel spacious thanks to wide-plank European white oak floors and walls painted in Benjamin Moore's Super White. Shown here: one of the unit layouts.
Alongside the kitchen, a cedar "cube" (an echo of the cladding on the unit's exterior) conceals a walk-in pantry and a washroom. The cooktop is the Bosch 800 Series. Out of frame, an Allia Fireclay Single-Bowl Undermount Sink by Rohl is paired with a Delta Trinsic Stainless Steel faucet.
The team ran into another paradox of city life: How to maximize light without living in a fishbowl? The solution came in the form of smart window placement. While the team installed windows on every open wall they could, they did it carefully: "We considered how we could maximize openings and natural light in each home, while ensuring view orientations would not look directly into another home or an unsightly surrounding condition, such as a neighbor's wall," they say. They installed three types of windows: clerestory windows along the tops of walls, which let in light but make it difficult for neighbors to see in; "punched" windows with high windowsills; and floor-to-ceiling glass panels.
Note also the inset floor vent, made out of the same white oak as the flooring: It allows air to be carried throughout the space without having to install HVAC ducting in the ceilings (therefore compromising ceiling height).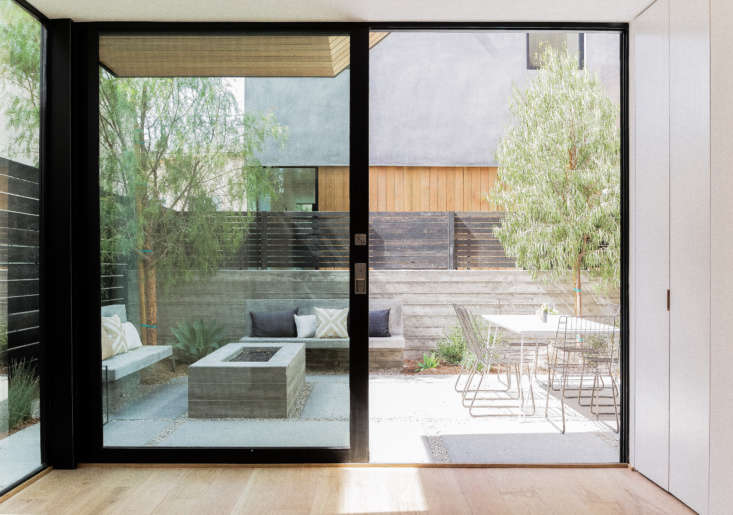 N.B.: Interested? The units are mostly sold, though Integrated Development tells us there's one available. See Habitat 6 for more info.
More apartments we like in LA:
(Visited 597 times, 1 visits today)