Known for being opinionated and picky, we architects are an intimidating bunch to buy presents for. But the truth is we're really not all that complicated–we just like things to be simple, well designed, and functional. Not too much of a tall order, right? Here are seven items any architect would be delighted to receive.
To make sure we've got everyone on your list covered, we're posting a new gift guide every weekday from now until Christmas. See all of the Gift Guides to date in our archive.
Above: The Lampe Gras 211 was designed by Bernard-Alpin Gras in 1921 for office and industrial use (originally with no screws or welded joints). Adopted by Le Corbusier as his go-to lamp, it soon became the quintessential architect's choice. A modern classic, it's been on my wish list for years. Constructed from steel, the similar Lampe Gras 201 Clamp Lamp is available in matte black or chrome from Design Within Reach; $400. In the UK, the Lampe Gras 211 itself is available in matt black as well four colors for £384 from Twenty Twenty One.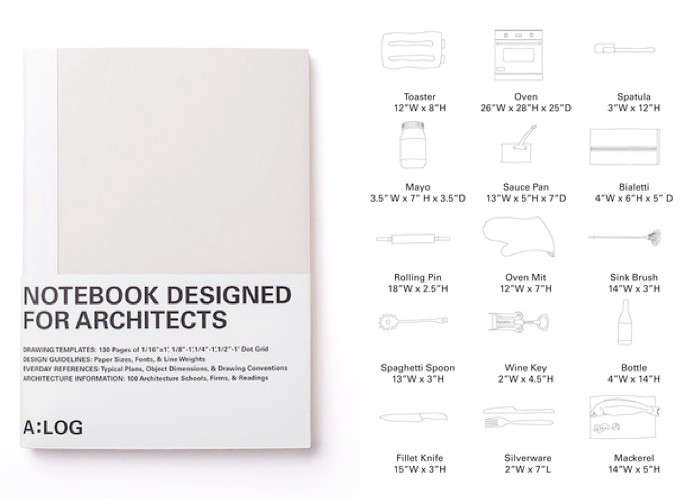 Above L: Every sketch an architect draws is filled with information–to make sure what we're drawing can be built, there's a lot behind those lines that you don't see. Tired of carrying around heavy reference books containing design and architectural standards, three architecture students from Columbia created A:LOG : A Notebook Designed for Architects. The first 30 pages contain reference information, such as door dimensions and egress codes, while the remaining 130 pages are scaled dot grids for producing sketches on the go. The trio Kickstarted the project in June and the A:LOG is now available for $25 in an Imperial Edition (in inches), and a Metric Edition. Above R: We like the book's living scenario sketches.  Where else can you find the dimensions of a mackerel?
Above: The heft and weight of the Kaweco AL Sport Mechanical Pencil is guaranteed to give satisfaction while drawing and writing; $62.50 from Amazon, or €54.99 from Misc Store. 
Above: At $1.99 per digital download, this DIY project will fit anyone's budget: Buy one or several 4 by 6-inch LettersArt photos–letters discovered in architectural details–and frame them yourself for a personalized present. The alphabet is available from LettersArt via Etsy for $1.99 per image.
Above: Vintage grain sacks get a bold second life: the Mondriaan nr3 Tote Bag, with red, yellow, and blue leather accents, is made by Etsy seller Rinarts in the Netherlands; $218.31.
Textile bags 146
Above:  Etsy shop 2of2 makes small, precision-cut Birch Frame House structures that are available in virtually any color. Julie couldn't resist one, and we're guessing most architects won't be able to either; $37.50.
Above: Architects have a weakness for great stairs, and there are plenty to admire in Staircases: The Architecture of Ascent, published by Thames & Hudson; $46.93. In the UK, the book is available through the RIBA (Royal Institute of British Architects) bookshop; £45.
More gifts for architects? Check out Sarah's roundup from last year Gift Guide for the Architect. Also consider 5 Favorites: Cheerful Desk Lamps. 
(Visited 24 times, 1 visits today)