Ceramicist Cécile Daladier recently introduced her winter collection of ceramics with an opening party at her Paris studio. The collection, composed of pieces shaped like alveoli in a beehive, inspired the theme: waffles and honey.
"It was like a brunch, like tea time all day," says Lucile Demory, a friend who also works with Daladier. Beginning at 11 am on a sunny morning, Demory and Daladier served waffles, pain de mie, a massive brioche, tea, and coffee, and ten different varieties of honey. Both the honey and the decor came from a remote mountain in Drôme, the location of Daladier's second home and studio, from two women (one with a flock of merino sheep and the other with overflowing beehives). Read on for details of the winter party, alveolus collection, and Cécile's waffle recipe.
Above: Daladier and a group of guests home in.
Above: Raku ceramics mix with wooden trays on a bed of raw gray wool.
Above: Throughout the day, the guests meandered through the studio meeting one another, eating waffles, and admiring the new collection.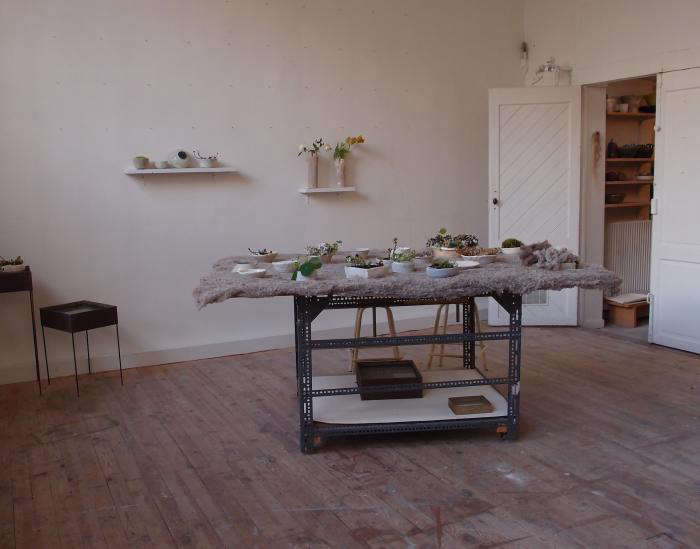 Above: Daladier's neighbor in Drôme, the one with the flock of merino sheep, provided her with a raw gray wool to cover the studio table (it's the same material Daladier uses to pack her ceramics for shipping).
Above: Dark burgundy hydrangea is mixed with a selection from the garden in the Violettier vase.
Above: Honey varieties: Lavender, Chestnut, Apple, Thyme, Heather, Fig, and Mielandre Fleur (the later from Montagne de Mielandre, Daladier's hometown).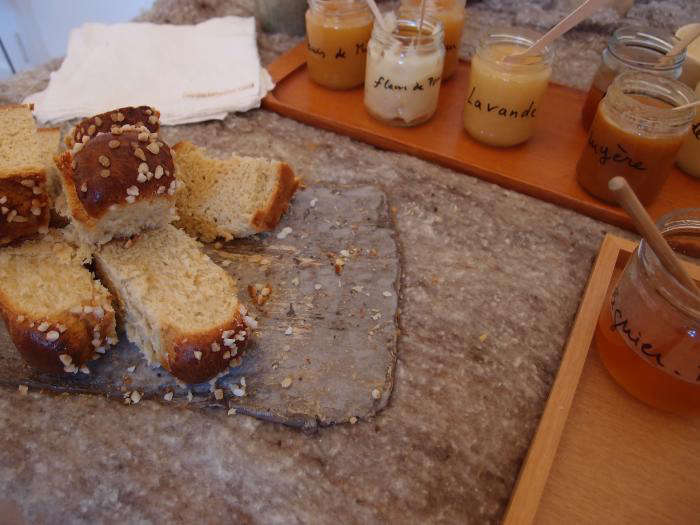 Above: A plate of brioche and honey served on wood and ceramic trays.
Above: Daladier, clad in a pinkish-beige cardigan, smiling and chatting with a party guest.
Above: Guests sipping tea and coffee from ceramic cups.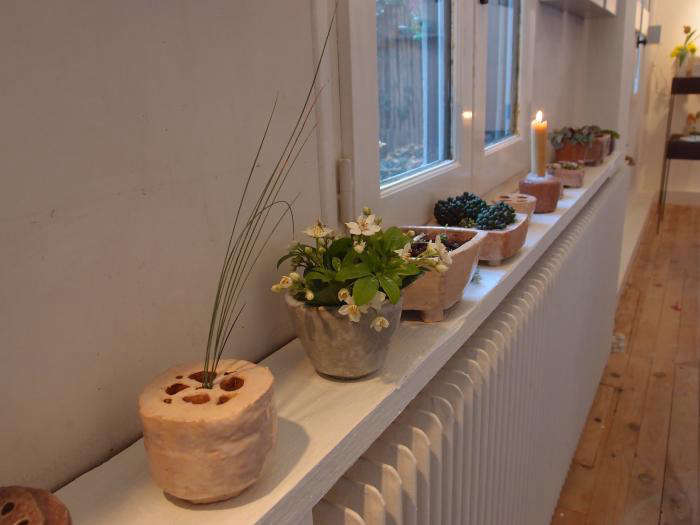 Above: Alveolus-shaped ceramics displayed on the studio's ledge.
Above: A medium-size vase with a mix of narcissus, fennel, parsley, and white cyclamen.
Above: A friend admires the large Violettiers vase.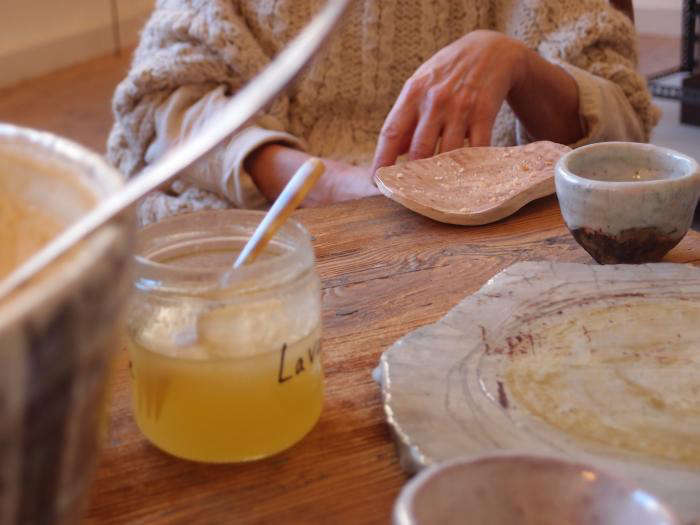 Above: Slightly curved Raku ceramic dishes served as plates during the party.
Cécile's gaufre recipe (in metric measurements):
1 kg flour
7 eggs
1 cube of fresh yeast
1 tsp salt
100 grams melted butter
1 liter milk
Melt the yeast with a spoon of sugar in a bowl of lukewarm water and wait for it to foam. Warm up the milk just a bit and add the melted butter. Place the flour in a large bowl ("a really big one, as it will rise a lot"), and slowly mix in the eggs, milk, salt, and butter. Finally, add the yeast and mix well; cover and let sit for about four hours. Then you're ready to press the waffles as desired.
N.B.: For more from Daladier, see her spring party from last year in Steal This Look: Parisian Oyster Party and her ceramics in Flower Arranging a la Parisienne.
You need to login or register to view and manage your bookmarks.