We've posted before about the Arts & Crafts-influenced work of British textile designer Lindsay Alker (see Fabrics & Linens: Lindsay Alker Textiles), so we were pleased to discover that some of her pieces recently arrived at the John Derian store in Manhattan. Alker's lino-block prints are hand silkscreened on Irish linen (she works from a thatched-roof cottage in Sussex); her Battle Great Wood print features fanciful hunting scenes (stags leaping, etc.). John Derian is located at 10 East Second Street in Manhattan; call (212) 677-8408.
Above: Aker's 20-inch-square Battle Great Wood pillow is $261 at John Derian.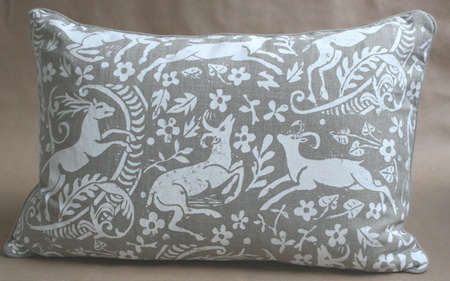 Above: Aker's 24-by-16-inch oblong Battle Great Wood pillow is $282 at John Derian.
You need to login or register to view and manage your bookmarks.