We often get requests from friends asking for recommendations on a certain piece of furniture or a fixture, but a year ago, when my friend Berry wanted to know my go-to white tee shirt, I was stumped. I had just recently come to the realization that my staple, the Petit Bateau white tee, was looking infinitely better on my tween daughter (tragic, I know). Where to turn? I was in white tee shirt limbo. I polled my fashion forward-friend, Heidi, who promptly recommended Alexander Wang and APC. I thought the latter would work, but it was not to be. Then, last summer, on a visit to LA, I found the solution: the Standard Issue Crew Neck T Shirt from Apollis (a soft, washed cotton jersey with a fit inspired by military issue undershirts). I stocked up immediately and have never looked back.
Who knew that such a wardrobe basic could be so elusive? Should you find yourself in a similar situation, here's a roundup of our favorite white tee picks at Remodelista:
Julie: "I recently discovered Everlane and I'm a fan of their well-priced basics; their V-White Tee is $15."
Francesca: "My current obsession is the Isabel Marant Linen tee shirt, which I have in short sleeve and long. Pricey, but with a nice chunky necklace it's a new substitute for the white button-down shirt. $176 from Montaigne Market.
Christine: "For years, I have been wearing Petit Bateau White tees and when I do, I'm channeling Jean Seberg in Breathless." $33 for a two pack set from Petit Bateau.
Alexa: "Ever since I first discovered Danish designer Marie-Louise Mogensen's Base Range line last year I've been collecting the pieces, one by one. Their whole approach is about clean and functional basics with a sustainable, organic approach. I like the oversized fit of the Classic

Tee

in off w

hite

made from organic bamboo."  $55 from La Garconne.
Janet: "I love a classic Boatneck Tee and my favorite is from Chance. It holds its shape, which is a flattering but not an overly tight fit." $68 from Chance.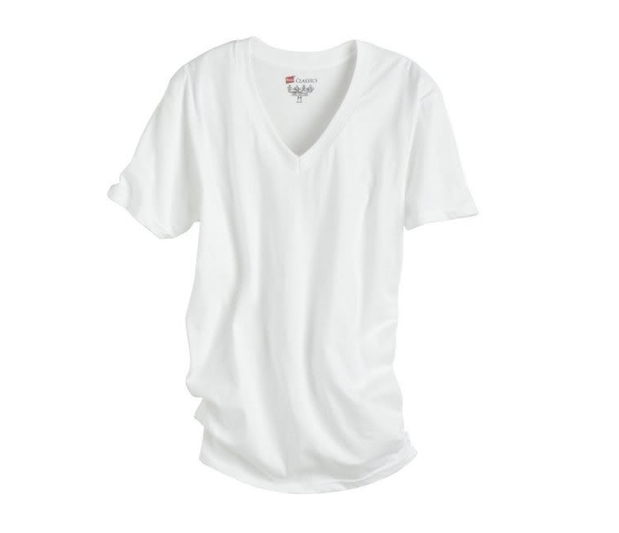 Meredith: "At heart, I'm not really that fancy. I truly love the Hanes V Neck Undershirt. They're opaque enough to wear in real life and run small enough to fit a woman's frame. I don't like the delicate little arms designers put on women's shirts; I like the fit of men's tees, loose and comfortable. These hold up in the wash and they're tagless and uber comfortable. And they're cheap enough that you can actually wear white tees like the basics they're meant to be." $21 for a pack of three from Hanes.
Stacey: "The Standard Issue Crew Neck T Shirt from Apollis. I tend to pick up a new one whenever I'm in downtown LA, and they make such good gifts, too."
Izabella (our resident Scandi): "I like Filippa K T

ees,

preferably in jersey cotton fabric. They are super comfy, durable, and keep their shape." They're hard to come by in the US, so Izabella usually buys them on trips back to Sweden (you can find them online in the UK at Boozt).
Justine: "As a mother of young children, Splendid's very light jersey

tee

is exactly the kind of shirt I look for. Casually feminine, it has personality and flare, but still works well with my active lifestyle. I love the juxtaposition of playful capped sleeves with the subtly sexy lower neck line. And I have to admit, the modest coverage of the tummy and posterior certainly has its appeal." Splendid Jersey Tee; $48 from Revolve Clothing.
As for Berry, after much sleuthing on her part, she ended up with the Short Sleeve Crew T, $14.95 from The Gap. As she says, "I'm always getting stains on tee shirts. I've learned it's best to buy a bunch and have a new one standing by." If you have a favorite white tee shirt, we'd love to add it to the list. Just pop it in the comments below. Thanks!