No matter how well-designed your home, bad lighting can really kill the mood. Recessed lights are an option that when used strategically can remedy that—but they can also turn your ceiling into Swiss cheese and shroud your quarters in a dull light. A while back, Remodelista reader John Gibson wrote asking us to elucidate this "useful but often so badly applied tool." One of our favorite designers, New York architect Oliver Freundlich, told us he is known in his office as the Lighting Dictator and would be happy to guide us. Here's what he had to say.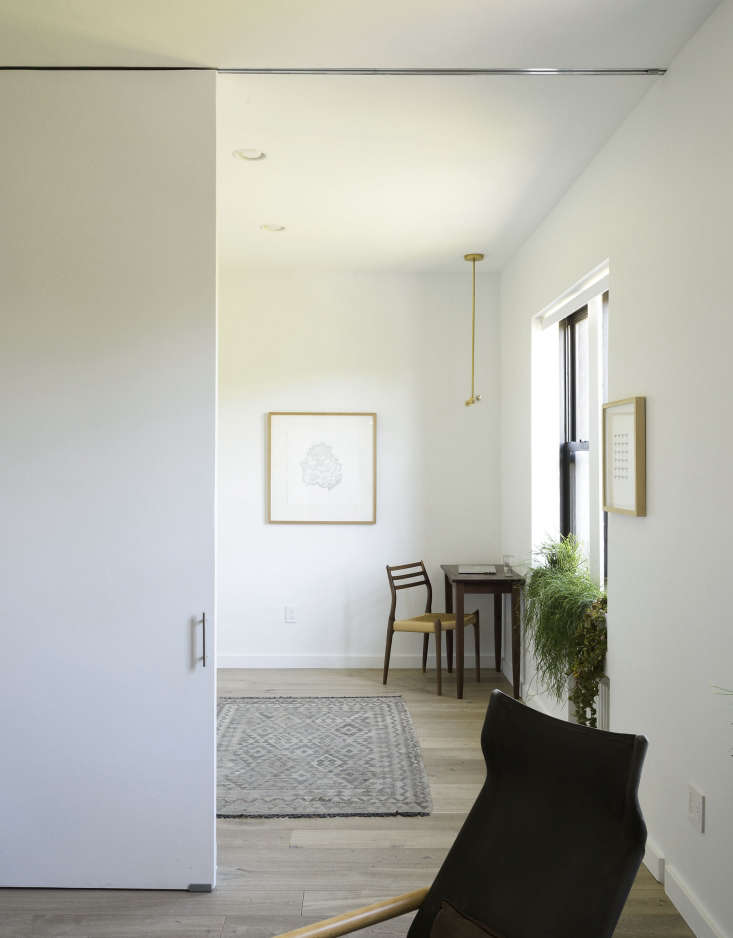 The goal for recessed lighting is to add not only visibility but also interest and ambiance to your environment. Toward that end, layering your lighting is critical: Combine recessed lights with a variety of other types (such as decorative pendants, table lamps, sconces, and candles) to make rooms feel balanced and inviting. This applies to modern spaces, where recessed lighting is most often used, and to traditional settings, such as old townhouses, where strategically placed recessed lights can work wonders.
How to begin? Here are my crucial recessed lighting tips gathered from my collaborations with masterful lighting designer Marianne Maloney of Filament 33 and from years of experimenting.
1. Wash the wall, not the floor, with light.
Recessed lighting comes in various configurations. A wall washer is a fixture that is typically placed 18 to 24 inches from the wall (depending on your ceiling height) and used in a series to spread light on a large surface. When light is bounced off a vertical surface into a room, it creates a great sense of illumination: You notice the wall rather than the fixture itself.
2. Spotlight art and objects.
Instead of blanketing a space with an even grid of lighting, introduce a spotlight (or a few) to orient the eye. Unlike wall washers, spotlights, with their narrow beams, draw your attention to a specific moment within a room. For example, installing spotlights in a bathroom over a porcelain sink and bathtub makes the fixtures sparkle and pop.
3. Choose the right trim style.
We all know that beauty is in the details. Recessed lighting comes with many different trim options and apertures, and choosing the right ones can make even the most unobtrusive ceiling lights feel considered and refined. High-end fixtures are offered in metal finishes that look great in wood ceilings. For more minimal applications, you can install flangeless fixtures that are plastered into the ceiling to look seamless: All you see is an origami-like cutout in the ceiling plane.
4. Test the bulb color (and aim for warmth).
Not all light bulbs are created equal. I still prefer the warm glow of incandescent and halogen lighting. There are now a lot of excellent recessed LED manufacturers, but it's still important to test the color quality of their LEDs before committing. For residential applications, I recommend using the warmest LED available (typically +/- 2700k). This gets close to the quality of halogen lighting, though it's not exactly the same. Be warned that some of the more affordable LED lights have very little consistency in color quality, and you can actually see different shades of light from one fixture to the next.
5. Use dimmers throughout your house.
If you take no other piece of advice from me, you must install a dimmer on (nearly) every fixture in your home. Being able to adjust the intensity of lighting (especially overhead) based on the mood you want to create is paramount. This is not just important for your entertaining areas. I recommend using dimmers for all bathroom fixtures (think of relaxing in the tub), under-cabinet lighting, and even in walk-in closets. An added benefit of using dimmers is that when a bulb is dimmed even just 10 percent, you extend the life of the bulb. Note: LED lights usually require special electronic low-voltage (ELV) dimmers rather than typical magnetic low-voltage. Check to see what type of transformer is inside your recessed fixture before selecting the dimmer control.
Plus, Four Recommended Lighting Brands:
See more of Freundlich's work at Oliver Freundlich Design.
For lighting advice, choose your territory:
N.B.: This post is an update; the original story ran on January 29, 2016.
(Visited 3,245 times, 17 visits today)
Frequently asked questions
What is recessed lighting?
Recessed lighting, also known as can lighting or downlighting, is a type of lighting fixture that is installed above the ceiling line. The fixture is set into a ceiling opening, leaving the bulb recessed into the ceiling and hidden from view.
What are the benefits of using recessed lighting?
Recessed lighting is great for creating a clean, modern look. It provides a subtle, even light that can be directed to highlight specific areas, such as wall art or architectural details. Additionally, since the fixture is installed into the ceiling, it takes up no floor space, freeing up room for other uses.
What is the best type of bulb to use with recessed lighting?
LED bulbs are the best choice when it comes to recessed lighting. They are energy-efficient, long-lasting, and produce little to no heat. Additionally, they are available in a wide range of color temperatures, so you can choose the right one to create the desired atmosphere in your space.
What are some things to consider when installing recessed lighting?
When installing recessed lighting, you should consider the placement and spacing of the fixtures, the type of bulb to use, and the type of housing to select. You should also ensure that the fixtures are compatible with the type of ceiling you have (such as drywall or plaster). Additionally, it is important to consider the overall design of your space and how the lighting will fit into it.
Can recessed lighting be dimmed?
Yes, recessed lighting can be dimmed. Many fixtures come with dimmer switches or can be easily connected to one. Dimming the lights can help create a cozy and relaxed atmosphere, and can also help save energy by using less electricity.