French-based Le Vestiaire de Jeanne is perhaps the most novel fashion label we've come across: Founded by an older sister to create age-appropriate clothes for her younger sister.
In the fall of 2005, eighteen-year-old French medical student Charlotte Le Stum-Meyer was inspired by her six-year-old sister, Jeanne, and her need for "simple and sober clothes, which are difficult to find in kids' fashion," as she says. Charlotte began Le Vestiaire de Jeanne (which translates to "Jeanne's wardrobe") by designing a few classic pieces and photographing her sister twirling around in loose linen skirts. Charlotte's goal is to remain true to the spirit of creativity and effortless dressing.
Now 13 years old, Jeanne is growing into her preteen years with an age-appropriate, easy, and polished wardrobe with room for creativity (an occasional linen turban, say, or a tulle skirt). If you're an adult and find yourself just as inspired by Jeanne's clothing, Charlotte has recently started Le Vestiaire de Clé for women.
Above: Jeanne twirls in a sunny linen Basic Skirt; available in white for €60.
Above: Jeanne wears a gray linen dress and leather sandals from the summer collection. A similar piece is the Basic Dress with Long Sleeves in an old white wool blend; €40.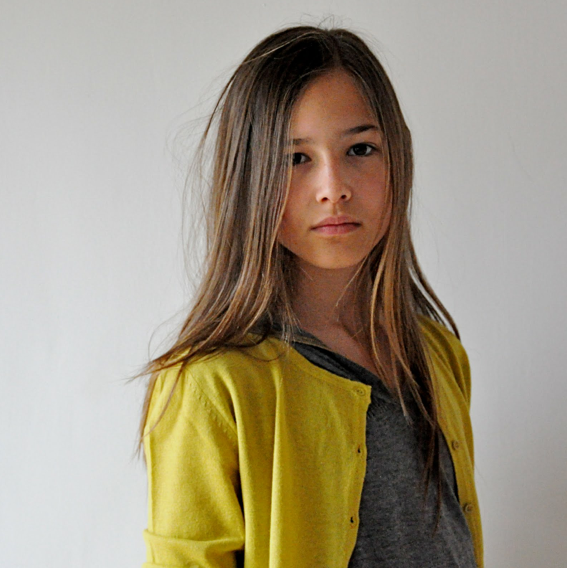 Above: A bright yellow version of the merino Carbou Cardigan (available in sienna and putty) for €38.75.
Above: The Basic Tunic in light gray; €30.
Above: Layered linen dress and the summer version of the Sweeper Jacket; now available in black linen for €110.
Above: A shiny silver button closes the back of this gray-collared dress.
Above: The black cashmere Basic Sweater (€50.42) and Ribbed Knee Socks from Tuss (€16.25).
Above: Jeanne walks along stone railings in a charcoal gray Washer Pleated Dress; €65.
You need to login or register to view and manage your bookmarks.