As a property developer, UK-based Pete Monaghan specializes in taking tired old houses—the unloved and the unlovely—and giving them a bold contemporary refresh, while celebrating every precious piece of their original character that remains. His own East London home, which he shares with his partner, Cherish Perez de Tagle, a film and television producer, is very much a case in point.
When the couple first viewed the space, back in 2017, "it was basically a case study on damp–every kind of damp and mold and really badly configured," Pete says. But it helped that they both loved the area—"It has fantastic restaurants and cafes, the best-designed gym, great pubs, and a real feeling of space and tranquillity"—and that they could see the potential.
Home renovations are in his DNA, Pete says. "I grew up on building sites because my father has always done property improvements. When I was child, my parents bought a derelict house and we lived at the attic while they slowly did it up, I loved living around the action," Pete says. When he and his father, Richard, took on a renovation project together, there was no turning back. The duo's shared property company, Mon Projects, evolved organically and is based in East London's thriving and creative borough of Hackney. "What I love about working on period properties is taking things that are old and tired, and refreshing them, while retaining their character.
"I was looking for a project that was just about terrible enough that it would allow me to improve it and I'd still be in pocket," he says. Pete was also keen to find somewhere with the potential to create more space—whether in a loft or basement—and this apartment came with a fairly basic cellar on the lower ground floor. "The Victorians would have used it for cold storage and for coal—in fact there was still some in the coal hole," remembers Pete, referring to the space on the street side where the coal man would regularly drop down a supply of this messy fuel. Stealing space from the basement during the course of the renovation, Pete managed to add two additional good-sized bedrooms and a beautiful bathroom, as well as a third-bedroom-cum-studio at the back of the house.
When it came to the furnishings, Pete and Cherish partnered with their favorite local vintage furniture dealer to curate the mix. "One day we got talking to Gennaro Leone, the owner of Spazio Leone, as he has a studio close to one of our regular coffee shops. We both love his sense of aesthetics, his passion, and his incredible knowledge of Italian design." The  choice of vintage pieces was a no-brainer. "They compare so well to the price of something new, and they're so much more interesting and unique. We didn't want to live in a catalog-shopped home."
Join us for a look, and see more at The Modern House.
The kitchen, above the studio, has been extended to double its size, with a concrete floor polished to just the right level of soft sheen and doors opening onto the courtyard garden beyond. Here the aesthetic is almost monastically simple, with custom-made cabinetry, pale stone worktops, and a back splash created using authentic Tadelakt, a traditional Moroccan material that Pete spent months mastering and which he also used in the bathroom, "If it's not done properly, it can be problematic in the UK climate. I wanted to become an expert in applying it authentically, while ensuring that it performs properly in a wet environment. It creates a very clean and minimal aesthetic, because there is no tile ground required."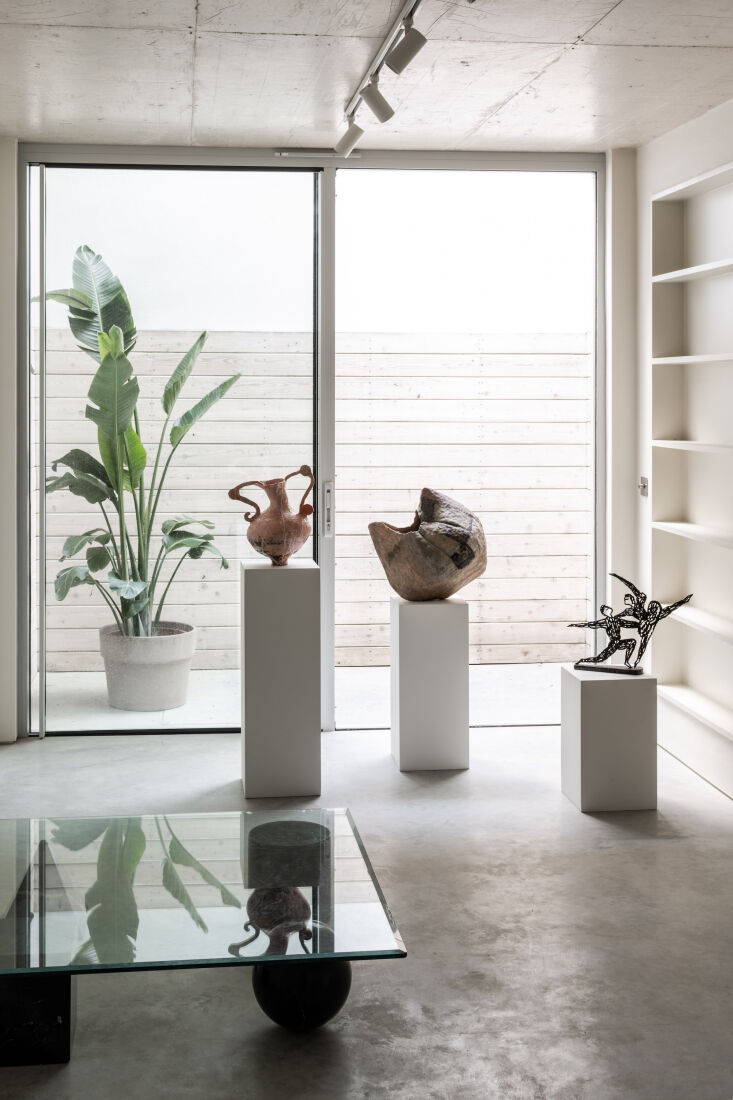 See more space-maximizing conversions: