Is there anything more luxurious than the vanilla bean? Aside from the fact that they grow on orchids, the beans (known as tlilxochitl, "the black flower," by the Aztecs) emit a fragrance that is almost otherworldly. All reasons why the seductive vanilla bean is the perfect candidate for a modern Valentine's Day gift.
I first spotted this idea for creating heart-shaped vanilla bean ornaments in last year's Retro Valentine's Workshop at Echo Park's Cookbook Grocery and filed away the idea. This February, I'm sending out the tiny hearts to loved ones to hang in their kitchens until ready to use for any number of vanilla infusions (you could even tuck one into a jar of sugar for baking with). Want to try the project yourself? See our sources and step-by-step instructions below.
Above: The inspiration: black hearts hanging on the wall at Cookbook Grocery in LA (available for $14 each at the shop).
Here's What You'll Need: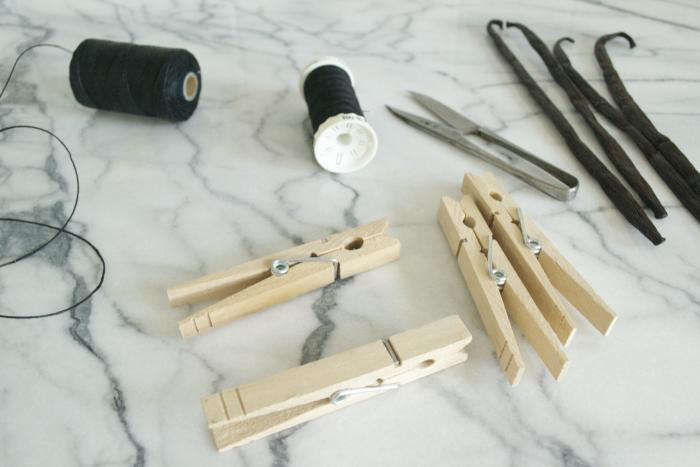 Instructions:
Above: Twist two sets of two vanilla beans tightly together and secure at the top and bottom with clothespins.
Above: Work the shape of the twisted beans into a heart-like curve. Cut two lengths of thread or waxed linen to tie at each end.
Above: Twist the bottom of the heart together and secure with a tight knot. Wrap the thread in and out of the twisted vanilla beans to make sure they're tightly intertwined.
Above: Twist the beans together at the center of the heart, leaving about half an inch to hang down the center. Be sure to tie your thread as tight as possible; once the beans dry in this shape, they'll shrink up some. The finished heart hangs next to the kitchen sink (adding a fine vanilla fragrance to the kitchen).
Looking for more genius ideas for the kitchen? See 23 more DIY Kitchen Projects in our archive; everything from a Ladder as Pot Rack to Dip-Dyed Wooden Spoons to an entire DIY Kitchen Island.
(Visited 76 times, 1 visits today)