Last summer, I spotted a great looking teepee in the neighborhood that seemed like a perfectly do-able DIY. So much so, I was compelled to investigate. Greg Pitt had made if for his two young children, as the family likes to hang out in their front garden to catch the sun at the end of the day. While he and his wife, Kelly, enjoy cocktails, their two children play (and ideally repose) in the teepee. 
Greg told me that he put it all together in two hours with six bamboo poles, three large painters drop cloths, some nuts and bolts, a hole punch, and some rope. Read on for instructions.
Photography by Mimi Giboin for Gardenista.
Above: "It's easiest to start at the top, then move around the frame to attach the cloth to the poles. "¨I left the cloth a little bit longer for the door."
Above: "I used three painters drop cloths–15 feet by 20 feet–the bigger the better. Cut each one into a large triangular piece then take an angle off the top so that the pieces fit together."
Above: "Wrap the drop cloth around the bamboo pole and attach it to the next piece of drop cloth with a washer and a 1-inch bolt. Use a hole punch for making the holes in the fabric."
Above: "Use washers and bolts to attach the drop cloth to the poles."
Above: Gregg tied the six poles together at the top of the teepee with some rope.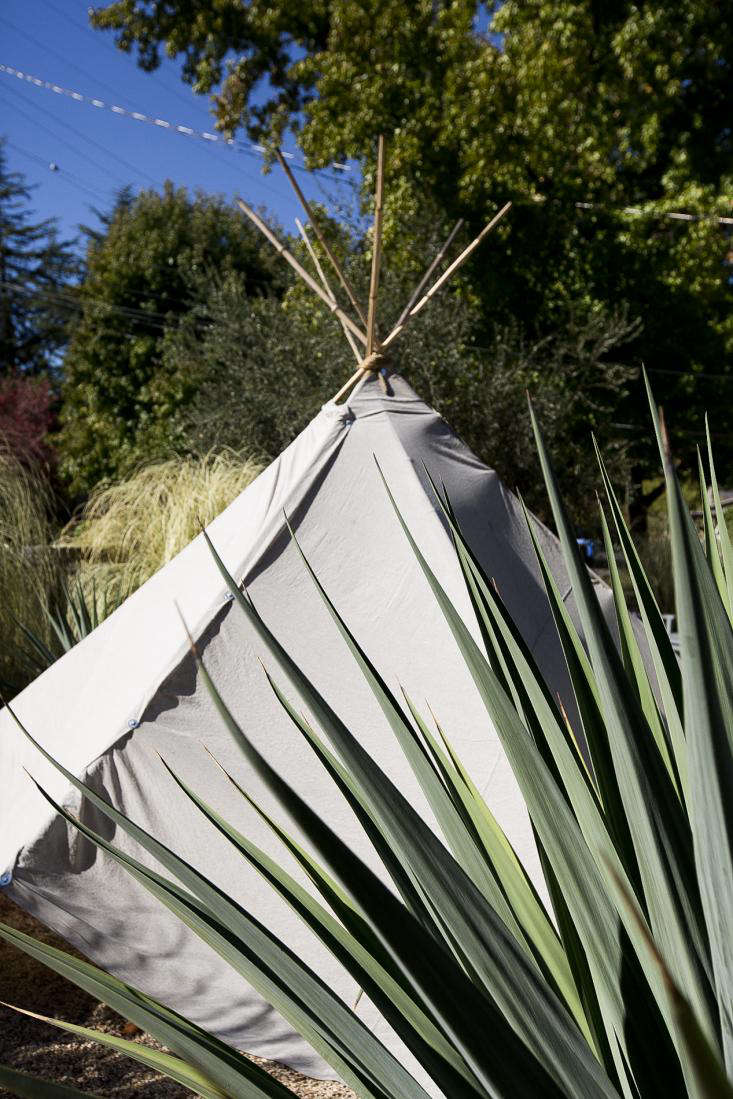 Above: Tie the six poles together at the top with a piece of rope.
Above:  Here's what Greg has to say: "Create a frame out of six bamboo poles (12 to 15 feet are an ideal length). Use longer poles if you want a larger tent."
This summer, Greg is thinking about jazzing up the tent. He say, "I might put some Gesso on the outside and paint stripes around it. I have all this old house paint I could use. A cool lime green would look great." We're hoping the neighbors like it, too.
To see more on the Pitt's garden, check out our previous post on Gardenista.
(Visited 72 times, 1 visits today)