When a San Francisco couple with two young boys were looking for help in decorating the guest house for their Sonoma weekend retreat, they turned to Bay Area designer and Remodelista Architect/Designer Directory member Nicole Hollis for help with the interiors. The challenge? Turn an 800-square-foot building into a guest house to accommodate up to four visitors while maintaining a sense of space and openness. Hollis tells us, "I wanted to create a serene retreat that maximized the relationship between the cottage and the Sonoma hills. Keeping things neutral and bringing in whimsical bits of nature in an understated way allowed the space greater harmony with its surroundings." Read on to see how Hollis achieved the result.
N.B. Nicole Hollis is one of the designers featured in the Make Room: Modern Design Meets Craft showcase at the upcoming American Craft Council Show in San Francisco, from August 2nd through 4th.
Photography by Ben Mayorga.
Above: The 800-square-foot cottage is nestled on a hillside beside the pool with views onto vineyards and oak trees.
Above: The main living area houses a kitchen nook, built-in window seating, and a guest bed.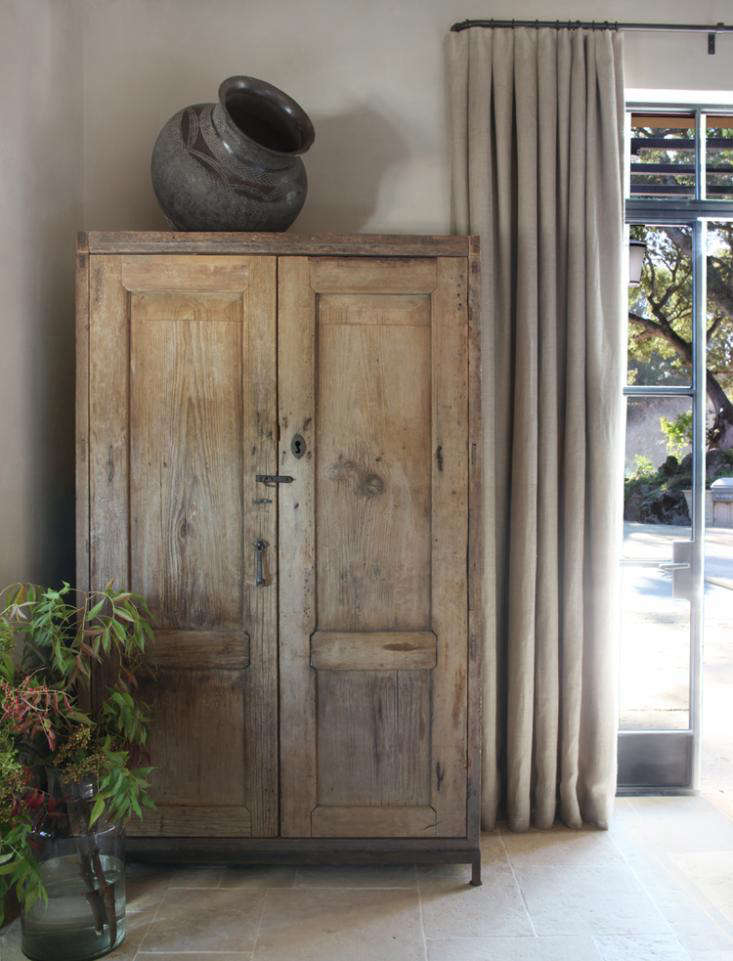 Above: A vintage colonial-door armoire sits on a hand forged iron base from Guatemala.
Above: A fireplace anchors the main room. On the ceiling are white oak boards from Restoration Timber.
Above: The kitchenette area with custom-designed glass shelving on steel supports. The custom countertop is made of bluestone with a hammered top and racked edge detail at the front edge face.
Above: A collection of butterflies displayed above the guest bed.
Above: The ceramic square butterfly tiles on the wall are from Bardelli in Italy and continue the butterfly motif. The custom tub sits on eight-inch-by-eight-inch white oak wooden blocks in a natural finish from Restoration Timber in San Francisco.
Above: The washroom and kids' room are off the main room. Above the sink is a BDDW Captain's Mirror.
Above: Bunk beds with a wood dresser from Anthropologie with custom rope knot pulls. The vintage lamp in the corner came from Dogfork in San Francisco and is made from repurposed vintage wood floats above an alarm bell base.
Find more Summer House inspiration in our previous posts.
You need to login or register to view and manage your bookmarks.