Claw foot tub: your time may be up. There's a sexy, sculpted tub designed by an Italian architect that's the new modern classic.
London- and Winchester-based designers McLean Quinlan (members of the Remodelista Architect/Designer Directory) use the Spoon XL by Agape to add a new dimension to the classic proportions of this minimalist bathroom. "The client loved the shape, and we felt that this unusual centerpiece created a dramatic contrast while transforming the formality of the room at the same time," the architects say.
Photography by Leigh Simpson.
Above: With their signature quiet, modern style, McLean Quinlan create a calm retreat from busy London life in a Notting Hill bathroom.
Above: Sliding laminated glass screens control the changing qualities of light and mood in the space.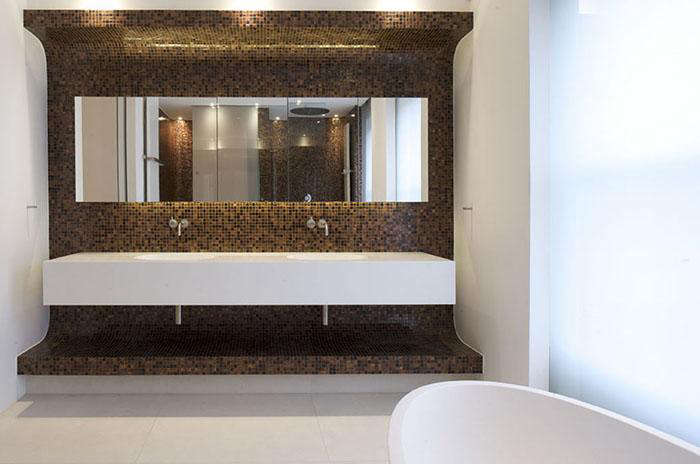 Above: McLean Quinlan used a custom blend of brown mosaic tiles to highlight both ends of the bathroom, which house the shower, toilet and double sink. "The curved edges evolved from a practical form in the shower area, which also helped emphasize the sense of a lining," the architects say. This was then reflected on the sink side to form shelves for towels and create a more pleasant scale when standing at the sinks.
Above: The Spoon XL by Agape has a shaped basin, which is tilted for optimal water distribution.
Above: Towel rails have been installed to span the width of the radiators ensuring that towels are warm and dry. White porcelain ceramic tiles have been used on the floor.
Above: The scooped-out bath shape contrasts with the minimal lines of the floors and windows.
Above: The double sinks are bespoke from a single Corian surface with oval bowls.
As far as we're concerned, a spa like bathroom begins and ends with the bathtub. See 343 images of Bathtubs in our Gallery of rooms and spaces to plan yours.
(Visited 106 times, 1 visits today)