For just about every holiday that rolls around, we turn to event designer David Stark for table-setting inspiration (see, for evidence: a DIY Scandi-inspired spread to an architectural tablescape for autumn). Luckily, David now has a new book with event producer Jane Schulak and writer Kathleen Hackett—At the Artisan's Table, just out—and it's full of tabletop inspiration for every occasion, mixing "historical table wares from the world's finest design museums with pieces by an international array of contemporary artisans who reinterpret traditional crafts and styles."
We're intrigued by the "Forbidden Fruit" table settings in particular; join us for a look.
Photography by Aaron Delesie from At the Artisan's Table.
Above: Mugs and plates by Eglin pair with a tablecloth hand-embroidered by Jennet Walters (his wife), featuring Eglin's "favorite subjects: popes, priests, and pinups."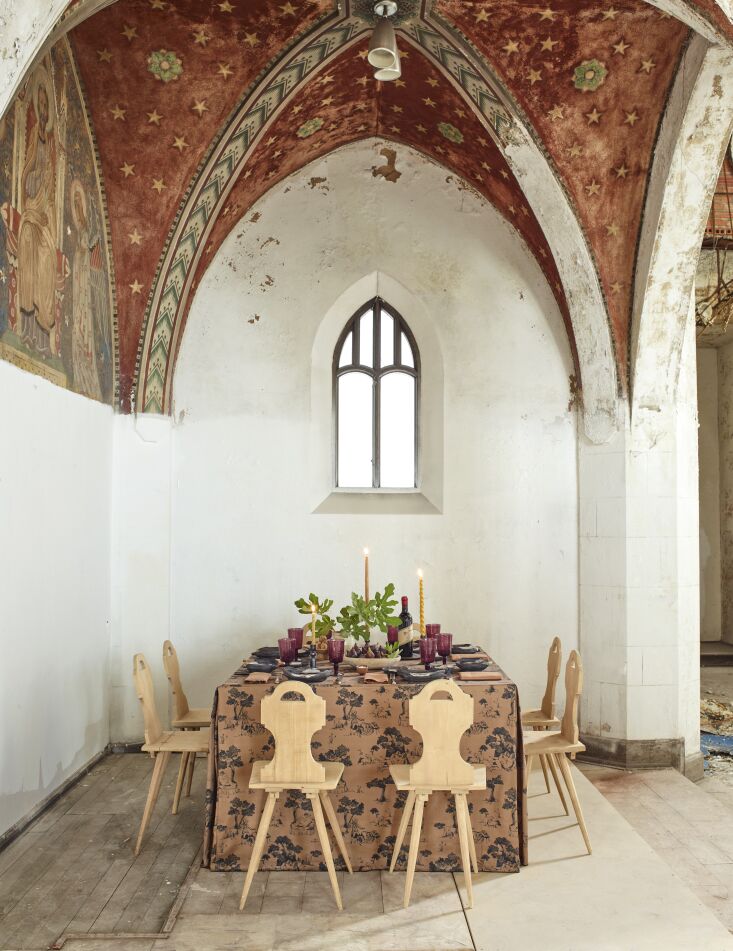 For more, see At the Artisan's Table, just out this month. And for more tabletop ideas from David Stark, see:
(Visited 275 times, 1 visits today)
Frequently asked questions
Who is David Stark?
David Stark is an event planner and designer who has created events and installations for clients such as the Metropolitan Museum of Art, the Council of Fashion Designers of America, and Target.
What is 'The Artisan's Table'?
'The Artisan's Table' is a book by David Stark that showcases the work of artisanal food and drink makers. The book features recipes, stories, and interviews with these makers.
What is the article about?
The article is about a tablescape that David Stark created to celebrate the release of 'The Artisan's Table'. The tablescape features items from some of the makers featured in the book, as well as props that evoke the feeling of an artisanal workshop.
What is a tablescape?
A tablescape is a decorative arrangement of items on a table, such as dishes, candles, and flowers, used to create a certain mood or aesthetic.
What types of food and drink makers are featured in the book?
The book features makers of cheese, wine, beer, cider, spirits, chocolate, and more.
What is the mood or aesthetic of the tablescape?
The tablescape evokes the feeling of an artisanal workshop, with tools, materials, and finished products on display.
Can I buy items from the tablescape?
Some of the items from the tablescape are available for purchase through David Stark's website, while others are vintage or one-of-a-kind pieces.
Where can I buy 'The Artisan's Table'?
You can buy 'The Artisan's Table' on Amazon or at your local bookstore.