When Deborah Osburn of Clé tiles in Northern California unveiled her Watermark tile collection at our LA Remodelista Holiday Market last December, it was a show stopper. Everyone was mesmerized by her indigo dip-dyed designs, and her gold verdigris patterns that turn to turquoise as the dye travels. While using old world colors, the collection introduces a thoroughly modern note to the world of tile.
Osburn has spent many years developing and manufacturing tiles, and most recently has been focused on commissioning artists to create tiles for Clé. "It was my work with so many artists and tile artisans that inspired the Watermark collection," she explains. On a trip to a local tile-making company, Osburn was taken with their unglazed pieces, and came home with a couple of boxes. She started playing around with them and says, "I had no idea what I was going to do, but they felt like small empty canvases and were very compelling to me." A recent obsession with Delft and ombre images on Pinterest led her to the idea of leaving the tiles in a bath of indigo dye to see what they would do on their own. The result is the Watermark Collection in which Osburn hand dips each tile into a pool of dye, allowing it to absorb the color in its own way and create one-of-a-kind patterns every time. 
Above: Clé Indigo Dip tiles installed above a sink. Each tile absorbs the indigo in its own way. Osburn notes, "Some are stubborn and won't absorb much at all. Others are wildly flamboyant, drawing up a lot of the indigo into thin shades of the dye. And then others are moderate, soaking up line after line of color creating multiple horizons. It's really indigo magic."
Above: The Watermark Indigo Series comes in four patterns. Shown here, Dip (L) and Stroke (R).
Above: The Watermark Indigo Series in Wash (L) and Stain (R).
Above: An installation of Indigo Stain and Dip tiles. Once the color is absorbed by the porcelain, it is completely stable. The unglazed tiles are finished with a barely visible seal to protect them.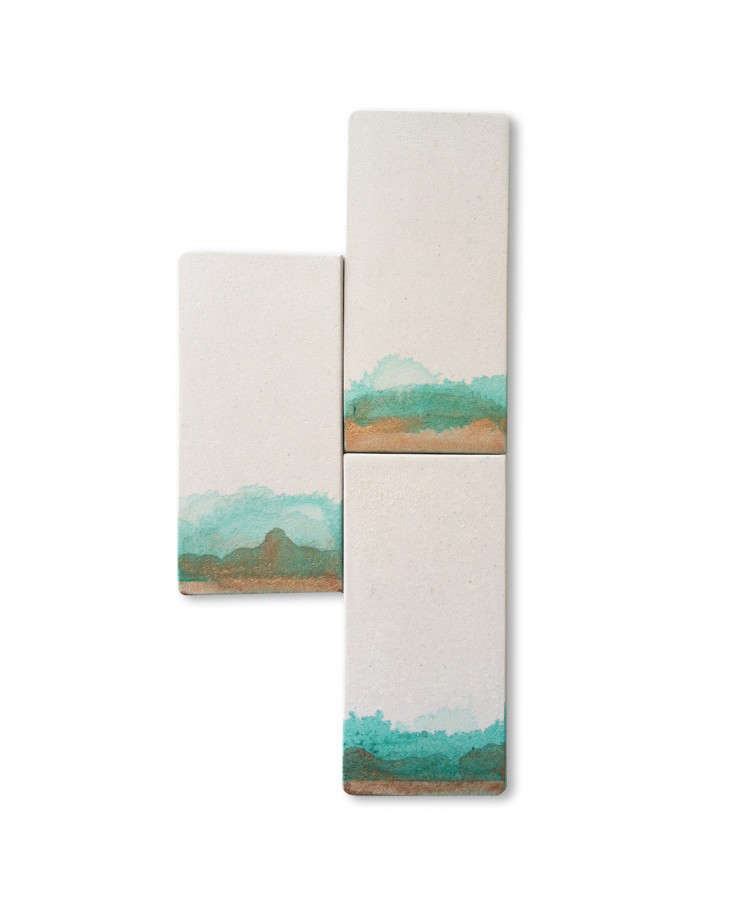 Above: Osburn expanded the line beyond indigo to include a gold verdigris that becomes turquoise as the dye travels. Each unglazed tile is hand cut, fired, and dyed, which allows it to absorb the pigments differently, making each result unique. 
Above: The Watermark Gold Verdigris Collection in Wash. Like the Indigo Series, it is also available in Dip, Stroke, and Stain. 
Above: A Gold Verdigris Horizontal Dip installation. The Watermark tiles can be installed indoors or out, and on walls and floors. All Watermark tiles are available in 3- by-6 inch, 4-by-8 inch, and 6-by-12 inch sizes (note that since each tile is hand cut and fired, sizes and colors vary). The Dip tiles are $68 per square foot, and the Stroke, Wash and Stain tiles are $59 per square foot.
See more Clé tile designs in these posts: Can We Now Call Tiles Sexy? and Shakespearian Inspired Tiles with a Touch of Goth. And for additional ideas, take a tour of our Tile posts. Looking for an outdoor solution? Head over to Gardenista.
You need to login or register to view and manage your bookmarks.