After several years spent roaming the world, husband and wife duo Emile van den Bergh and Ymke van Zwoll decided to settle by the North Sea coastal city of Bergen, Netherlands, to create their lifelong dream—a bed and breakfast.
Van den Bergh, an interior architect and designer by profession, restored the interiors of the Bed and Breakfast In De Aap to create three guest suites inspired by Mediterranean fincas (and integrating recycled materials whenever possible). Now that the restoration is complete, Emile happily spends his time in the Aap kitchen, cooking for guests, family, and friends. For more information, go to In De Aap.
Above: The Finca loft bedroom; "In my designs I work a lot with built-in furniture," den Bergh says.
Above: An old barn door functions as both a bathroom and a closet door.
Above: The bathroom walls are finished in a gray matte Pandomo material made from a concrete mix.
Above: A tub is covered in boards sourced from reclaimed wood pallets.
Above: Load-bearing walls were replaced by a steel structure supporting an upstairs work room and a downstairs kitchen. The built-in storage is made of concrete blocks with a stucco finish.
Above: The Finca kitchen space is built from concrete blocks and the walls are sponge-painted in a water-diluted lavender-tinted paint. The countertops are made from polished concrete (Beton Cire), and the vintage table came from a train station in Switzerland.
Above: Built-in bookcases made from concrete blocks are coated with a stucco finish. The shelving and cabinet doors are made from Dutch Kaasplanken (vintage cheese boards) used to mature cheese (if you look closely, you can see where the cheese left markings in the pine wood).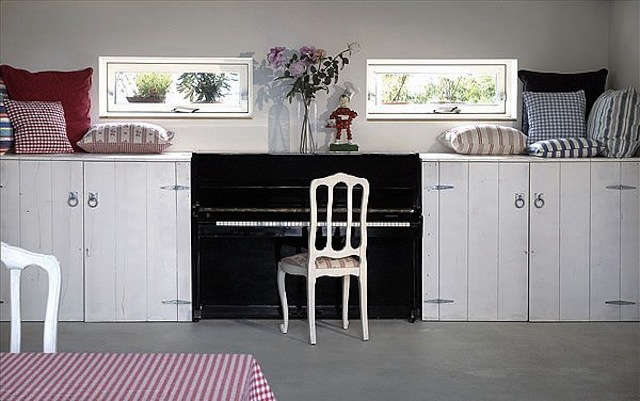 Above: A built-in piano between two storage cabinets made from old floorboards. (the pillows were made by Ymke's mother).
You need to login or register to view and manage your bookmarks.