Transforming space constraints into opportunities for good design is a favorite theme of ours; in this instance, LA-based Kevin Oreck (a Remodelista Architect/Design Directory member) has created a flexible, light-filled 1,500-square-foot home on an extremely narrow site (39 feet wide) with a limited budget.
Oreck's thoughtful placement of windows maximizes light and views of the garden without compromising privacy; a 40-foot-long band of windows runs through the center of the house, affording views of the sky and treetops beyond. "One of our favorite aspects of the house is that we utilize every square inch of it each day," says the artist owner who lives here with his food-stylist wife and their young son. "There is absolutely no wasted space."
Photography by Kevin Oreck.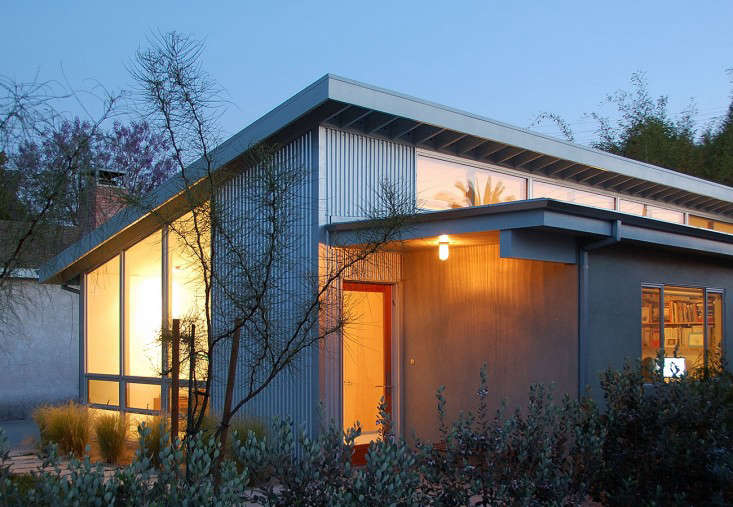 Above: Oreck used a combination of honest, simple materials–concrete, glass, metal, and plywood–in his shedlike design. 
Above: A light-filled living room with bare essentials furniture and artwork by Stas Orlovski.
Above: A 40-foot-long band of high windows runs through the center of the house, affording views of the sky and treetops.
Above: The cabinetry throughout the house is constructed from 13-ply birch plywood and was custom designed by Oreck; the countertops in the kitchen and the baths are Carrara marble from Daltile.
Above: The owners' collection of midcentury furniture includes a Danish dining table and Baumritter chairs.
Above: The exposed ceiling frame features translucent panels that backlight the study space below (outfitted with a Paul McCobb table and an Eames rocker).
Above: Dual sinks in Carrara marble and the same plywood carried into the bath from the kitchen design.
Above: A light-flooded corner features a Brown Saltman dressing table paired with an Eames Rocker.
Above: Clerestory windows maximize light without compromising privacy; the George Nelson Ball Lamp is from Modernica in Los Angeles.
Above: The landscape design is by David Fletcher of Fletcher Studio Landscape Architecture + Urban Design. Artwork by Stas Orlovski.
N.B.: This post is an update; the original story ran on June 20, 2011, as part of our Summer in Los Angeles issue.
(Visited 250 times, 1 visits today)
Frequently asked questions
Who is Kevin Oreck?
Kevin Oreck is an architect based in Los Angeles, California.
What is unique about Kevin Oreck's architectural style?
Kevin's architectural style is characterized by minimalism and simplicity, with a focus on creating spaces that are functional, comfortable, and sustainable.
What types of projects does Kevin Oreck generally work on?
Kevin Oreck works on a variety of projects, including residential, commercial, and institutional buildings, as well as renovations and additions.
What is the process for working with Kevin Oreck on an architectural project?
The process begins with an initial consultation to discuss your needs and desires for the project. From there, Kevin will create a design and work with you to refine it until it meets your needs. Once the design is finalized, Kevin will oversee the construction and installation of the project.
What is Kevin Oreck's approach to sustainability in architecture?
Kevin is committed to sustainable architecture and incorporates sustainable materials and techniques into his projects whenever possible. He also focuses on creating spaces that are energy-efficient and environmentally conscious.
How can I contact Kevin Oreck to discuss a potential project?
You can contact Kevin Oreck through his website or by phone to schedule an initial consultation.