We've admired the organic modern stylings of Scott Newkirk for a while now (see Steal This Look: Summer Sleeping Porch), so when we spotted his Brooklyn apartment on NY photographer Michael Mundy's site, An Afternoon With, we took special notice. Newkirk moved from Manhattan to Fort Greene, Brooklyn, three years ago, to a two-floor apartment located in an 1823 firehouse; he's worked in fashion for the last two decades (Coach is his primary client); he's also dabbled in interior design and ran a modern general store in upstate NY for a couple of summers.
"I've collected everything in this apartment over the last twenty years," he says. "I gravitate toward pieces that have a contemporary edge but feel like they have life. While I've been drawn to midcentury pieces for a while now, shopping at flea markets opens your eyes to a variety of aesthetic possibilities. I find beauty in the ordinary; for example, curtains made from rough burlap, which feel unexpectedly luxurious."
Photography by Michael Mundy (to see more, go to An Afternoon With).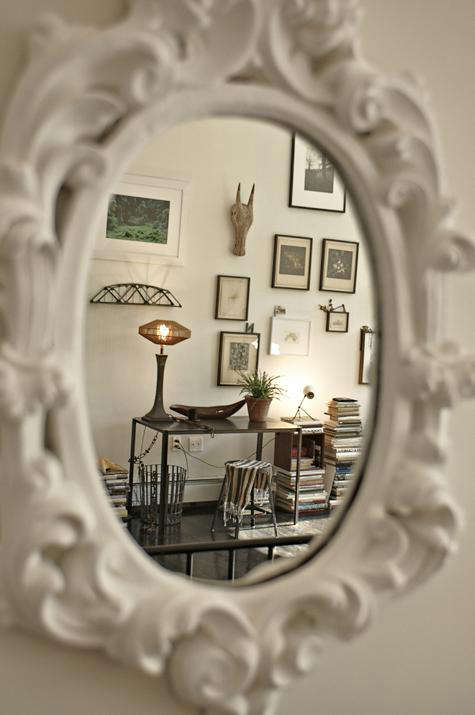 Above: Newkirk found the above mirror at a Brooklyn secondhand shop; he painted it matte white ("I'm into this plaster-finish thing," he says). Reflected in the mirror: a carved wood cow skull Newkirk found in India and a metal bridge from an old train set ("It's a nod to my dad, who was a bridge engineer").
Above: Newkirk paired a vintage bronze lamp base with a twine-wrapped light shade. An "evil-looking chain" snakes down a table leg; "I picked up the chain at a flea market because I admired the sculptural shape; it becomes this liquid object you can use in a sculptural way."
Above: An overview of the main living space; books stacked against the wall create an ad-hoc display shelf.
Above: Many of Newkirk's installations are accidental: The rope is left over from a New Year's party ("I strung it across the ceiling and wrapped lights around it"). The art piece propped against the wall is by Karen Gelardi, a friend of Newkirk's. "She experiments with the juxtaposition of technology and handmade pieces; this is a collage of an oversized needlepoint screen."
Above: "I found the pair of Danish Borge Mogensen Hunting chairs at a furniture shop in 1991," Newkirk says. "They were a few hundred dollars; now they go for tens of thousands."
Above: An artist friend of Newkirk's, Michael Capotosto, painted a mural directly on the wall using walnut shell oil.
Above: Another vintage mirror, painted matte white to resemble plaster.
Above: A John Derian decoupage tray serves as pen holder; Newkirk rewired an old tanning light and added a crystal ball found at a flea market for a bit of glamor.
Above: A vintage artist's smock from Melet Mercantile in Soho serves as wall decor. "I found the industrial table in the basement; I cleaned it up and brought it upstairs."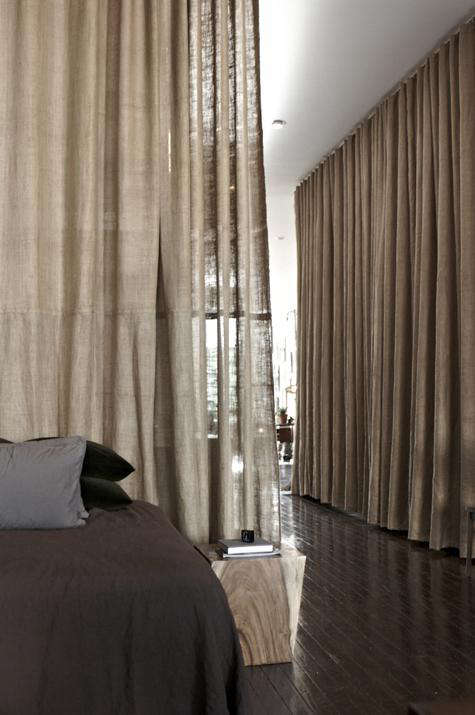 Above: Newkirk created a division between the living room and the bedroom using dramatic floor-to-ceiling curtains made from burlap sourced from Circle Visual; "They create a sense of intimacy and add texture and color to the space."
Above: Newkirk favors rumpled linen bedding in earth tones from Matteo in LA.
Above: Newkirk used a length of African fabric to create pillow covers.
(Visited 296 times, 5 visits today)