Los Angeles antiques emporium Galerie Half has been on our radar for a while now (Alexa visited just a couple of weeks ago and is dreaming of a pair of Belgian loveseats). Not surprisingly, the gallery is a favorite with the LA design cognoscenti too (Diane Keaton and Ellen Degeneres are fans). The founders of Galerie Half, Cliff Fong and Cameron Smith, offer an artful mix of 20th-century design, European antiques, primitive furniture, and architectural artifacts. To see more, visit the shop on Melrose Avenue in LA and online at Galerie Half.
Above: Galerie Half showcases a melange of lighting, antique furniture, paintings, and other pieces of artwork. Photograph by Lizzie Garrett Mettler.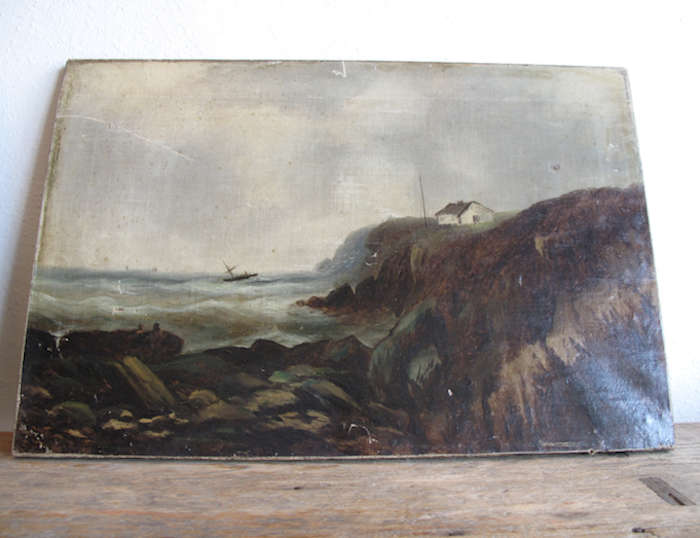 Above: Landscape painting and portraits can be found throughout the store. Photograph by Lizzie Garrett Mettler.
Above: A pair of Belgian Loveseats from the 1970s from Galerie Half's 1st Dibs shop; price available on request.
Above: A portrait and a sheepskin-covered lounge chair. Photographs by Lizzie Garrett Mettler.
Above: French Lampe Gras Wall Appliqués from the 1920s on 1st Dibs; price available upon request.
Above: A Greta Grossman Swedish grasshopper lamp, via Esoteric Survey.
For more of our favorite LA shops, as well as hotels and restaurants, have a look at our Los Angeles City Guide. Our essential food stop? See An LA Institution: Joan's on Third.
N.B.: This post is an update; the original story ran on December 14, 2011 as part of our White Christmas issue.
You need to login or register to view and manage your bookmarks.