Whenever we're in LA, Julie and I head straight to Joan's on Third (it doesn't hurt that it's across the street from Noodle Stories, our favorite clothing shop in the city).
Joan McNamara founded her eponymous cafe and gourmet goods market in the 1990s, when her catering company expanded to include a sliver of a cafe. (At the time, Third Street was a much quieter affair.) Today McNamara's culinary emporium has grown to include deli cases packed with sparkling fresh salads, a bakery, a gelato bar, and a cheese counter. McNamara, who hails from New Jersey, spent a brief stint working for industrial designer Paul McCobb in New York before she moved into the culinary world. Her love of design has been a constant and is on display throughout the interiors of Joan's, from the all-white interior with black accents to the vintage finds she uses to display goods. We're looking forward to her next iteration; another Joan's is scheduled to open in Studio City later this year. For information, visit Joan's on Third.
Photography by Laure Joliet for Remodelista.
Above: The exterior features an antique, wall-mounted stone water fountain by the main doors.
Above: An antique communal dining table; white hex tiles cover the floor.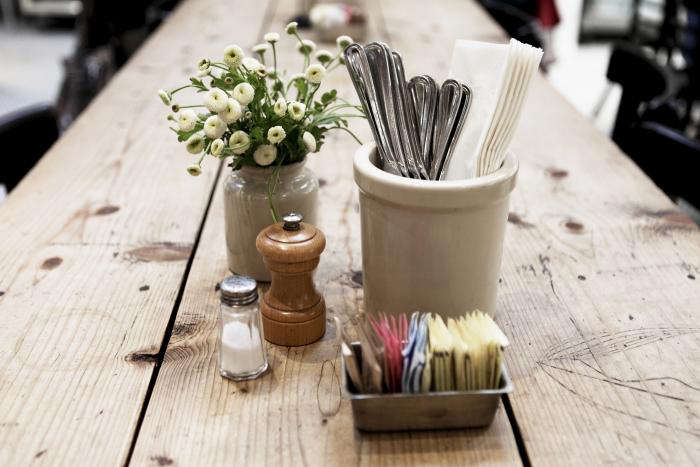 Above: McNamara's attention to detail is evident throughout: Silverware is stored in stoneware jars, vintage baking tins house sachets of sugar, and stoneware mustard jars hold flowers. We're always impressed by the array of simple, fresh flowers on display.
Above: Vintage dolly tubs (originally used to wash clothes) display popcorn and crackers.
Above: A marble-topped table under a vintage mirror (L). A wall of gourmet goods on display; note the vintage clock on the far wall (R).
Above: Vintage scales sit on a marble counter; white marble is used throughout the store.
Above: Pasta, cheeses, and fresh bread.
Above: The bakery section features a selection of goods displayed on cake stands. Vintage milk glass lighting hangs above.
Above: An antique cupboard serves as a station for milk and sugar.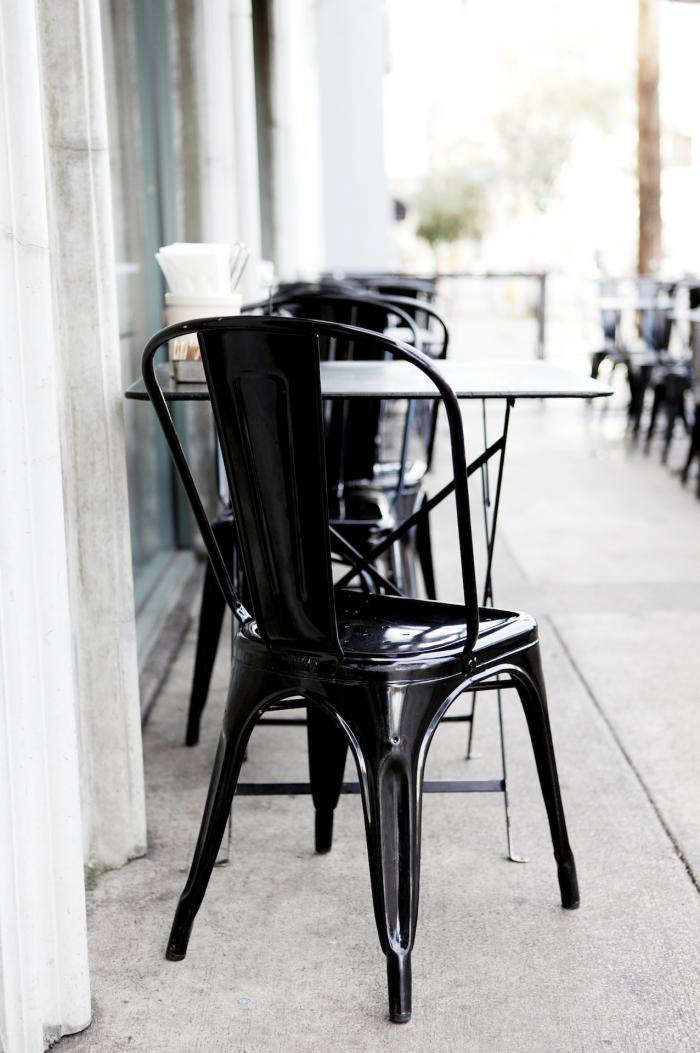 Above: Black Tolix chairs in the outdoor dining area on Third Street.
Want more apothecary chic? Consult Steal This Look: Perfect Powder Room at Joan's on Third.
N.B.: This post is an update; the original story ran on April 16, 2012.
(Visited 55 times, 1 visits today)