Today we're thrilled to be launching the third annual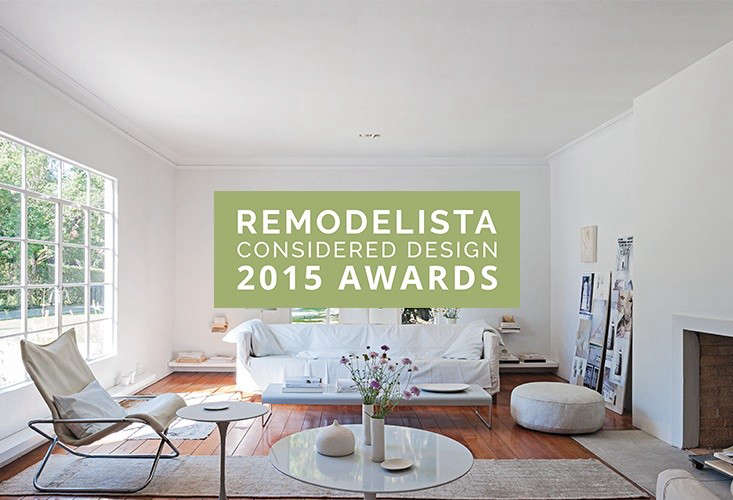 You finally overhauled your kitchen. You've been reinventing your bathroom every weekend for months. Now is the time to flaunt your work. All year long, we show you the spaces we love, now it's your turn to share.
Our awards program is open to all readers–professionals and novices alike–and we're hoping to see projects that run the gamut: micro powder rooms, grand living room/dining rooms, and everything in between. Remodels, rentals, and new builds are all welcome, and we have separate categories for amateur designers and professional work.
Above: The six winning projects will each be profiled in a post on Remodelista, and this year's prize is a $200 gift card from contest sponsor Kaufmann Mercantile. Winners will be announced on August 16 (note: changed from initial date of August 8).
Contest Categories
We will run a separate contest for amateur and professional designers in each of these categories:
Best Kitchen Space
Best Living/Dining Space
Best Bath Space
Outdoor enthusiasts, take note: The Gardenista Considered Design Awards has six categories this year for home gardeners, both indoors and out, and for architects and spatial designers–Best Hardscape and Best Outdoor Living Space included. Head over to Gardenista for details.
Important 2015 Dates
Submission deadline: Monday, June 22, by Midnight PT
Finalists announced and reader voting begins: Wednesday, July 15 (note: changed from initial date of July 8)
Reader voting ends: Saturday, August 15 (note: changed from initial date of August 7)
Winners announced: Sunday, August 16 (note: changed from initial date of August 8)
How to Enter
Our Entry Form is simpler than ever. Submit up to six photos of your space along with a descriptive caption for each photo and a design statement explaining your overall project. You can submit one project in each category for which you qualify. All projects will be published live on our 
Remodelista editors will review all entries, and our judges will choose up to five finalists in each category. When we announce our finalists on July 8, Remodelista readers will be invited to vote.
See our Official Rules and FAQ for more information, and Enter the Contest here.
Readers, don't forget to come back and weigh in during the voting period.
Good luck!
You need to login or register to view and manage your bookmarks.