Dara and Dan Brewster share a serious wanderlust: Both longtime media veterans, they've cumulatively logged visits to more than 100 countries over the years. And most of that travel of late has been on behalf of Dara Artisans, the online emporium they launched nine months ago to showcase the work of unsung craftspeople the world over.  
Company headquarters are in New York, but the place that's the Brewster's true anchor is their ongoing renovation project, their shingled enclave in Little Compton, Rhode Island, an old New England farm and fishing village that's been described as "cows by the sea." Dan, Dara, and family and friends (including Dara's stepfather, J. Gregory Crozier, a New York architect; Dan's son, Graham, 26; and local fishing captain and carpenter Joe Aiello) have spent the past decade shoring up the 1930s summer cottage while preserving its no-nonsense Yankee charms. There's a pot of steamers on the stove. Come on in.
Photography by Nathan Fried Lipski of Nate Photography, except as noted.
Above: The house sits on the coast of Sakonnet Point overlooking Newport. "It was built as a summer cottage, with exposed rafters, no insulation, and no basement, which is still the case," says Dara, adding that when they purchased it in 2000, there was wisteria growing through the roof and a contaminated well "to name just a few of the things that required tending to." Photograph by Nicole Franzen.
See more of the Brewsters' garden at Rhode Island Roses: A Seaside Summer Garden in New England on Gardenista.
Above L: Roses climb on the porticoed main entrance, which opens into the kitchen and offers views clear out to the ocean. Of the classic shutters, Dara says, "I wish they were original. The salt air is so hard on wood that we have to replace them every five to seven years." Above R: Place markers from the couple's wedding made from ocean-tumbled rocks collected in front of the house and hand labeled by Dara.
Above: The living room has its original wood paneling and floor. Dara and Dan bought the wall-mounted candleholders at a flea market. The sofa is upholstered in a pale blue Nicky Haslam fabric that Dara admired at the Charlotte Street Hotel in London and tracked down, only to discover the hazards of country living: "Mice ate through it one winter and we had to upholster it all over again."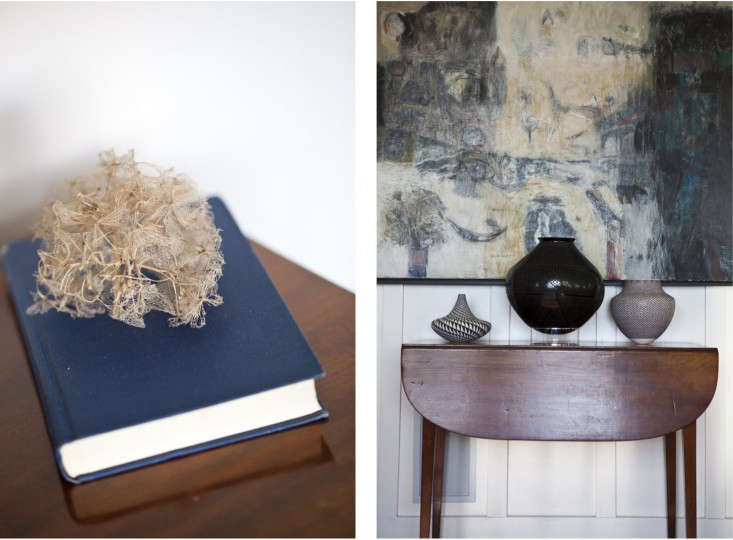 Above L: Dried hydrangeas from the rows of bushes that border the driveway. Above R: A painting by Syrian artist Hasko Hasko, purchased on Dan and Dara's 2011 trip to Syria, which coincided with the war breaking out–and inspired them to help preserve endangered cultural patrimonies. The black-and-white ceramics are Acoma Pottery from New Mexico, a Dara Artisans specialty; the black on black pot is from the San Ildefonso Pueblo.
Above: Over the course of a winter, Dan, Graham, and Joe converted what had been a dog kennel/shed (see first photo) into a 600-square-foot winterized guest cottage (where Dan and Dara spend weekends in the off season). Designed in collaboration with Greg Crozier, the compact kitchen, shown here, has a Sub Zero glass-doored fridge, Fisher Pakel dishwasher drawers, and floorboards made from beams that came out of a nearby Fall River textile mill. The cabinets–leftovers from the main house–were milled in South Carolina and the counters are soapstone.
Above: The master bedroom in the airy attic has its original exposed rafters, beadboard paneling, and built-in drawers. Like much of the house, the walls are painted Benjamin Moore Linen White (read our advice on How to Choose the Perfect White Paint).
Above: The windows offer a prime ocean view. The exposed insulation visible here has since been camouflaged by Joe with wood panels.
Above: All the bed linens are from Matouk, a third-generation family-owned company in Fall River, Massachusetts, and a Remodelista favorite.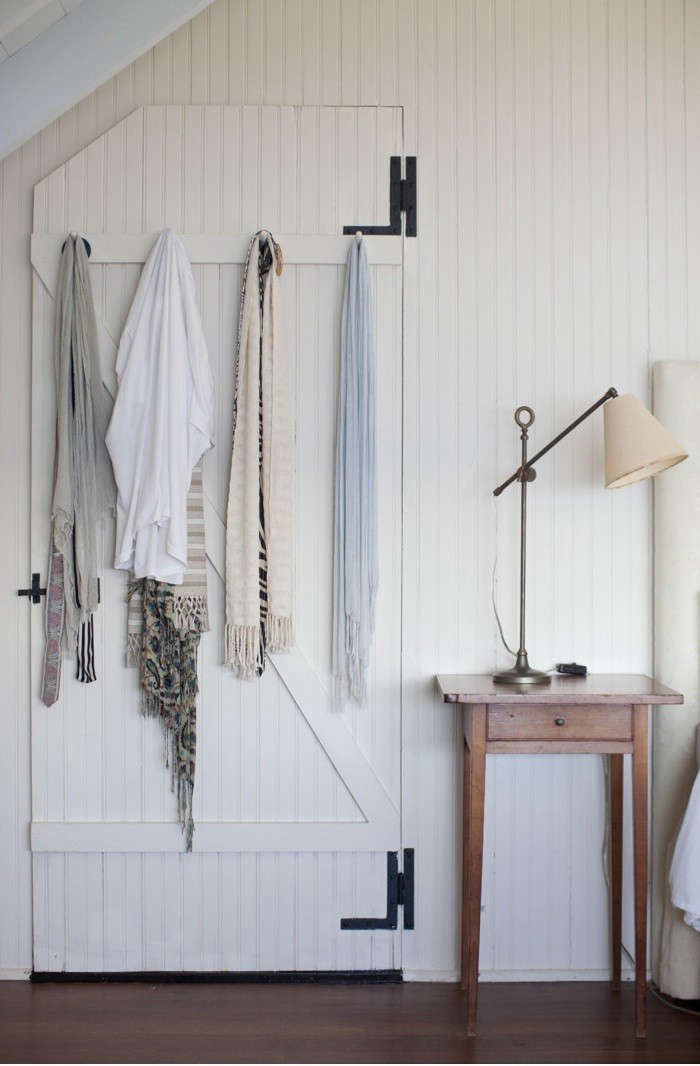 Above: The master bedroom's paneled door has Shaker peg rail hung with scarves from Gautemala and India. (Read about how Shaker Peg Rails Saved Christine's Summer Sanity.) The Shaker nightstand's lamp was custom made.
Above: The remodeled second-floor bathroom has a refurbished clawfoot tub and new paneling (that came from elsewhere in the house, buried under a layer of plastic paneling). The tasseled towel is a Turkish Aponch Bath Towel from Dara Artisans. The pale green-blue walls are Benjamin Moore Sea Foam. Photograph by Nicole Franzen.
Above L: A local metal worker made the chrome shower curtain frame. The floor was milled from the house's salvaged joists, and the main ceiling beam came out of a fire-damaged church in Bristol, Rhode Island. Above R: An antique subway light (from a since-closed architectural findings shop in New York) hangs over a Kohler sink. In lieu of a medicine cabinet, Dara hung a ledged mirror.
Above: The house has its original protected dining room–"it's incredibly windy here, so all of our outdoor meals are here," says Dara.
Above: Wooden fish from one of the Brewster's trips to Guatemala decorate the space. The table and chairs are from Smith & Hawken. Note the weathered brick floor.
Above L: Dara with just-picked corn from their local produce place, Walker's. Above R: Dan fishing for stripers and blue fish. Browse the couple's handmade finds at Dara Artisans.
Looking for your own summer getaway? Take a look at Editors' Picks: 15 Favorite Vacation Rental Resources and Greatest Hits: 33 Top Vacation Houses Featured on Remodelista. 
On Gardenista, go to Beach Style for design ideas and inspiration.

(Visited 38 times, 1 visits today)