London chef, stylist, and vegetarian cookbook author Anna Jones wants to change the way we eat. And if my steak-loving teenage sons–who recently ate a week's worth of her recipes without missing meat–are anything to go by, she's on a fast track to success. In her recently published first cookbook, A Modern Way to Eat, Jones, one of Jamie Oliver's original apprentices at his restaurant Fifteen, offers nourishing, tasty, and quick recipes for people with busy lifestyles. "I believe that eating should be joyful, but as soon as rules, pressure, and diets are linked with eating, we lose track of that joy," she says.
We recently stopped by to visit Jones in the semi-detached Victorian that she shares with her boyfriend John Dale in East London. "Two Swedish friends used a lovely Swedish expression to describe my house," she says. "They translated it as having the feeling of clean air and freshness–like having all the windows open. If I can make people feel that way in my home and with my food, I'll be a very happy girl." Come take the tour.
Photography by Jonathan Gooch for Remodelista.
Above: Anna Jones in the spot where she spends most of her time. "A Modern Way to Eat was shot in my kitchen and all over the house," she says. "We chased the best light as it changed throughout the day; we even ended up shooting on the spare bed a couple of times."
Above: "I like to think that the way I work with flavor is reflected in how I put my house together," Jones says. "I begin with a calm canvas and then add layers of color and texture." In the front sitting room, Jones selected the Bluebell Sofa and Chair from Sofa.com for their deep seats and high backs–"I like a sofa that can be curled up on." The mirror on the wall by East End designer Daniel Heath is an antique piece that has been renewed with a hand-etched inscription and illustrations of birds.
Above: Jones layers the room with textiles and patterns. She purchased the vintage blanket from Welsh Blankets, a source she discovered at an antiques market. On the windows, she applied a frosted window sticker from Window Film. "This is an easy solution that lets the light come in while still giving us some privacy from the street," she says. "What I love the most about this particular design is how the light comes through in the morning, casting star patterns and shapes on the walls." For complete privacy, large panels of painted MDF with brass piano hinges can be pulled across the window like shutters. In Design Sleuth, Julie discusses the allure of the piano hinge.
Above: "In the winter we use our woodburning stove every day; it's one of my favorite things in the house," says Jones. "The steel bucket is full of wood and old newspapers for building fires, something my boyfriend takes very seriously."
Above: Artist/designer (and across-the-street neighbor) Russell Bamber built much of the cabinetry in Jones's house, including the interior shutters and the kitchen cabinets. In a niche in the living room, he devised a clever shelving system that is held in place by the force of gravity only. "No screws or fixings at all," Jones says, "they are completely adaptable and portable as we change and grow in our house."
Above: Jones's music corner is situated in what was formerly the rear sitting room. The wall between the front and rear sitting rooms was removed to create one large living room. "Music is really important to me," Jones says. "My brother Owen is an amazing guitar player and I love to hear him play when he comes to visit." The lace curtain shields a bathroom on the other side.
Above: A portable Crosley record player sits on a yellow Formica-topped desk from the Ardingly Antiques Fair, one of Jones's favorite places for sourcing props. "My dad recently gave me all of his old records–old soul and Motown, the O'Jays, Muddy Waters, and a lot of Beatles–that we've been playing and dancing to a lot," says Jones. "In the summer we often have dinners in the garden and we move the Crosley outside."
Above: A panel of striped frosted glass replaced a door; it draws light from the hallway into the living room.
Above: In the entry hall, Jones created a pegboard radiator cover. Julia Child would approve.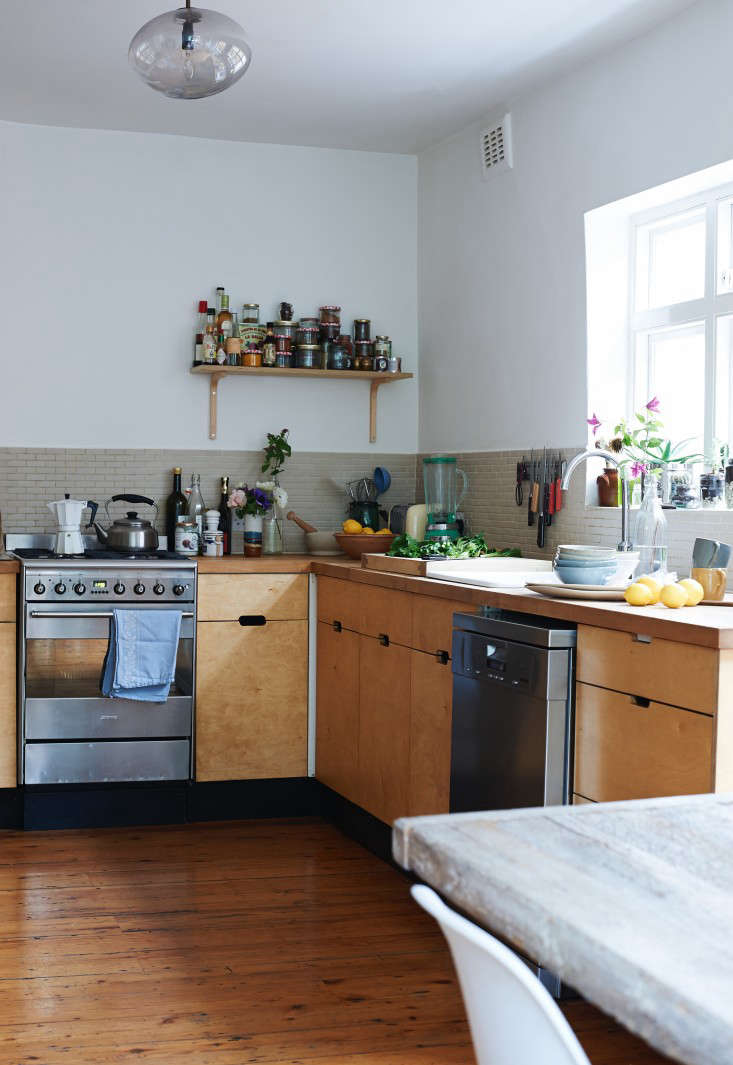 Above: Plywood cabinets by Russell Bamber lend the kitchen a casual and organic feel. "I love the cutout handles," Jones says. "They're such a simple and clean little design tweak." The vintage French glass pendant light is from Two Columbia Road.
Above: A set of knives are stored on a magnetic rack next to the sink for easy access.
Above: The wood dining table can seat as many as 15; it came from the Ardingly Antiques Fair. The Circus Pendant from the Conran Shop provides a warm glow over the table.
Above: "Most days, the table doubles as my desk while I try out new recipes," Jones says. A Modern Way to Eat, published by Fourth Estate and with photography by Brian Ferry, is shown here open to one of her favorite holiday recipes, Seeded Pistachio and Squash Galette. Now on its third print run since its launch in June, the book is available in the US through Amazon.com for $22.40 and in the UK through Amazon.co.uk for £17.
Above: The ground floor bathroom's curtain is lace that Jones purchased from Chappelle Rouge and dyed herself.
Above: In the bedroom, plywood shelves on wood brackets are built into a niche (note the Remodelista book on the second shelf).
Above: The French bed frame was an end-of-the day bargain from the Ardingly Antiques Fair. "The romantic headboard works in contrast to the calm of our room," Jones says. A simple radiator cover provides bench seating in the bay window.
Above: "I like keeping my clothes on show," Jones says. "I think in color, so seeing them lined up by shade makes it easier for me to put together an outfit."
Above: "I am a big fan of mixing pre-loved furniture with new things," says Jones of her flea market dresser. "It's much more affordable too."
Above: In the office upstairs, Jones looks out onto the the courtyard of a converted Victorian school. "Our house was orginally the caretaker's house," she says.
Above: Anna Jones's Victorian is similar to many of the houses in the East End of London.
If you're planning a trip to London, be sure to consult our London City Guides. Remodelista friend Heidi Swanson of 101 Cookbooks is a big fan of Anna Jones; check out Heidi Swanson's Travel Kit in our Style Council post.
And on Gardenista, there's more innovative cooking in Required Reading: Green Kitchen Travels.
(Visited 84 times, 1 visits today)