It was the first time I've ever been jealous of doll furniture.
My introduction to artisan and blogger Alessandra Taccia came when I purchased several hand-stitched linen cushions, a luxurious knit cashmere throw, pom-pom slippers, and a hand-crocheted pouf, all miniaturized for my daughter's toy mouse. Since then I have been an avid follower of Alessandra via La Casita, her blog in which she chronicles her home and creations. (N.B. Alessandra's latest projects can now be found on her website alessandra-taccia.com.)
Much like her mouse accessories, Alessandra's blog hones in on the little things in life, celebrating quiet moments–a pile of newly washed tea towels or the perfect cup of grapefruit juice. Relaxed and welcoming, her world is not trendy but organic and full of soul. It's populated by storied pieces and personal objects, often crafted by Alessandra herself, that reflect her belief that a home should be a "work in progress, made slowly."
Photography by Alessandra Taccia.
Above: Born of an Italian father and Argentinian mother, Alessandra grew up by the sea coast of Cinque Terre and studied painting. Today, she makes her home with her husband and daughter outside of Cambridge, England.
Above: In our correspondence Alessandra informed me that in Italian "taccia," her last name, is the imperative third person of the verb tacere: to be silent. I found that fitting, because Alessandra's house is a bit of an oasis, a place for quiet conversation.
Above: Alessandra prefers natural materials–linen, wool, ceramics, and wood–like these simple, utilitarian objects in her kitchen. Her online shop, Alessandra Taccia, is an extension of her home and blog, offering an on-and-off-again array of one of a kind, handmade, and vintage goods.
Above: Being "often on the move"–the family lived in London before they relocated to their current rental–Alessandra edited down all of their possessions "to only what is really needed, either because it's useful or because it holds a memory we're fond of. For this reason I try to buy handmade things that are respectful of the environment, that are beautifully made, and designed to be passed on to the next generation." Over the dining table, a flock mobile by Bookhou is an example of the accents that speak to Alessandra.
Above: Alessandra's mother was an accomplished seamstress and knitter who passed on these skills to her daughter. One of Alessandra's specialities is making these patchwork hot pads. Other small-production items pictured here include ceramics from Analogue Life and a small wood plate by Caroline Gomez.
Above: On the table, a mitt crocheted by Alessandra and a wooden trivet made by fellow blogger Xenia of Eau de Nil complement a perfect cup of tea.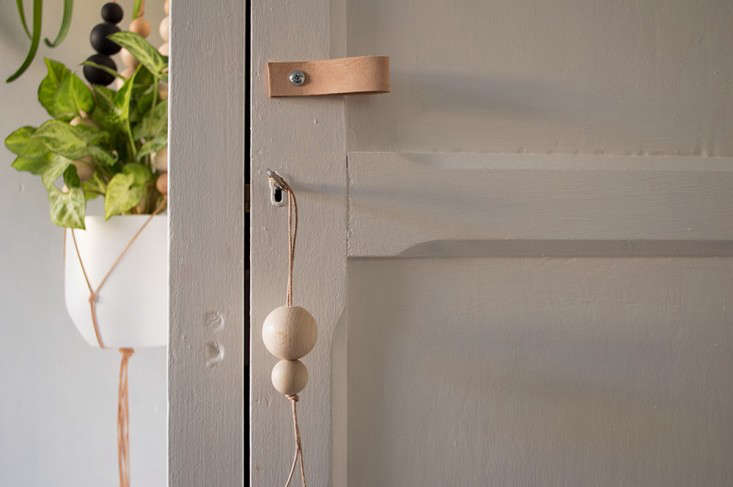 Above: A leather pull and beaded key ring accessorize a £10 thrift store cupboard; Alessandra painted the piece a succession of Farrow & Ball shades before settling on white.
Above: Alessandra's so-so sofa was a victim of one of her recent edits. She replaced it with a floor cushion that she covered in heavy linen, and an assortment of pillows. Adding a diminutive table by Spielplatz, a low-hung midcentury pendant lamp, and one of her own crocheted throws hung on a Nakagawa hanger ($38.50 from Hubu Textiles), Alessandra created a space that's both minimal and intimate.
Above: Alessandra displays ceramics by her daughter on a living room shelf alongside a wire crown they made together.
Above: A mood board in Alessandra's office includes natural specimens and favorite prints.
Above: Hand-knit and crocheted items adorn Alessandra's daughter's room.
Above: In a corner a vintage Dryad chair sits under Alessandra's own woven pieces (available at her online shop) and an landscape print from Fine Little Day.
Above: Bookshelves aren't essential.
Above: Oh, and those mouse accessories I mentioned earlier. Too adorable, no?
Another of my favorite interiors: a New Zealand Ranch Transformed by Mel Bombardiere. Interested in the plants in Alessandra's house? Her specimens provided inspiration for 5 Favorite Mini Plants for Apartment Living.
N.B.: This post is an update; the original ran on March 17, 2014, as part of our British Isles issue.
You need to login or register to view and manage your bookmarks.