We look to Ajiri Aki as much for romantic table settings as we do a kind of design wisdom. Through her one-woman vintage tableware shop and rental company, Madame de la Maison, there are subtle lessons to be learned: Objects have histories and meaning. Invest in what lasts (and rent one-time-use goods). Always, always use the good china.
Born in Nigeria and raised in Austin, Texas, Ajiri earned her Masters in Decorative Arts, Design History, and Material Culture at The Bard Graduate Center and worked as a stylist in the fashion industry in New York and in The Costume Institute at the Metropolitan Museum of Art, among others. She lives now in her adoptive city of Paris with her Swiss-German husband, Thomas Buchwalder, and their two kids, Noomi (7) and Baz (4), where she scours flea markets with a stylist's eye and a scholar's appreciation of the material goods left over from generations past.
This week, we asked Ajiri to write on elements of her own design story, from the table as "a place where all are welcome" to what future antiquarians might make of our current moment.
Houses with stories:
"I moved to Austin when I was 5 years old, but oddly I remember my grandmother's pink stucco house where we lived in Nigeria. It's bizarre the things I remember about that house: the long dining table, the walls covered with family photos, objects scattered around that she had collected from her home in Jamaica and her adopted home in Nigeria, and a garden with fruit trees and flowers she cared for religiously. It was a space we children felt free in.
"Our home in Austin, where we lived from when I was 5 until my mother passed when I was 12, felt the same way to me. It was a place we felt comfortable and happy. Nothing was so precious that we weren't allowed to be free. It was a very lived-in space, layered with photos and lots of objects. Looking back, without having had specific conversations about design with my mother, her étagère full of ceramics she made and objects from Nigeria had an impression on me. I am drawn to spaces imbued with memories and past and present lives."
Above: Scenes from Ajiri's Paris flat, via The Socialite Family.
Saturday morning design lessons:
"Every Saturday, starting from when I was 6 years old, my mother dragged me to garage sales early in the morning. I would climb into her red Nissan pickup truck, and we'd drive around the neighborhood looking for makeshift brown cardboard signs with arrows pointing to a yard or garage sale. I dreaded it in the beginning. It was embarrassing digging through other people's castoffs. Even worse if we happened to pull up to the house of someone in my class—I didn't want to be the Black kid in class wearing a classmate's old stuff. It didn't help that there were zero other Africans in our community and only five other African-American families. Racism was subtle yet rampant where I lived in the early '80s.
"I don't know why she chose me to drag along on these trips considering all the complaining I did, but looking back, I see this as a primer for my fondness for flea markets and antiques. One day I asked her why we had to go to these garage sales. She simply responded: 'One man's trash is another man's treasure.' I must have been about 8 years old, and I remember thinking about what she said and turning it around in my brain. Slowly I started to see these moments with my mother as a privileged time to spend with her, but also as a treasure hunt to find beauty and purpose in something that was no longer wanted. We weren't exactly plucking out antiques in the suburbs of Austin, Texas, but I think this trained my eyes early."
Above: A silver ice bucket available via Madame de la Maison, left, and a slew of family Polaroids strung up in Ajiri's place, right, via The Socialite Family.
Setting the table, Nigerian-French-'80s style:
"Nigerians love celebrations, and food is one of their love languages. They find any and every reason to invite people over. They're ready to call everyone up to celebrate a kid's birthday, baby dedication, a graduation, and all the holidays. Nigerian weddings are known for having many wedding crashers, and it's kind of acceptable.
"For my family growing up, the importance was placed on the idea of gathering and fellowship, not presentation or rules of engagement. I grew up seeing the family table as a space where all are welcome. The rituals and the art de la table came from my love of 1980s family sitcoms and the French, respectively."
Flea market haunts in Paris:
"I love getting in my car and driving to the little villages outside of Paris to find antiques. I love shopping at the weekly flea markets in Paris as well, but you can find better pieces outside of the city. It's hard to give a specific market because the locations change weekly, but for a few faves with actual addresses: @annabelepucesparis and @ideesbroc.puces in the Marché Vernaison at the Puces Saint Ouen. And Victoria's Antiques in the 11th is a shop that I love to dig through in the city."
And favorite finds:
"Now that I shop with the purpose to share objects in the shop, it's hard to part with my favorites sometimes. I am still missing the Champagne bucket with swan-head handles that I sold to a lovely woman London. Oh, and the Victorian casket jewelry box I found in Provence with a little diamond hiding in the tufts of the interior. I kept the diamond and reluctantly sold the box."
Tiny gatherings made special:
"If anything, the times we are living in have only elevated my love of gathering around the table. Some of the periods of design I find myself drawn to came after moments in history when 'normal' life was uprooted, like pandemics and wars.
"Beginning last March, when France went into full lockdown, my family of four was home all the time, so we were coming together for four meals a day. (Don't forget in France that the 4:30 p.m. goûter is very important.) The kids became part of these moments by helping to set the table or pick flowers. In fact, they have started taking liberties in how they think the table design should look, which I find annoying and feel immense pride about at the same time."
What design will make of this moment:
"I find this question very interesting. We're actually truly living in our spaces now in every sense of the word. They are no longer just places we have breakfast, dinner and sleep. I think design is adapting to this: We want comfortable spaces, like my childhood home, where we feel happy and at ease. The William Morris quote—'Have nothing in your house you don't believe to be useful nor to be beautiful'—is so appropriate. We need function, but we need beauty and inspiration. We need objects that bring us joy in our daily lives."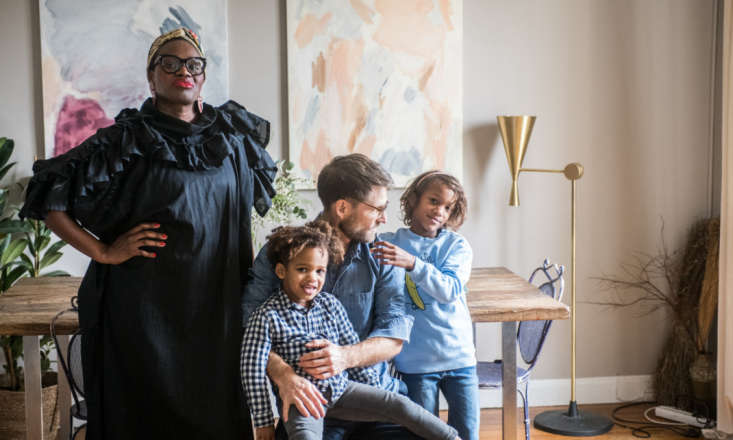 Representation, in interiors and on pages:
"Representation matters more than people even realize. So many people of color look at design magazines and blogs but don't see faces like theirs. I feel there is a subtle message received: that POC cannot feel these spaces. Imagine being young and loving design yet never seeing someone like yourself. Despite your love, it's like a subtle brainwash that there just aren't people like you in the space, so your confidence might be affected by this. I have deep feelings about the problems of representation and how this affects people. It has affected me.
"However, since the BLM movement I have seen more attention directed at POC. While some might doubt the authenticity of this attention, I am still happy and welcome it happening. I believe the design world has more work to do. People need to do their homework to find designers and creators of color. When that happens, more POC will see that they, too, can be accepted and welcomed into the design world."
For more on Ajiri, see Vintage French Style You Can Rent: Madame de la Maison in Paris.
(Visited 1,481 times, 2 visits today)