Those of us lacking an English country house can still capture the manor look with Aga's Companion Range. At a mere 24 inches wide, the Aga Duel Fuel Companion has four burners, two ovens, and is made of cast-iron swathed in three coats of glossy vitreous enamel. Available in 14 signature colors, it's $4,725 at Home Everything. Also see 10 Easy Pieces: European-Style Ranges for additional selections.
Below: If you have more space, consider the Cast Iron Duel Fuel Six-Four Series Stove. At $9,195, it has six burners and four ovens. Available at Universal Appliance.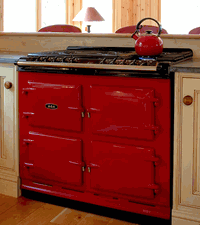 Below: The true Anglophile might want to investigate the Classic Radiant Heat Aga Cooker, which comes at a steep price: $17,000 at Cooking.
Below: Also consider the Aga refrigerator line, such as the drawers shown below in cream; $2,949 at A.J. Madison.
Finally, get more ideas on how to evaluate and choose your kitchen range or oven in our Remodeling 101 Guide: Kitchen Ranges & Ovens.
(Visited 114 times, 1 visits today)