Thad Vogler, bartender and founder of San Francisco's Bar Agricole (known locally as the Chez Panisse of cocktails), uses laboratory glass beakers to create his esoteric concoctions. Create your lab-style home bar with the following accoutrements.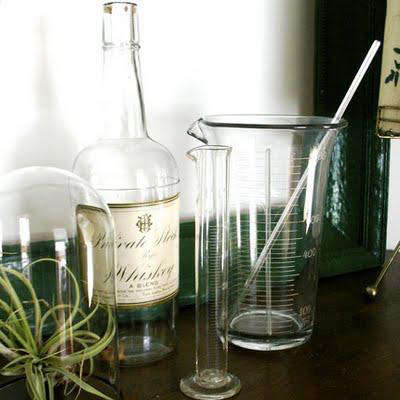 Above: Photo via Myles Henry.
Above: The Kimble Kimax Beaker Starter Set includes five beakers of varying sizes (one each of 50, 100, 250, 600, and 1000ml sizes); $26.37 at Amazon. Single beakers are also available, such as the Pyrex 1000ml Griffen Beaker for $9.90 at Amazon.
Above: For serving water or spirits, we like the Pyrex 1000ml Flask; $9.95 at Scientifics Online. A Set of Six Pyrex 1000ml Flasks is available for $53.97 at Amazon.
Above: Stainless Steel Straws are $18 for a set of six at Brook Farm General store in Brooklyn (photo via Apartment 132). Above R: Glass Straws range from $6.50 to $8.50 each, depending on length, from Glass Dharma.
Above: The Beaker Glass Pitcher is 10.75 inches tall and is handmade from borosilicate lab glass; $5.95 at CB2. Above R: A 12-inch-long Glass Stir Rod is $2 at Amazon.
You need to login or register to view and manage your bookmarks.