Looking for a way to keep your work surfaces clutter free? Connecticut design firm Layer x Layer proposes going vertical with its tree-shaped, dip-dyed table clamps that serve as decorative catchalls. Based in Milford, Connecticut, Layer x Layer is run by architect Patrick Turiello and industrial designer Leah Fabishto, a couple who met in high school, attended Boston College together, and have been bouncing ideas off each other for years now. They made the collaboration official by launching their combination woodshop and sewing studio in 2008.
We're particularly taken by their signature clamps, organizational systems that allow a messy table or desktop to be instantly cleared while keeping frequently used items within reach. "Borrowing the form of a tree seemed straightforward and useful," says Patrick. "I'm generally not a fan of skeuomorphic designs, but the clamp make sense to us."
Above: Indigo Clamps are each hand-dyed, no two are exactly alike, and come in different shades of blue; $150 from Layer x Layer. Several versions of the clamps are available, each with a poplar trunk and branches and a maple base. "Branch configuration will vary," the designers note, "just like a real tree."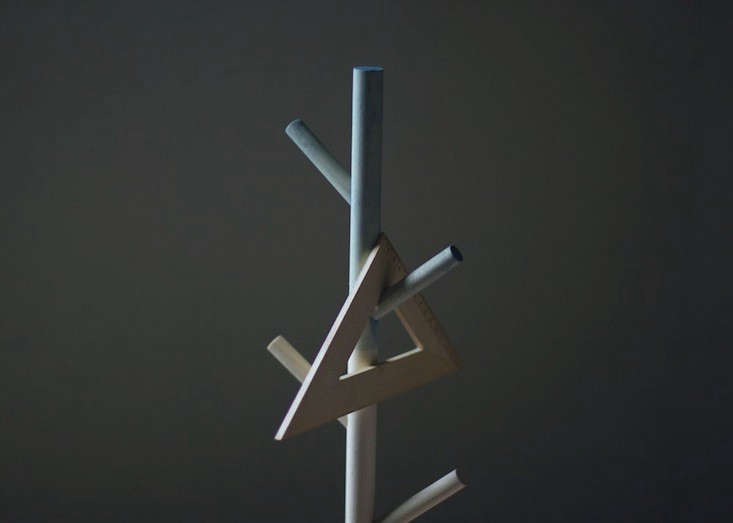 Above: The basic Indigo Clamp has five branches. 
Above: The design works well on kitchen islands and desks. Maximum clamping thickness is 1.5 inches.
Above L and R: The clamps are handmade of maple and each screw is hand-threaded by Patrick in the duo's Connecticut woodshop.
Above: The natural wood Spruce Clamp is made to order for $120.
Above: The Black Clamp; $149. What's next for Layer x Layer? Leah and Patrick plan to offer clamps in a variety of woods, and they're getting ready to launch a companion line of storage vessels to hang from the branches.
To see the rest of their work, including a utility rack and bags, visit Layer x Layer.
Get more organized with these storage solutions: 
(Visited 130 times, 2 visits today)