After purchasing a restored Welsh farmhouse from her architect in-laws, knitwear designer Kathleen Holland set forth on making it her own.
When designing knitwear for Alpaca Pie, Holland looks to two places dear to her heart for inspiration: the stunning contrasts of the Peruvian landscapes where she was born, and the mountains of Cader Idris in Snowdonia National Park in North Wales, where she and her family escape to on the weekends from their busy London lives. "The colors, the isolation, and the peace that surround our home have a strong impact on my knitwear designs," she says. "We wanted the house to be rustic and simple but have an unexpected feel to it."
N.B. The farmhouse was restored and previously owned by architects Jane Hackett and Johnny Holland of Hackett Holland (members of the Remodelista Architect/Designer Directory). See Off the Grid: A Modern Farm Sans Electricity to get the inside story on their sensitive restoration.
Photography by Simon Brown, unless otherwise noted.
Above: A view of the 200-year-old farmhouse with sheep freely grazing on the mountain slopes. The previous owners, architects Hackett Holland, had renovated the house using traditional building techniques and materials.
Above: "The flagstone hall way is typically brimming with wellies and footballs," Holland says. "Sun hats and raincoats are always ready for the varied weather conditions North Wales throws at you."
Above: The large ingle nook fireplace houses an original bread oven. The sofa has been covered in a plum-colored linen fabric from Romo and draped with impala skins. The worn antique carpets were sourced by Joshua Lumley.
Above: A portrait of a young girl hangs above an old Welsh grain chest inherited by the family. A milk urn displays foxgloves, oak leaves, ferns, and wild daisies, while an old oil can has been converted into one of the few low-wattage lamps in the house.
Above: "Lit by candles and a temperamental antique paraffin lamp, the kitchen is heart of the house, with an Aga cooking up heat and treats such as hearty stews and homemade scones," Holland says. "The kitchen table is where everyone congregates after a long walks and cycle rides." The farm house table and chairs were purchased from auction houses and the curtains are from Aleta, custom printed on heavy linen with original mogal fern designs.
Above L: Exposed wood beams line the ceiling in the kitchen. A wooden plate rack made by local craftsman Ian Willis is within easy reach of the butler sink. Above R: "We picked up the Welsh dresser at a local antiques shop; the side cupboards are still lined with charming old wallpaper," Holland says.
Above: Holland designed the pitted iron four poster bed and commissioned a local blacksmith to make it. A headboard has been fashioned out of a length of coarsely woven linen draped over the head end of the bed.
Above: A traditional utilitarian settle sits against the white lime-washed stone walls in the master bedroom.
Above L. The children's bedroom in the converted hayloft adds a burst of vivid color, with appliquéd Alpaca Pie cushions and a brightly colored woven Peruvian rug. Above R: The candle-lit ensuite bathroom is clad in tongue and groove panels. The hot water is heated by the Aga and wood burning stove.
Above: Cotton lined and interlined curtains keep the cold at bay. Brightly knitted Alpaca Pie toys sit on an old crate box which doubles up as a shelf and extra hanging space for a Peruvian-inspired Alpaca Pie embroidered calico dress.
Above: "The gray stone walls combined with the shock of wild foxgloves and color and texture of the surrounding area are a great source of inspiration for my knitwear designs," says Holland. Photo by Sibs Meany.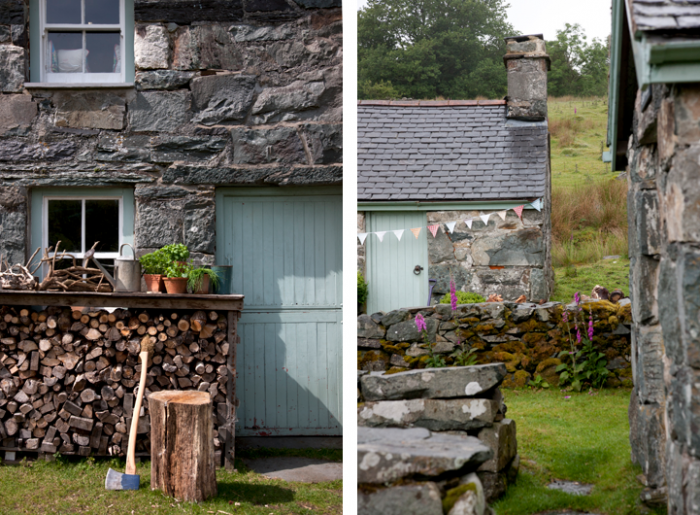 Above L: The logs are gathered from the surrounding woodland. Above R. Colorful bunting adds a festive air to the stone farm buildings.
Above: Indoor furniture has been brought outdoors for an evening barbecue around an antique Indian fire pit, or Kadai bowl.
N.B. Inspired by Holland's rural idyll? See 54 images of Farmhouses in our Gallery of rooms and spaces.
You need to login or register to view and manage your bookmarks.