When London architects Hackett Holland restored a 19th century farmhouse in North Wales, they took a sustainable, modern approach. But did we mention that there is no electricity (it's pending)?
Jane Hackett and Jonathan Holland have set their sights on achieving global sustainability; the design partners believe that the architecture of the future must be responsive to its surrounding environment. Holland, an alumnus of the Prince of Wales Institute and a frequent collaborator with the Princes Foundation for the Built Environment, eschews the "fashionable late 20th-century notion of architecture as objects in space." With this farmhouse and its surrounding outbuildings, which they have restored close to their original state, the architects have created a considered response that is functional, practical, and formed through the use of good quality sustainable materials—this is what modern means to them.
N.B.: We've been told that electricity is on its way; once a renewable source is found.
Above: Built in 1805, abandoned in 1948, and vacant for 40 years, the farmhouse and outbuildings were restored; the roof was recovered in thick local Welsh slate.
Above: A map of the northern Welsh coast sits on a shelf above the wooden bed in this small guest bedroom.
Above: A rustic wooden staircase leads upstairs from the living room. The original slate slabs have been scrubbed and sealed with linseed oil and turpentine.
Above: A brass oil lamp hangs from the beamed ceiling above the table in the kitchen. All the oak rafters and beams are original.
Above: The kitchen/dining room is furnished with a Welsh dresser, a large kitchen table, and a wooden sofa covered in cushions.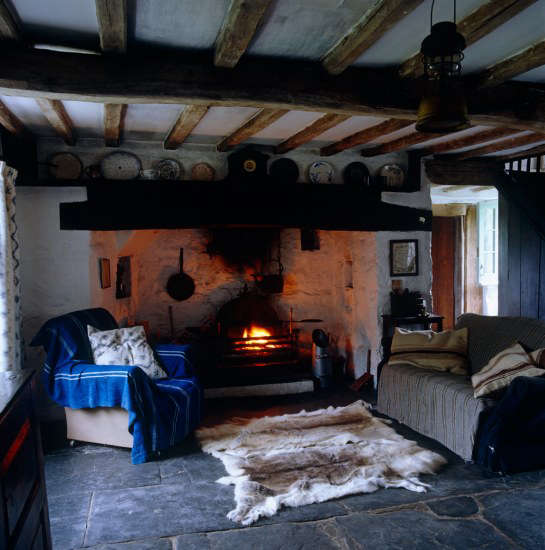 Above: A large inglenook fireplace dominates one end of the living room.
Above: A handmade wooden four-poster bed stands under the beamed ceiling of this attic bedroom.
Above: The rolling hills of North Wales are visible through the bedroom window.
Above: Simple white sheets, a Welsh blanket, and floral curtains complete the farmhouse style.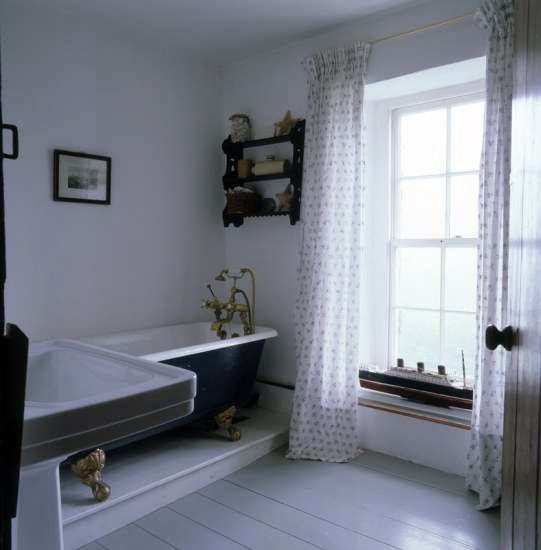 Above: Running water was brought in during the renovation.
N.B.: Looking for more farm house inspiration? See our favorite images of barns in our Gallery of rooms and spaces.
You need to login or register to view and manage your bookmarks.