As admirers of Justine Cook's distinct brand of "detailed minimalism," we were intrigued to learn of a new rental project from the creator of Harp Studio—the diminutive Mole Cottage, which has just started taking bookings for the summer season.
Photographs by Harry Crowder.
This is the third rental created by Cook. (The popular Harp Cottage was sold via The Modern House last year and featured here in December.) "We bought Mole Cottage—which was very floral, very 1980s—in 2019, and work was due to start February 2020," she recalls. "In February, we were flooded. It's a medieval building, that has never flooded before in its known history. Then lockdown hit."
Undeterred, Cook worked with the building, conjuring light, space, and atmosphere from its small, sunken footprint, which consists of just three rooms: a sitting room/bedroom, kitchen and bathroom. "Ultimately, the flooding worked in our favor," says Cook, who was spurred on to flood-proof the entire cottage, refinish the walls with breathable lime plaster, and raise the floor in order to install underfloor heating and slate tiles throughout.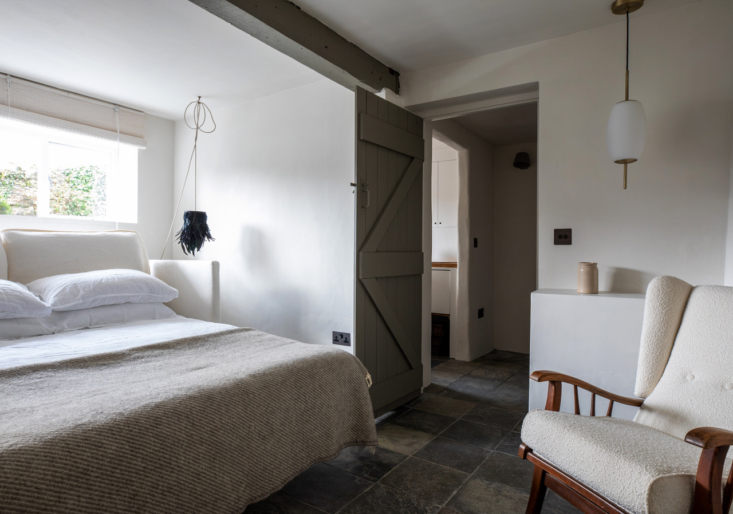 "As Mole Cottage is half submerged and tiny it was important to create a sense of light and space," says Cook, whose background as an installation artist and sculptor has plainly played into each of her projects. "The cottage gets the most wonderful light that creates beautiful sun shadows throughout the space. Light, and how it moves through a building, is key to all our projects."
Mole Cottage's function is twofold. At weekends, it serves as a rental space for solo travelers or couples seeking a restorative break. During the week, it is a studio space and showroom for the Harp Studio collection—an evolving range of homeware that includes hand-thrown ceramics, one-off vintage finds, natural curios, raw smoked steel containers, and furniture. "The collection started as a need to create," explains Cook. "My background was focussed on creating spaces for people to experience and respond to. While creating interiors is similar, I also needed to create the objects in the space to achieve the effect I was after."
"We consciously reused materials as much as possible and used reclaimed furniture and materials where possible," says Cook. "A building takes you on a journey and responding to the space is vital to create a harmonious relaxed environment."
For another atmospheric bolthole, see:
'Hotel of the Year': The Birch in Hertfordshire, England
You need to login or register to view and manage your bookmarks.