One of our favorite woodworking artists, Blackcreek Mercantile & Trading Co. opened its first showroom last week in Midtown Kingston in New York state. Artist Josh Vogel and co-owner and manager Kelly Zaneto have been working out of Kingston for the past six years. The two spent months renovating the space to bring it back to its bare bones state and showcase their hand-turned wooden spoons, cutting board, and furniture in a gallery-like experience. You can visit the showroom by appointment Monday through Thursday and from 11 a.m. to 5 p.m. Friday, Saturday, and Sunday.
Photography by Eberhart Smith, courtesy of Blackcreek Mercantile & Trading Co.
Above: The new showroom is located at 628 Broadway in Kingston, New York.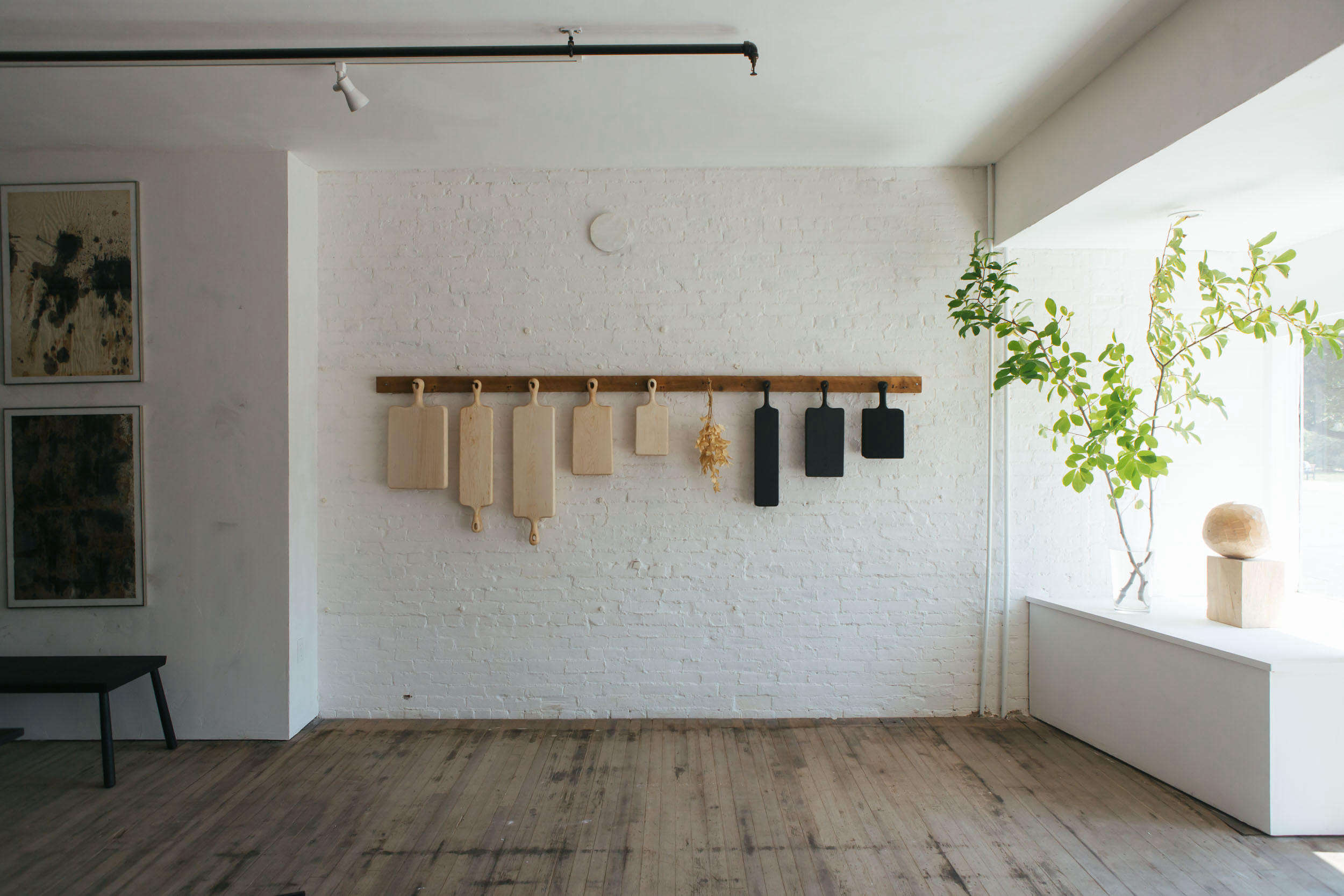 Above: Wooden Cutting Boards in various sizes and finishes.
Above: A long and narrow cutting board from Blackcreek Mercantile & Trading Co.'s Blackline collection.
Above: Josh Vogel and the Sawhorse Table and Bench with Pinned Legs both in black.
Above: Kitchen Tools in blond finished maple and black.
Above: Ceramics by ceramicist Kathy Erteman who recently moved to the Hudson Valley. The process paintings came from the Blackline iron dye process; they're $400 each framed.
Above: Erteman's Cone Vases with a metallic glaze developed by the artist of concentrated earth oxides to produce a satin gold finish after firing at high temperatures.
Above: Vogel turns large pieces of wood like the one shown hanging. The doorstop-like wood piece below it represents Vogels sculptural sketches or works in progress.
Above: Vogel at the Shaker peg rail.
Above: Also for sale in the showroom are Blackcreek Mercantile's Cutting Board Oil, Knife & Blade Oil, and products from Los Poblanos Organic Lavender farm in Vogel's home state of New Mexico.
Above: Copies of Vogel's book The Artful Wooden Spoon (Chronicle, 2015).
Above: A collection of the new Cast Iron Door Stops.
Above: An array of unique hand-turned spoons by Josh Vogel run along the wall.
Above: A maple wood sculptural sketch in the showroom's window on Broadway.
For more on the designers, see our posts: