Film director Gaby Dellal is a longtime Remodelista friend and fellow aesthete: We've featured her Free-Spirited London House Remodel and also dropped in on her sister, designer Lorraine Kirke (mother of Jemima and Lola), At Home in Greenwich Village. Recently Gaby called to tell us about one of the stars of her new movie, 3 Generations, which opens this Friday, May 5, in New York City and Los Angeles, and nationwide on Mother's Day, May 14.
The film has an exceptional multigenerational cast: Elle Fanning plays a transgender teen, Ray, who lives with his mother (Naomi Watts), grandmother (Susan Sarandon), and grandmother's partner (Linda Edmond). But what Gaby thought would pique our interest was the 1950 house designed by a disciple of Frank Lloyd Wright's that plays a leading role. She was right. So a couple of weeks ago, we met up with Gaby, cinematographer David Johnson, and the owner of the house, for an inside look. Here's a tour.
Photography by David Johnson for Remodelista.
Gaby auditioned dozens and dozens of settings before finding the movie's two main locations: the characterful New York City townhouse occupied by Ray and clan, and Ray's estranged father's place in the country, which he shares with his new family. (Ray, who is underage, needs both parents' signatures for hormone therapy.)
The city house was hard enough to find—Gaby selected a narrow, multistory East Village location with a spiral stair. Its counterpart was even trickier to pinpoint: After visiting a lot of Victorians and clapboard cottages that were "too bog standard and obvious," Gaby started looking at more modern options for the father. That eventually led to a midcentury design whose owner while sitting on his rowing machine pointed her down the street to the winner. "The house has so much warmth and character, so much respect paid to every detail," says Gaby. She immediately decided that the father in her film would have to be an architect.
"Everywhere you look, something interesting jumps out," says the artist who, with her husband, a doctor and photographer, has lived in the house since 1971. They bought it from her brother: His family needed more space, but hadn't been able to sell the place for over a year. It went for $100,000.
The flooring—here a combination of tile and carpeting and elsewhere concrete—is equipped with radiant heat, a favorite Frank Lloyd Wright detail applied throughout, so there are no radiators or heating elements to break up the sight lines.
Production designer Stephanie Carroll kept the house's existing furnishings in place while deftly inserting signs of young family life, such as the red desk chair and trike. "Stephanie and I go for places with the right patina," says Gaby, "but it's rare that we need to do so little."
The artist got her modular sofa from a neighbor and reupholstered it in a geometric pattern before going with gray. "Patterned fabric conflicted with the setting—this is a house that dictates what's right for it. Everything has to harmonize."
The compact space was last updated six years ago, when a SubZero fridge was added and the black-tinted concrete counters replaced butcher block. Some details to note: The stone chimney wall, the skylights (which feature in every room), and the row of overhead lighting inserted in the structural beam above the island.
Located off the front door, the setting is where Ray first confronts his father and family—a scene shot just as real snow started falling outside.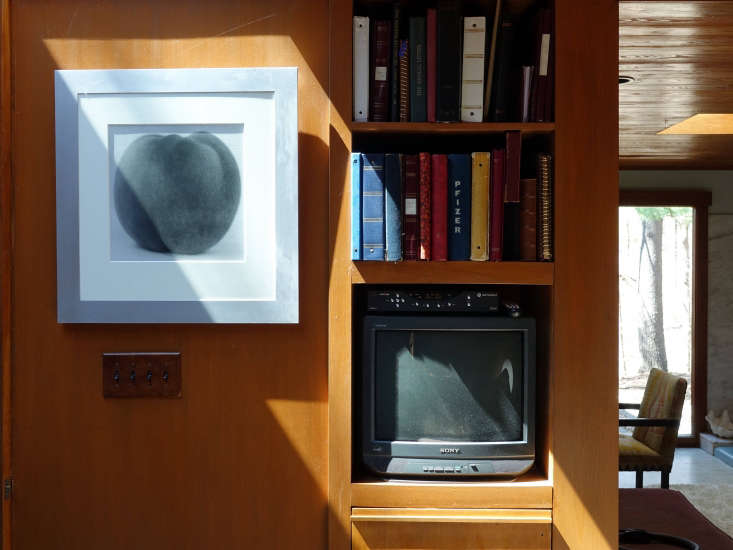 The photograph of a peach is by Edward Mapplethorpe, brother of Robert.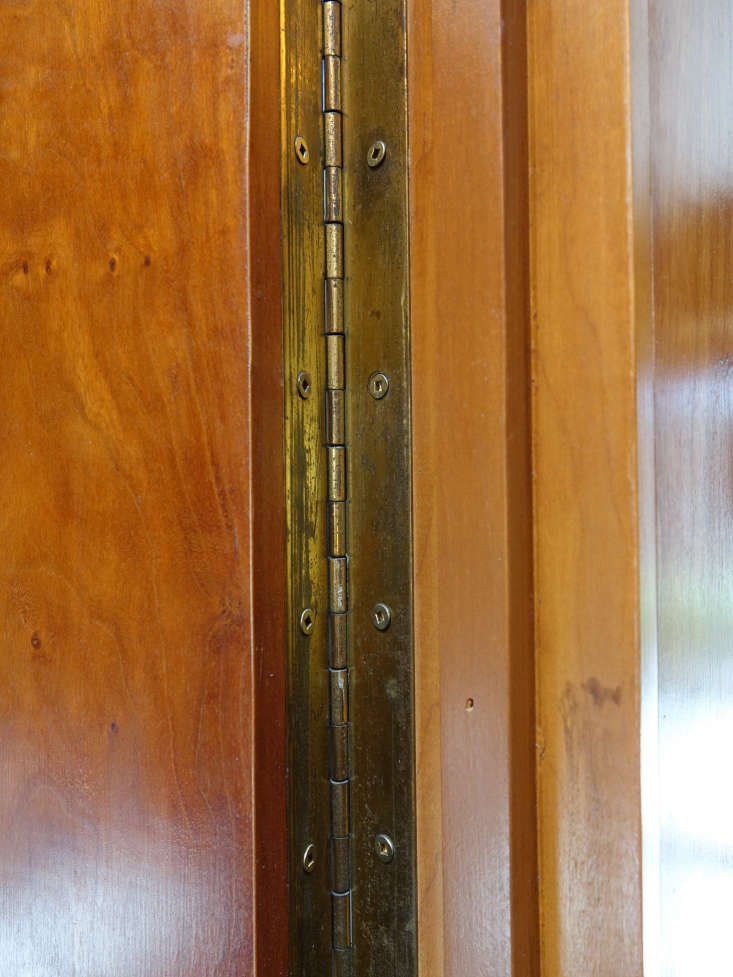 A red oak, a spindly specimen in early photos of the house, now towers over the roof, providing shade in summer. The artist likes looking up at its branches through the skylight in her bedroom. Years ago, after a contractor and others warned that in a storm the tree could take down the house, she and her husband summoned Kaneji Domoto to revisit his creation. Domoto, who died in 2002, "came with a cane and was very pleased by what he saw. He told us, 'You have to divide your friends. The real ones will say to keep the tree.'"
Here are three more intriguing movie sets and the stories behind them:
(Visited 55 times, 1 visits today)