Interior stylist Louisa Grey turns her London basement kitchen into an open plan living/dining space–the room where "everyone hangs out."
Before applying her stylist skills (her clients include Fired Earth and Living Etc.), Grey knew she wanted an eat-in kitchen with as much light as possible. One wall removal later, she no longer had a hallway and a kitchen; instead, she had a comfortable room that was big enough to accommodate a table, chairs, and her AGA cooker; a welcome addition to any London kitchen, especially one in the basement. And the light? Read more to see her secrets.
Photography by Carl Bartram.
Above: By placing her Aga range in front of an old fireplace recess and painting the surround black, Grey turns the cooker into a hearth for her kitchen. A limestone floor is effective in reflecting light in the basement kitchen.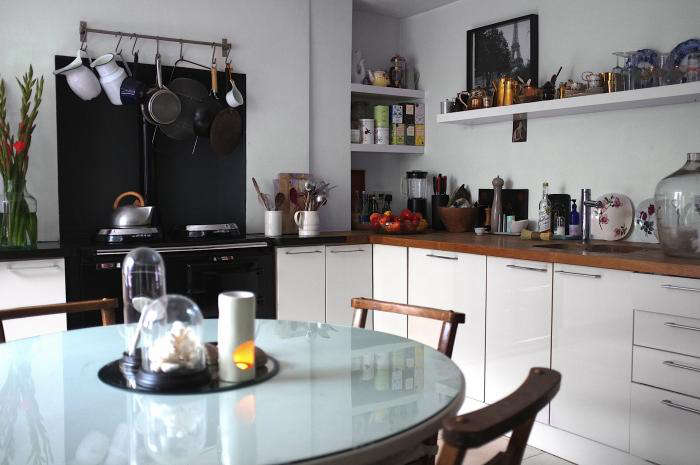 Above: Grey's kitchen cabinets wrap around two sides of the room. She uses a glass top on the dining table to reflect light.
Above: Vintage ceramic gold coffee pots and copper vessels are another stylist tip of Grey. "I have elements of gold in every room of my house," she says, "it lifts the home."
Above: A wood countertop adds texture and warmth to the room.
Above: Obsessed by vintage cutlery, Grey pulls her sets together from many sources.
Above: Grays favorite props are on display in her kitchen; her sources include car boot sales, markets and vintage thrift stores.
Above: A collection of props that Grey has used on previous shoots add character in her kitchen.
Above: Grey prefers to create center pieces out of props rather than use flowers.
Above: A collection of sea urchins, coral, ceramic mushroom and magnifying glass pulled together by Grey are set on a mirror and become a starting point for one of her shoots.
Above: The interior stylist Louisa Grey likes to make people look at things in a different way.
Inspired by the way Grey uses open shelving? See 337 images of Open Shelving in our Gallery of rooms and spaces.
N.B.: This post is an update; the original story ran on August 17, 2012.
You need to login or register to view and manage your bookmarks.