Charles Bililies is the proprietor of Souvla (see New Restaurant Alert: Souvla in San Francisco) and Jen Pelka is the marketing manager (she's got ample restaurant cred and a day job of her own). In their classic Hayes Valley Victorian apartment, just blocks from Souvla, Jen and Charles regularly entertain friends and colleagues. According to the couple, a Greek dinner party is easy to execute; the main thing is to prepare everything in advance and stay out of the kitchen once guests arrive. Here are a few simple tips for dining í  la Grecque:
• Start with good-quality Greek olives, feta, and pita.
• Then set out a big, beautiful Greek salad–at its best when heirloom tomatoes are in season.
• For a main course, serve a dramatic salt-baked fish: Make a thick paste of salt and water and submerge a whole fish (red snapper or sea bass) inside. Bake in a hot oven, then bring the fish straight to the table. Break open the salt shell with a mallet, peel back the skin, and fillet the fish at the table served with a simple vinaigrette.
• Keep desert simple: Greek yogurt with fresh figs, or a sliced orange carpaccio of olive oil, dates, toasted walnuts, and sea salt.
Photos by Fiorenza M. J. Panke for Remodelista.
Above: Jen and Charles don't take take the Greek blue-and-white palette mandate too seriously; they use the colors but avoid going overboard.
Above: Charles says the trick with Greek wine is the varietals, which "are Greek and hard to pronounce and people haven't heard of them before." Avoid making things complicated; focus on familiarizing yourself with a few major Greek varietals. (For Jen and Charles's wine picks, see below.) Charles worked hard to make the wine program at Souvla approachable, by offering only one red, white, rose, and sparkling wine by the glass (or carafe); all are Greek varietals to learn and remember, and each is priced between $9 and $11 for a 250-ml carafe. (A bottle list is available for the more adventurous, as are retail-priced wines for takeaway.)
Above: Charles likens the contemporary American diner's knowledge of Greek wines to that of Italian wines 30 years ago. Back then, Italian wines came in grass-bottomed bottles in a varietal known as red. Nowadays, San Francisco diners flock to restaurants devoted entirely to pairings of regional Italian wines and cuisine, like A16 and Cotogna. If Charles has his way, diners will know their Greek wines someday soon.
Above: Charles is a fan of the all-purpose wine glass. The water glasses are Riedel, a gift to Jen from Daniel Boulud (she once worked as his research assistant). The wine coasters are vintage, from Charles's grandfather, and the wooden salt-and-pepper shakers are from Crate & Barrel. 
Above: The brass candelabra at the center of the table is from Crate & Barrel; Charles picked up the copper vase in Istanbul.
Above: Jen bought the small pita bowl on a shopping trip with Ruth Reichl at Sunrise Mart in NYC–one of Ruth's favorite places (Jen worked with her at Gilt Taste).
Above: The blue and white enamel dinner plates are the same ones used at Souvla, purchased from Crow Canyon–a small retail store in the Cow Hollow neighborhood of San Francisco. The knives are made in France by Laguiole. 
Above: Charles noticed that copper wine carafes are ubiquitous in Greece, but not really seen here. He and Jen think they're the best way to serve wine at dinner–keep the carafes full, and guests will do their own pouring and get "good and sauced," as she says. According to Jen and Charles, here's where to start with Greek wines (all of the wines can be purchased for takeaway at retail prices from Souvla):
Domaine Sigalas Assyrtiko from Santorini is super crisp, dry, and minerally, like a Greek Chablis; about $28 retail. 
Zoe Rose is a blend of Moschofilero (white) and Agioritiko (red) from Domaine Skouras in the Peloponnese. It's their go-to for all foods and occasions at Souvla; about $14 retail.
Skouras Saint George is a delicious, approachable, light-bodied red to drink with light meats, made of 100 percent Agioritiko grapes from Nemea in the Peloponnese; about $16 retail.
Above: The dining table and chairs are from Restoration Hardware.
Above: Charles snagged the framed sign from an SF restaurant (it's a contemporary sign but the couple likes its Prohibition-era feel).
Above: The view from the living room; the pendant light above the table is from Restoration Hardware. 
Above: The doors in the apartment had been caked in decades' worth of paint before Charles and Jen moved in. Their benevolent landlord stripped the paint to reveal the original wood; the hardware is also original.
Above: Charles and Jen have lived in their rental since last November; lucky for them, their landlord involved the pair in major renovating decisions, like choosing lighting fixtures, before they even moved in.
Above: Charles's grandfather owned a Greek diner in Boston called The Brass Handle; most of the antique Greek decor at Souvla came from his restaurant.
Above: The bookcase in the couple's kitchen holds an impressive collection of cookbooks alongside momentoes of their culinary careers. On the bottom shelf at left is a photo of Charles hard at work alongside Thomas Keller.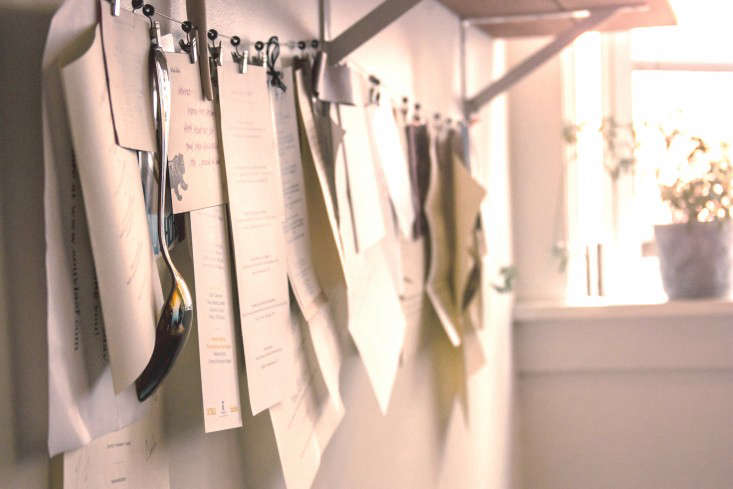 Above: Jen and Charles display restaurant menus from their travels and from dinners they've cooked or hosted throughout their careers.
Want more Greek inspiration? See some of our favorite Greek spaces in New Restaurant Alert: Souvla in San Francisco; An Artful Athens Restaurant; and on Gardenista, DIY: Whitewashed Greek Walls.
(Visited 170 times, 4 visits today)