As a Chinese American, I grew up using ceramic spoons at meals. One of my earliest memories of feeling safe and content involved this utensil: My amah (what I called my nanny) would sit on the steps in front of her house holding my dinner as I played in the dirt, meandering back to her only when I was ready for the next spoonful. I loved the cool, smooth feel of the ceramic spoon and the gentle clink when it met my teeth. To this day, I prefer it to its Western metal counterpart.
Lately, I've been eyeing more artful versions (handmade, interesting colors and patterns, different shapes) of the ceramic spoons that I've always bought in Chinatown. Here are eight that I'd like to add to my collection:
Above: I've been eyeing Brooklyn ceramicist Shino Takeda's ceramic spoons ("hand-built with electric mid-temperature firing," she tells me) for years now. They're sold out at Bird, where I first happened upon them, but lucky for us, Shino has just restocked her own store, where her Ceramic Spoons are priced $28 to $50 for a set of 2.
Above: I found quite a few handmade Ceramic Spoons on Etsy. These are by Tere Hurst in various glazes and sizes (all good for condiments); from $15.50.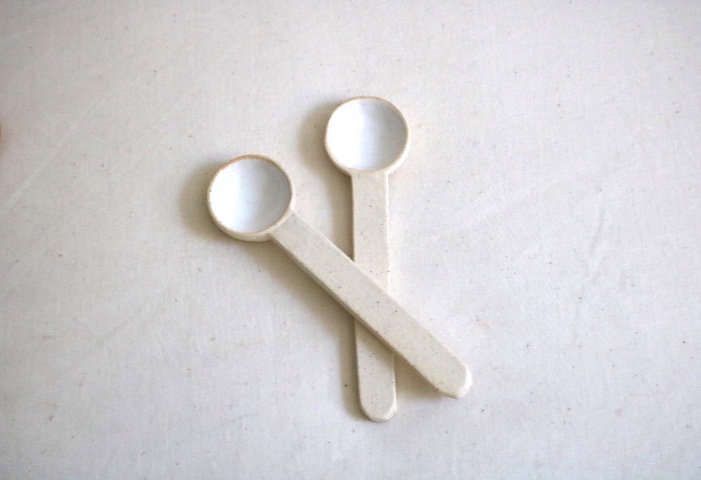 Above: Kana Ceramics' Ceramic Spoons Ink/White are purposely imperfect: "small imperfections such as fingerprints, superficial cracks and indentations are part of the nature of the technique." They are available in multiple sizes, including serving spoon size (at right); from $15.
For more pottery we love, see:
(Visited 415 times, 1 visits today)