We like the idea of soap on a rope: It's portable, can hang in an accessible place, and keeps slippery bars of soap from collecting bacteria in the shower. It's like the Provendi rotating soap but for the shower and with less commitment. Here are a few we've had our eye on lately.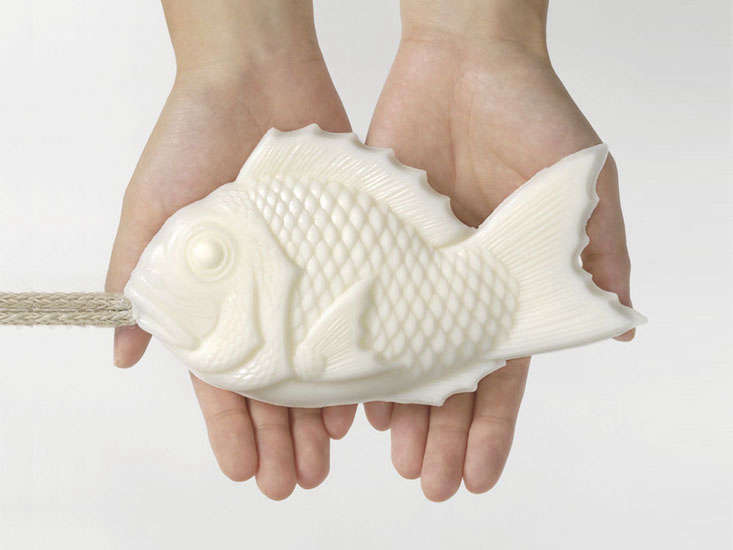 Above: The Tamanohada Welcome Soap is inspired by the Tai fish, a symbol of prosperity and wealth in Japan. It's available in a lily-scented white (shown) or brown-sugar-scented black for $45 at C.O. Bigelow.
Above: Musgo Real soaps from Portugal come a range of pastels; the Spiced Citrus Musgo Real Soap on a Rope is $15 at Amazon.
Above: The Oranges de Tamanu Soap-on-a-Rope is a blend of olive, coconut, and palm oil, with goat's milk, sea salt, sweet orange, and vetiver; $16 from 8Knots.
Above: The Rose Soap on a Rope from La Savonnerie in Amsterdam is one of many color/scent options; €6.50 ($7.25) each at La Savonnerie.
Above: Another Fish Soap on a Rope but with a slim profile and simple fragrance; £14 ($18) at Plum & Ashby.
Above: The Amber Hammam Soap (left) and Orange Blossom Hammam Soap (right) are $38 each from Senteurs d'Orient.
Above: The L:A Bruket Hanging Soap: Sage, Rosemary, and Lavender is currently on sale for $4.95 at Terrain.
N.B.: This post is an update; the original story ran on April 6, 2016.
We have a thing for bars of soap; see our posts:
(Visited 10 times, 1 visits today)