Are knives from obscure sources (or handmade by bearded artisans) the new status symbols of the kitchen? Here are six ideas for putting your kitchen arsenal on full display.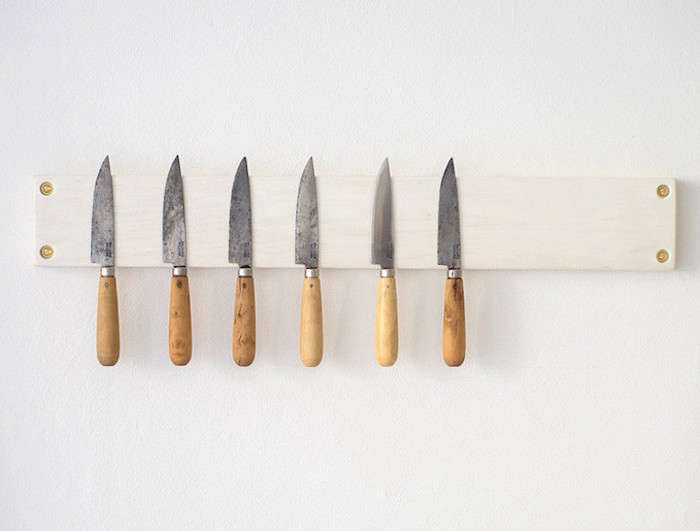 Above: Heidi Swanson of 101 Cookbooks commissioned the 20-inch-long Jacob May Knife Strip in bleached maple for her SF offices; it's $180 from her online shop, Quitokeeto. The boxwood-handled, carbon-steel knives are the Pallarés Solsona Kitchen Knives; $44 each at Quitokeeto (and also available at March in SF and Le Marché St. George in Vancouver).
Above: The 450-millimeter-long IF4000 Knife Rack, manufactured by Sheffield company Taylor's Eye Witness, is made from a simple strip of solid oak wood embedded with eight high-strength magnets; £35 ($53.94) from Retail Facility.
Above: Designed by Geoffrey Lilge for On Our Table, the 24-inch-long 9.2.2 Box Knife Rack XL is made in Canada of solid American black walnut; $85 from Lumens.
Above: The 17.5-inch-long Walnut Knife Rack is made in Western Montana; $60. The similar Schmidt Brothers Acacia 18-Inch Magnet Wall Bar is $49.95, and the Schmidt Brothers Acacia 24-Inch Magnet Wall Bar is $59.95; both from Crate & Barrel.
Above: The 18-inch-long Puukko Knife Rack from Uusi is made from reclaimed old-growth cypress or redwood; $135.
Make your own knife display: See DIY: A Wall-Mounted Leather Knife Rack.
For more ideas, take a look at:
Finally, get more ideas on how to improve your kitchen storage and organization in our Remodeling 101 Guide: Kitchen Storage & Organization.
(Visited 320 times, 1 visits today)