We think most things look–and feel–better once they're worn in, wood included. Here are 10 favorite spaces with wood that flaunts the lived-in look, some of it centuries old, some brand nnew.
For more work by our member architects and designers, visit the Remodelista Architect/Designer Directory.
Above: Elizabeth Roberts Design installed new white oak floors throughout this duplex renovation in Fort Greene, Brooklyn. The muted color pairs well with the townhouse's historic features.
Above: Architects Liddicoat & Goldhill remodeled this 19th-century terraced house in London for an avid collector of vintage and reclaimed materials. The designers created a palette based on the client's antiques and the house's wood-paneled shutters and other original woodwork. Photo by Tom Gildon.
Above: A sunken living and dining room in a three-story New York City townhouse remodeled by Leone Design Studio.
Above: Architect Steven Harris preserved the stone walls and ceiling timbers in his renovation of a 15th century house–his own–located off Croatia's Dalmation Coast.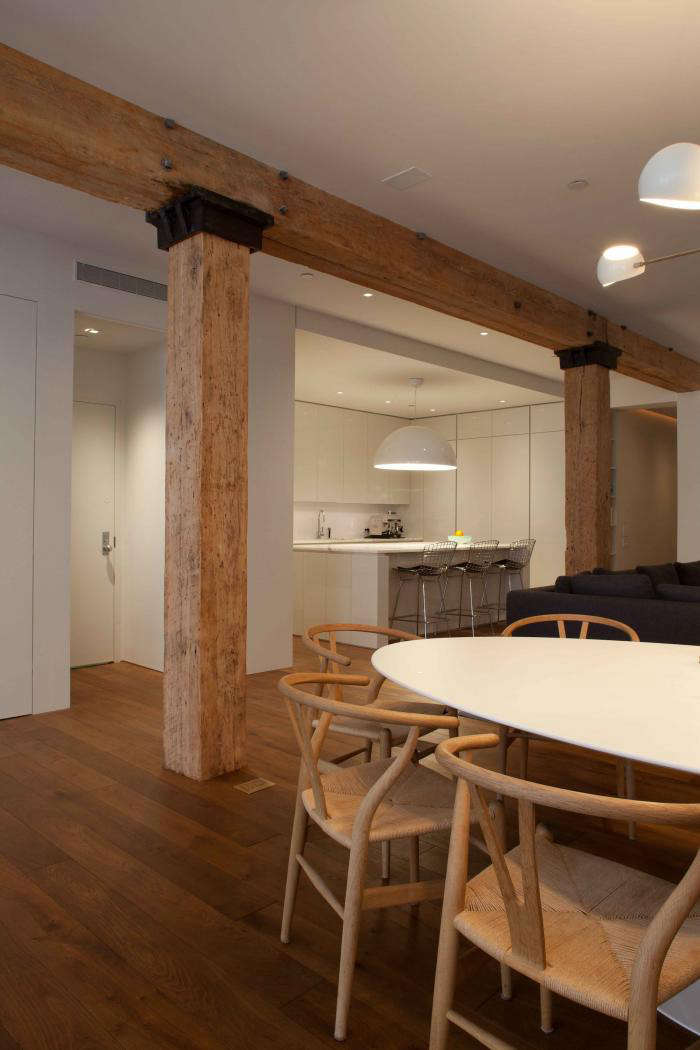 Above: Hundred-year-old beams and Wishbone chairs in a Tribeca loft by Wettling Architects.
Above: A credenza set for serving in the home of Santa Barbara-based Carole Magness of Magness Interiors. The designer's home, a 1919 farmhouse, was designed by Wallace Neff.
Above: Deborah Berke & Partners retained the brick walls and worn wood floors of this NYC bachelor's loft and introduced large pieces of custom furniture for flexible living.
Above: This Hudson Valley farmhouse by architect James Dixon sports wood of various patinas alongside freshly painted yellow dining chairs.
Above: A mix of old and new in a Brooklyn Heights loft remodel by Elizabeth Roberts Design: a long reclaimed wood table and new open kitchen for a couple who love to entertain. 
Above: Golden wood and gilded frames warm this open kitchen and dining remodeled by SF-based Nick Noyes Architecture.
Get even cozier with 691 images of Rooms with Rugs and 6,000-plus images of Inventive Uses of Wood in our gallery of rooms and spaces. On Gardenista, have a look at 10 Summer Cabins by Members of the Remodelista Architect/Designer Directory.
N.B.: This post is an update; the original story ran on March 9, 2013 as part of our Japonesque issue.
(Visited 158 times, 1 visits today)
Frequently asked questions
What is Remodelista?
Remodelista is a website that offers daily inspiration and advice for home improvement projects, as well as recommendations for design professionals and companies throughout the world.
What is the Remodelista Architect Designer Directory?
The Remodelista Architect Designer Directory is a listing of architects and designers recommended by Remodelista's editorial team. These professionals have been vetted and approved by the site's experts.
What is the '5 Favorites: Warm Wood' article about?
This article showcases the top five warm wood products recommended by members of the Remodelista Architect Designer Directory. Each product includes a description of what it is, where to find it, and why it's a favorite among design professionals.
What types of wood products are featured in the article?
The article features a range of wood products, including flooring, cabinetry, and furniture. Each product is chosen for its warmth and visual appeal.
Do the wood products featured in the article come with installation or assembly instructions?
The article does not include installation or assembly instructions for the wood products featured. However, the article does provide information about where to find the products and links to the manufacturers' websites.
Are the wood products featured in the article eco-friendly?
The article does not explicitly state whether the wood products featured are eco-friendly or sustainably sourced. However, Remodelista is committed to promoting sustainable design practices and materials, so it's likely that many of the products meet these criteria.
Can I buy the wood products directly from Remodelista?
No, Remodelista does not sell any of the products featured in the article. Instead, the article provides links to the manufacturers' websites where the products can be purchased.