It only takes a few dry cleanings to notice the chemical film on your favorite garments and the degradation of the fibers.
I, for one, have lost a few good sweaters to a year of overzealous dry cleaning, during which I turned a blind eye to perchloroethylene, one of many solvents used in the process. Perchloroethylene is labeled carcinogenic to humans by the EPA, and its disposal must be handled as hazardous waste. In fact, the solvent will be illegal in California by 2023, but we're not quite there yet. Until then, we're finding a cleaner way to wash and preserve clothing with these 12 delicate fabric care solutions (all in good-looking packages).
N.B.: For more on maintaining a wardrobe over a lifetime, have a look at our Expert Advice with Antonio Centeno, author of the Real Men, Real Style blog.
Above: A collaboration between French fashion brand A.P.C. and Australian skincare company Aesop, Fine Fabric Care is made with lemon and cedarwood for washing delicate garments. The 17-ounce bottle is undeniably pricey—it's $39 at Aesop and €29 ($31) at A.P.C.—but only a half tablespoon is needed per wash. Photograph by John Verde for Fantastic Man magazine.
Above: Formulated without the use of phosphates, volatile organic solvents, and any toxic acids or nonylphenols, Simply Clean's Pure Soap Flakes are for laundering and handwashing delicate fabrics; $12.99 CAD ($9.80) from Well.ca.
Above: Perfume company Maison Francis Kurkdjian makes detergents for both dark and light fabrics—Aqua Universalis Laundry Wash for Black/Dark and White/Bright ($45 each)— as well as Fabric Softener ($45), all available at The Line.
Above: If you haven't heard the story of Emanuel Bronner, the documentary, Dr. Bronner's Magic Soapbox is worth a watch. Bronner came from a German soap-making family and immigrated to the US in 1929 before founding his own soap company, Dr. Bronner's. The line blends pure organic ingredients with a slightly religious slant (carried out as text written on the outside of the bottle). Dr. Bronner's Sal Suds are an all-purpose liquid cleaner intended for use on laundry, dishes, floors, and more; $8.99 for the 16-ounce size.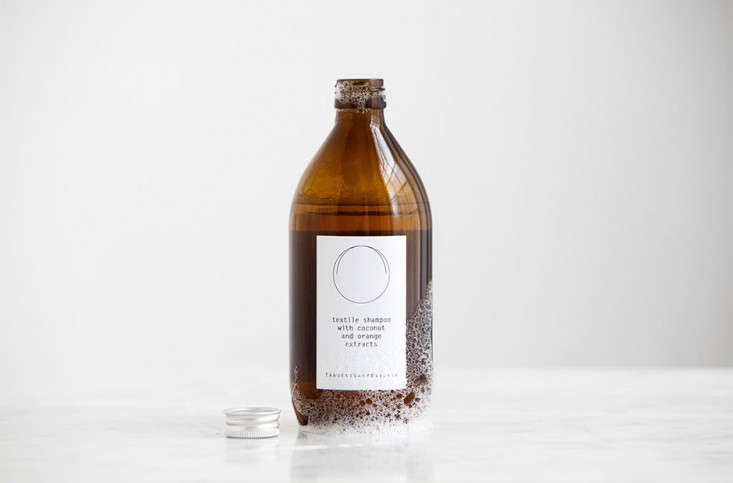 Above: Recently founded Swedish company Tangent Garment Care is devoted entirely to natural laundry care products. Its Textile Shampoo, shown here, is made with coconut and orange extracts. Contact Tangent Garment Care for buying information. Additionally, they carry a Fine Wash with Orange Oil, Soy Bean Stain Remover, Denim Wash, and Peach Oil Fabric Softener; €12 each. For more, see our post: Natural Laundry Potions from Sweden.
Above: From Swedish company L:A Bruket, No. 96 Detergent for Cotton and Denim has a patchouli and lavender scent, and No. 97 Detergent for Wool and Cashmere has a sandalwood fragrance. Both are biodegradable detergents made from either cottonseed oil or lanolin; $249 SEK ($28 USD) each from L:A Bruket.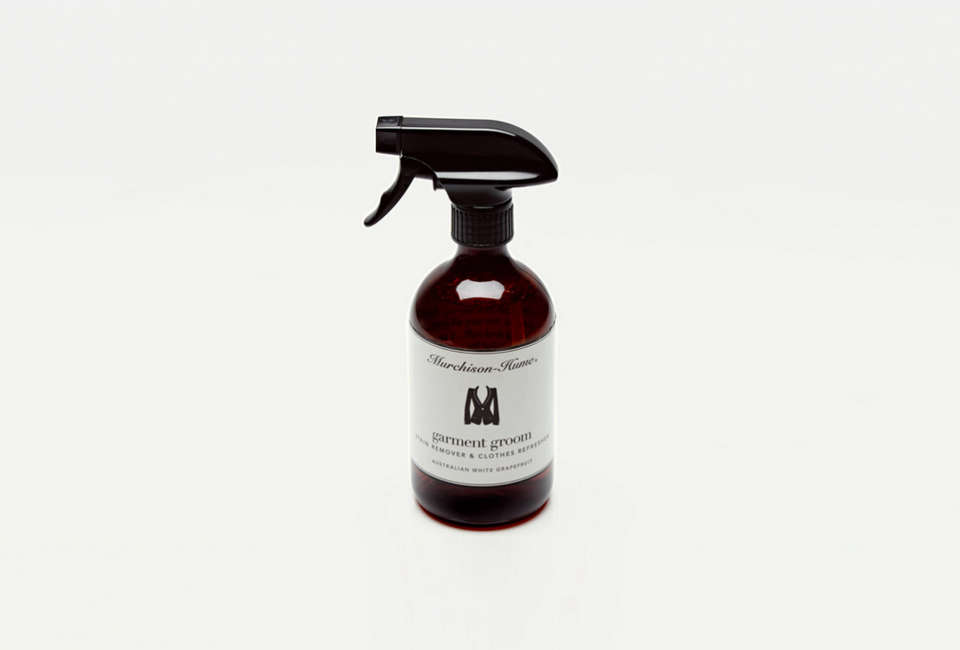 Above: Our go-to line of a household cleaners here at Remodelista is from Australian company Murchison-Hume. Their gentle alternative to dry cleaning is the Garment Groom Stain Remover & Clothes Refresher. Eco-friendly and with a white grapefruit scent, the spray is $7 from The Line.
Above: The Common Good Laundry Detergent is an ultra-concentrated formula good for up to 96 high-efficiency wash loads; it's plant-based and 100 percent biodegradable. The detergent is $31.99 for a 32 ounce glass bottle from Common Good, and the bottle is refillable at any of the many retail locations found on the company's site.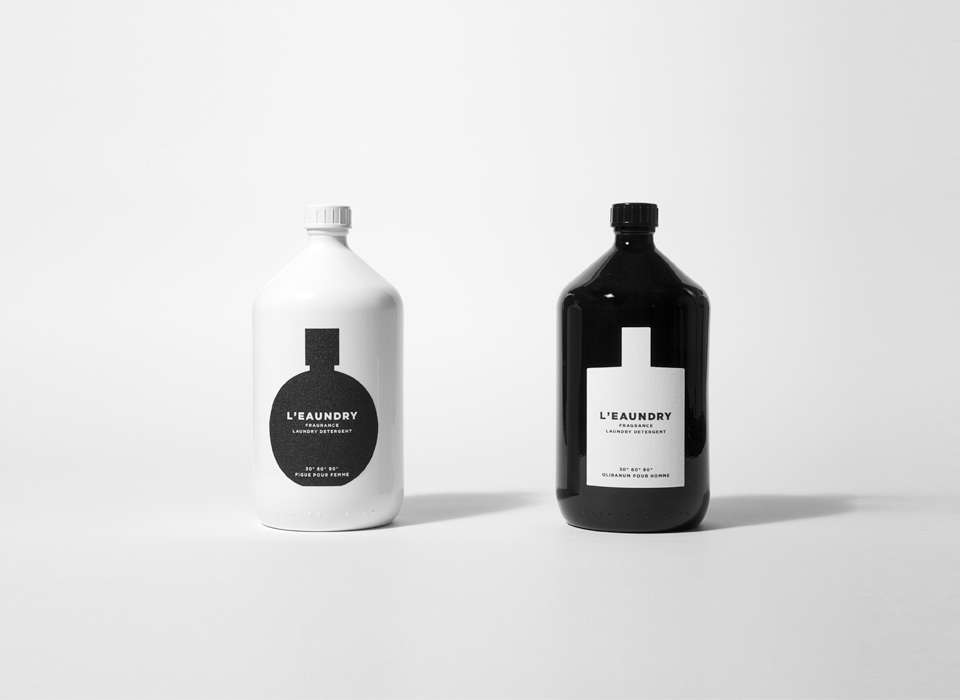 Above: From German fragrance company L'eundry, a trio of Fragrance Laundry Detergent (Oriental Olibanum, Asian Ginger Flower, and Scandinavian Moss) is €48 ($51) for small bottles.
Above: Based in Auckland, New Zealand, Wendyl Nissen has created a cleaning product line using only essential, natural ingredients. Above L: The Patchouli Laundry Powder is made from castile soap, patchouli, ylang-ylang, and frankincense essential oils; $15.95 NZD ($12 USD) for a 1kg bag. Above R: The Mild Baby Laundry Powder is made from Dr. Bronner's Baby Mild castile soap, baking soda, and washing soda; $9.95 NZD ($7 USD) for a 500g bag. For more on the products, see our post: Wendyl Nissen's "No Nasty Chemicals" Philosophy.
Above: Founded by two graduates of Cornell University's Fiber Science, Textile, and Apparel Management and Design program, The Laundress is a company that takes garment care very seriously. And for the Le Labo devotee, The Laundress + Le Labo Santal 33 Signature Detergent is made without harmful additives or toxins; $45 for a 475ml bottle at Net-a-Porter. You can also get the detergent in their Rose 31 scent for the same price.
Above: Bedding company Parachute makes a plant-based, biodegradable Laundry Detergent with pure essential oils; $9 per bottle at Parachute.
Ready to make your own cleaning solutions? See Sarah's posts: Move Over, Mrs. Meyer and DIY: 10 Ways to Use Vinegar in the Home. And on Gardenista, get the recipe for Erin's DIY window cleaner: The Secret to Making Windows Shine Bright Like a Diamond. Sweet-smelling dish soap? Look through our Eco Dish Soap Roundup.
N.B.: This post is an update; the original story ran on April 22, 2014.
(Visited 420 times, 3 visits today)