During a recent stay at a nice hotel, I started thinking about what it is exactly that makes hotel bedding so great. Beyond having the resources to make a fresh bed daily with high-thread-count sheets, I think what a nice hotel does so well is strike a balance between textures. It's the combination of quilted and woven fabrics with a touch of silk or sateen that is so luxuriant.
After reassessing my own bedding situation, I realized that a little silk never hurt anyone. Let's be clear: I'm not advocating floor-length velvet and silk bathrobes here, but who decided silk bedding had to be sleazy?
Try incorporating a single silky pillowcase into your regular linens lineup (add more than one and you may encounter some slippage). In addition to feeling good, resting your head on silk comes with some surprising–and not entirely proven–health and beauty claims: a night of silky rest purportedly reduces wrinkles, softens and detangles hair, helps controls allergies, and regulates body temperature. A month into my own experience, I can't claim that a single pillowcase has drastically changed my life (though my hair is definitely a bit softer). The biggest benefit? It's the ne plus ultra of creature comforts; a minimal investment for an experience that makes being in bed–a place you spend a lot of time–feel substantially more special. Here are five silk and sateen pillowcases worth considering:
Silky (Sateen Cotton)
Above: From Matteo in LA, the Washed Sateen Pillowcase Pair is what I splurged on. The cases are pre-washed for both softness and shrinkage control, the fabric is a 300-thread-count cotton, and is available in a full gray-scale spectrum; $55 for a pair of queen size shams.
Above: Coyuchi's Sateen Pillowcase is made from 100 percent organic cotton; $40 for a set of two standard pillowcases at Coyuchi.
Above: The Organic Sateen Set of Standard Pillowcases from West Elm is made from 350-thread-count organic cotton; $29 for the set of two.
Above: Restoration Hardware's Italian Banded Sateen Pillowcase is tailored from ultra-soft white cotton sateen by a third generation bedding company in Italy. A set of two standard pillowcases with a band of color is currently on sale for $79.
Above: The most luxurious (and luxuriously priced) of them all is the Italian Egyptian Cotton Sateen Pillowcase from the Sferra Milos Collection; $375 for a pair of standard cases.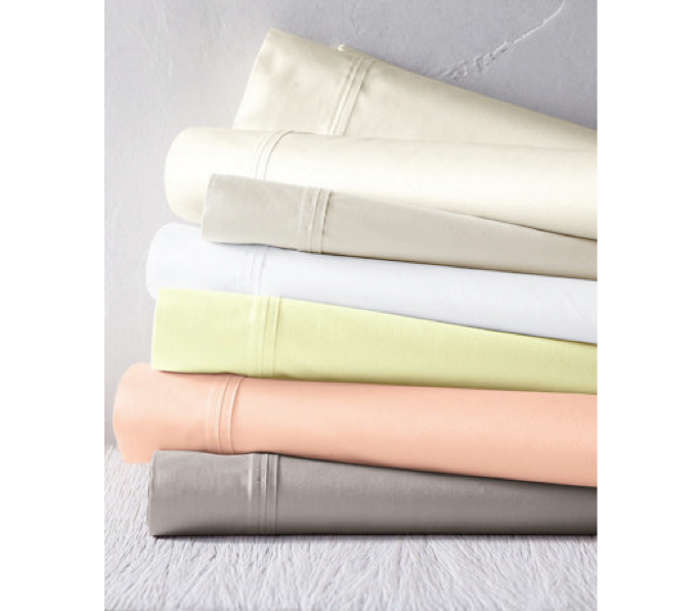 Above: The Eileen Fisher Lustrous Cotton Sateen Bedding has a 400-per-inch thread count and comes in six colors; $60 for a pair of standard pillowcases from Garnet Hill.
Pure Silk
Above: From Jasmine Silk in the UK, the 16 Momme Charmeuse Pillowcase;has a genius cotton underside to keep the pillow from sliding around; £13.99 from Amazon UK.
Above: From Lily Silk, the Oxford Silk Pillowcase is 19 Momme in weight (meaning that the silk weighs 19 pounds per every 100 meters, the equivalent of a very high thread count); $70 for a set of two.
Above: SpaSilk's 100 Percent Silk Standard/Queen Pillowcase makes claims to eliminate bed head hair (the bad kind) and minimize wrinkles; $27.46 each from Amazon.
Above: The anti-aging hypo-allergenic Organic Silk Pillowcase by The Silk Lady is a 600-thread-count silk for $49.99 each from Energetic Nutrition.
For more of our favorite sheets, shop through our Bedding;finds–and don't miss Pillow Talk: 7 Secrets to Making a Perfect Bed. Like a little color? See In the Pink: 5 Bed Linens for Romantics. And for well-priced luxury sheets, have a look at the offerings from Ariel Kaye's LA company Parachute.
You need to login or register to view and manage your bookmarks.