Like us, do you have frames propped here and there waiting to be hung? Meet your inspiration: the salon-style art wall. Here are 10 favorite examples by members of the Remodelista Architect/Designer Directory.
For art-hanging lessons from a curator, see Expert Advice: 10 Tips on Displaying Art at Home. And for some frames we like, go to 6 Simple Ways to Hang Art.
Above: A wall of photography at the Arden & Anstruther Gallery by Harriet Anstruther Studio of London. Photograph by Henry Braham.
Above: Salon-style hangings in a Brooklyn brownstone by Heide Hendricks. See more by the Connecticut-based designer in The Architect Is In: The New Connecticut Farm, Sustainable Edition. Photograph by John Gruen.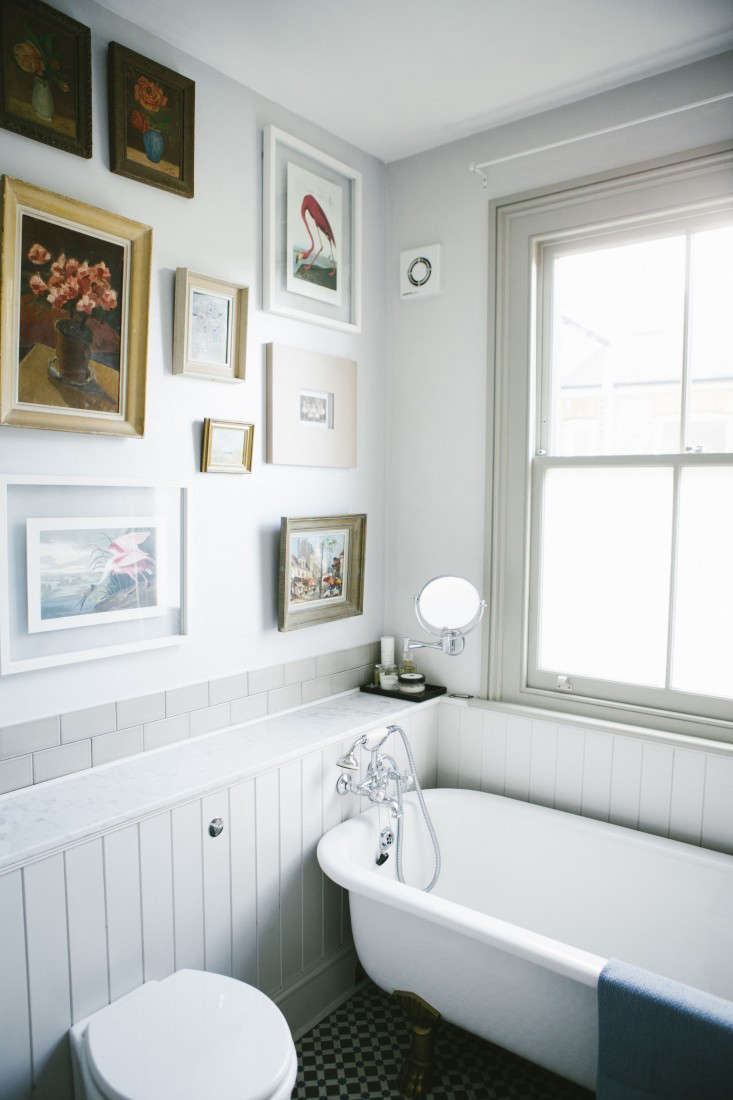 Above: An art wall in the otherwise all-white bath of designer Beth Dadswell of Imperfect Interiors. Tour the house in Before and After: A London Victorian Transformed. Photograph by Leanne Dixon.
Above: Before hanging this wall, designers Rebecca Robertson and Marco Pasanella and their clients made kraft paper templates of each piece and arranged them on the floor, perfecting the grouping for hours. For more, see A Whimsical Family Loft in Brooklyn: Whale Wallpaper Included. Photograph by Matthew Williams for Remodelista.
Above: An art wall greets guests at the top of the stairs in a new beach house by Rethink Design Studio of Savannah, Georgia. Photograph by Richard Leo Johnson.
Above: Not everything needs a nail–art is grouped on a wall and neatly arranged on the floor in a San Francisco remodel by Nick Noyes Architecture. For more from the designer, see Architect Visit: Nick Noyes.
Above: An art wall in the living room of a Tudor-style cottage by Cloth & Kind, an interior design firm with offices in Athens, Georgia, and Ann Arbor, Michigan. For more by the designers, see Pattern Language: A Textiles Enthusiast at Home in Ann Arbor. Photograph by Rinne Allen.
Above: In a Brooklyn Heights loft by Elizabeth Roberts Design/Ensemble Architecture, the clients wanted wall space for their individual art collections to coexist. For a recent project by Roberts, see A Kitchen for a Cookbook Author and a Sculptor, Williamsburg Edition.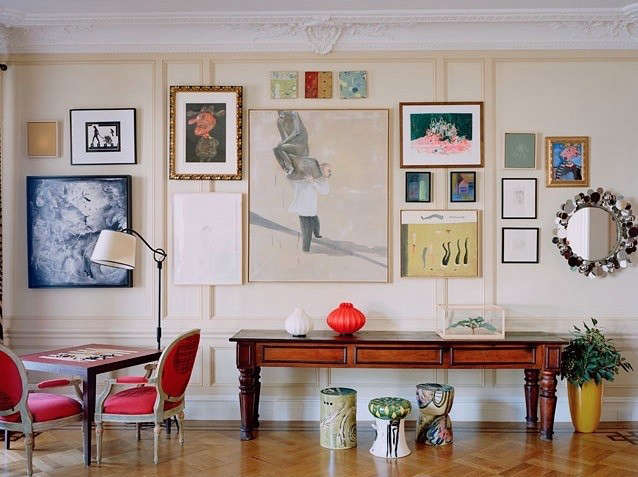 Above: A pink-inflected art wall from the portfolio of NYC designer Ellen Hamilton of Hamilton Design Associates. For Hamilton's thoughts on color, read Parsing the Pantone Color of the Year.
Above: A private gallery and music pavilion in London by Sanya Polescuk Architects. Photograph by Ioana Marinescu.
Looking to hire a pro? Consult the Remodelista Architect/Designer Directory, and see:
You need to login or register to view and manage your bookmarks.