From Elizabeth Roberts Design/Ensemble Architecture: a live/work Williamsburg loft that means business–with a made-for-TV kitchen, a cookbook-writing office, and a vast art studio. Her biggest achievement? Infusing the space with a lighthearted vibe that suggests not everything is as serious as it seems.
Roberts' clients–Ted Lee, one half of the food duo The Lee Bros., and E.V. Day, an installation artist and sculptor–searched for years to find the perfect space to call home-plus-office and landed in a generously sized, ground-floor industrial loft with a great deal of character. Architect Elizabeth Roberts, a member of the Remodelista Architect/Designer Directory, was tasked with dividing the space into living quarters plus his and hers offices within easy access–and just as easily closed off.
Day is a well-known sculptor whose work is sometimes massive, so an entire half of the 3,500-square-foot space is comprised of her sculpture studio. Lee is a chef and cookbook writer, so his domain–the kitchen–couldn't be so neatly separated from the living spaces. Roberts solved the problem by creating a writing office just off the kitchen, which itself can be cordoned off via a large sliding door. When the door is open, the kitchen and office are a workspace. When closed, the kitchen is just another part of the home. Incidentally, this is Roberts' favorite part of the project: "What might be considered a complicated arrangement is celebrated with monumental sliding doors that are really fun–and extremely easy–to move."
Photography by Dustin Aksland.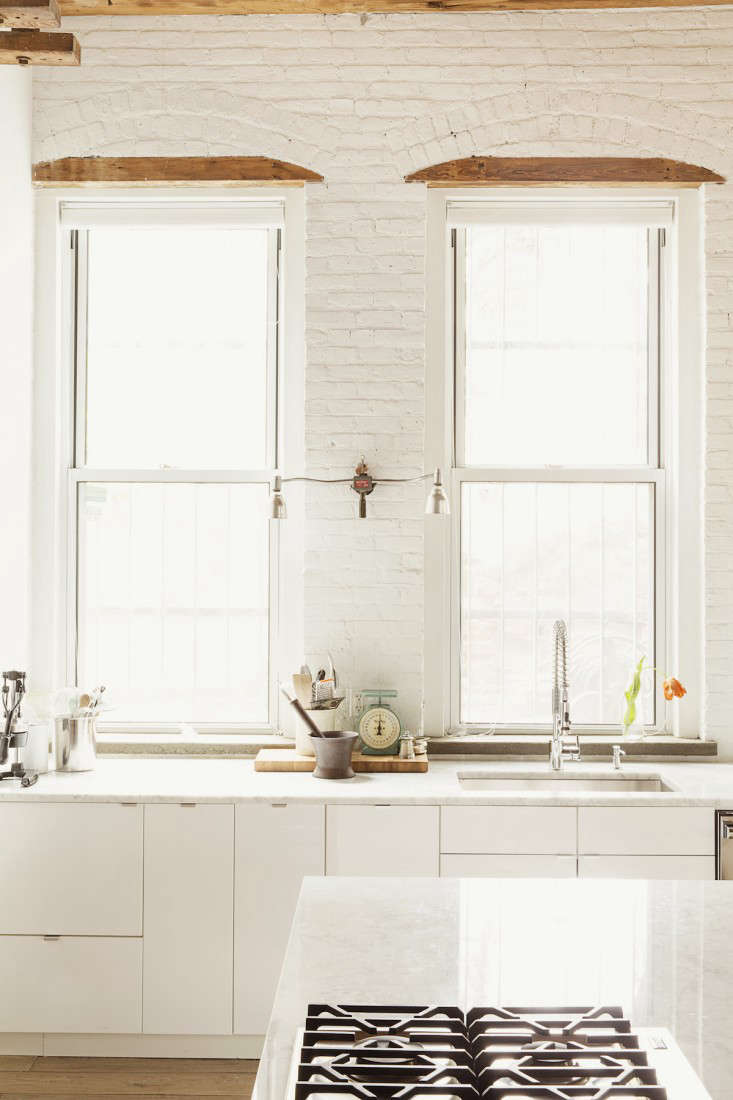 Above: Roberts retained the original wood lintels above the windows. "They were so pretty," she says. "It was an easy decision not to paint them." The window sills are custom poured concrete. Roberts had the brick walls covered in plaster and hand-sanded to slightly reveal the contours of the brick, then painted them white.
Above: The generously sized chef's kitchen is occasionally used for television production and events–the island cooktop and wall ovens are both well suited to filming. The Viking stovetop features a pop-up ventilation fan, so no hood is required.
Above: The studio backdrop: open shelving made of reclaimed pine sourced by the owners in Brooklyn.
Above: Roberts chose glossy white laminate Abstrakt cabinets from Ikea: "The glossy finish was a great juxtaposition to all the industrial textures and dark colors," she says. The kitchen countertops are white Carrara marble.
Above: His and hers workspaces–a writing office and a sculpture studio–are both separated from the living spaces by 10-by-15-foot sliding partitions that are easy to move yet sturdy enough to mount art on.
Above: Says Roberts, "Both of the spaces change constantly depending on how much of the workspace they choose to reveal." Here, the writing office is closed off from the kitchen.
Above: The kitchen, dining, and living rooms are one open layout. The dining table is a simple Ikea wood table with dining chairs by Knoll.
Roberts replaced the loft's existing doors with two large custom steel doors designed with a center panel that opens inward to allow fresh air in through a screened opening.
Above: Lee and Day discovered the light fixtures that hang above the dining table and kitchen in a vintage store; they are chandelier frames originally from a Miami department store, spray-painted white.
The brick walls, exposed pipes and sprinklers, and wood window lintels are all original to the building. The exposed wood ceilings and structural columns and beams are oversized to support the weight of the industrial building, says Roberts. She admires the tone of the aged, unpainted wood: "It's rare to see these huge pieces of wood and timber raw and without any paint."
Above: Beyond the dining table, a vintage living room set by Austrian Art Deco designer Paul Frankl. The pale white oak floors were brushed and scraped to create a hand-hewn look and finished with a sheer white wash. The loft's radiant heating is tucked beneath the floors.
See more through the lens of the architect: